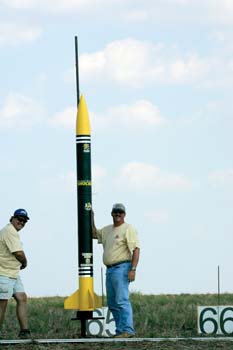 Mention "model rocketry" and the first thing to cross many people's minds will be Estes rocket kits, sold at hobby shops and typically built by nerdy adolescents.
Such rudimentary technology, however, is mere child's play in the hands of Lance Lickteig '85, whose 10-ft rocket — christened Go! Shocker — flew to a height of almost one vertical mile last September.
"I am what is now known as a BAR, or 'born-again rocketeer,'" Lickteig says. "I had been involved with rocketry as a pre-teen around 1970 or so when the space race was at its peak. My brother and I built and flew many models during that time."
He eventually put rockets aside as his interest in ham radio grew. He attended WSU, earning a degree in computer science. He went to work for Boeing Integrated Defense Systems, Wichita, where today he is a software engineer. He married Della O'Hara '85, and the two went on to have four children.
And then, in 1999, "I read an article about high-powered rocketry in The Wichita Eagle," he explains. "The rockets had become much bigger and much more powerful than what I remembered from my youth. I attended a launch and became hooked once again."
"It's like being a golf widow," jokes Lickteig's wife, Della. She goes on to point out that his love of rocketry and his duty to KLOUDBusters, the local club in which he's active, sometimes takes priority over everything in his life — even his health. In 2003, he shrugged off chest pains in order to fulfill his responsibilities at an impending national event drawing 3,000 people.
"It was 108 degrees out in that field, and he did not say a word about those chest pains," Della recalls. Shortly after the eight-day event was over, he underwent a quintuple heart bypass surgery.
While at the hospital, his other passion — Shocker athletics — came into play. "The morning he got put in intensive care was when we had to buy our seats for the new (Koch) arena," Della relates. "His concern was that I be on time to get the best selection!"
Shocker baseball is also of avid interest to Lickteig, whose Shocker fever led directly to the unique design of the Go! Shocker rocket. "I had seen a black-and-yellow rocket that was very striking and easy to spot at high altitude," he says. "The offshoot of that was to add a few Shocker details."
The launch was a spectacular success, earning him a coveted Level 3 certification from the Tripoli Rocketry Association. The powerful M-class engine fired for just over four seconds, sending Go! Shocker to a height of 5,052 feet. The rocket made a perfect soft landing about a half-mile from the launch pad.
"My house," Della relates, "is decorated with rockets — on the mantle, on top of the fridge. In the basement, we bought some tables the kids can do their homework on, but they're covered with rockets. You can't park in the garage any more.
"But," she concedes, "he doesn't golf!"