Untitled Tromp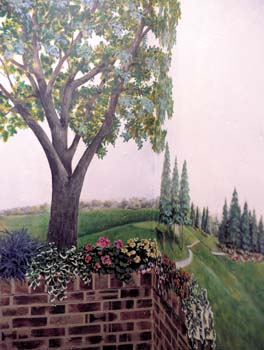 e l'oeil mural Deborah Dimmick '81/96

Deborah (Turner) Dimmick undertook the challenge of beautifying two drab concrete window wells in the basement of the Woodman Alumni Center. She chose to paint trompe l'oeil murals, fooling the eye with an outdoor scene. "I decided to amend the view to that of overlooking a park," she says. Dimmick is vice president of the WSU Decorative Arts Guild and has organized many exhibits by the guild.
"Jungle Hut Road" Oil on canvas 44" x 56" Judy Sayfie '64/66

Judith A. "Judy" (Stevens) Sayfie has painted since the age of 6. A native of Wichita, she is awed by the raw beauty of the Kansas heartland. A resident of Florida since 1968, she paints lush, colorful pieces inspired by "music, the complexity and beauty of human relationships, the enigma of nature, abstract expressionism, the smell and sound of the sea, Paul Klee, the Everglades, the concept of design, innovative fashion, tropical nights, a well-cultivated nude and fine art books."
In June, she was selected as a finalist with her painting "My Mother's Ear Rings" in the 51st Annual All Florida Juried Competition and Exhibition, Boca Raton Museum of Art. Sayfie, who earned a bachelor's degree in art education and a master's in printmaking from WSU in the 1960s, says she is grateful "for the expert training and the freedom of expression that the art department gave me.
The late '60s were experimental, changing, but enlightening times for the social future of our country, and I feel fortunate to have experienced these changing times." Sayfie is married and the mother of three boys.
---
Knowledge of the Rose
Rosa Mundi etches its history
on the cedar fence enclosing the garden
I borrow from the prairie. I don't know
the idioms or proverbs of this ancient

language. I can't decipher the cryptic
scrawl on sun-washed boards, yet I know
this rose
existed long before grandiflora,
floribunda, hybrid tea, long before

these words, before ideas of beauty.
In winter, the canes are brown as sparrows
that linger in the thorns, the sparrows
waiting out a hawk's hunger — but always

one loses control, arches into the air.
Sparrow flesh becomes sparrowhawk.
Feathers fall through the hips, fall to quiet
decay. Spring canes elongate, summer thorns

harden to quills. Buds unknot, pink, and fade
to parchment. Who will know that I've loved
the rose, its archaic color, its avian
bloom? Who will know that I've seen
the sparrow?
— Laura (Stangel) Schmidt '96
---

A gallery of both literary and visual art, Shock Art showcases works by Wichita State alumni, faculty and students. For details about submitting work, please contact: The Shocker Editor, 1845 Fairmount, Wichita KS 67260-0054.