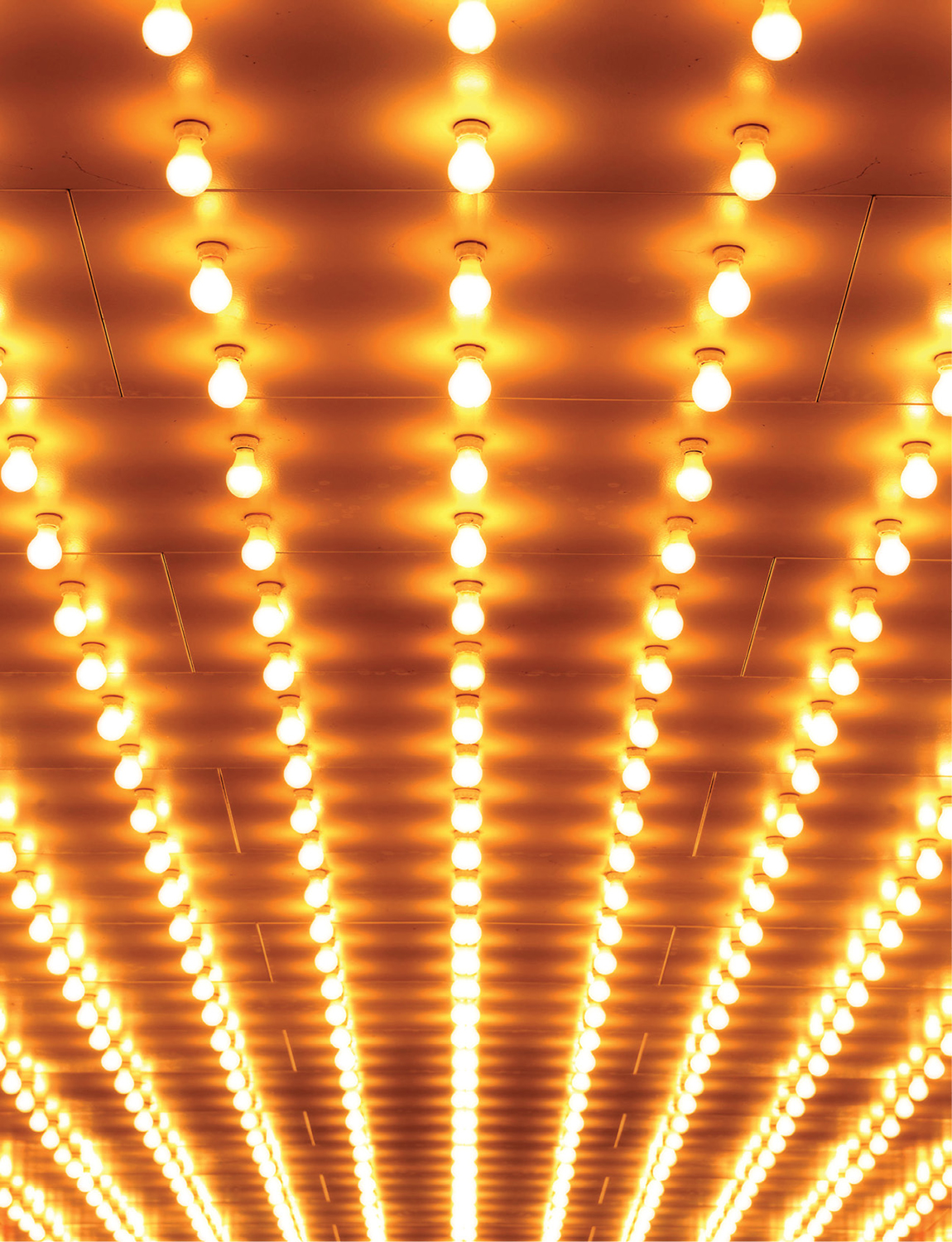 Wichita State's School of Performing Arts has graduated scores of talented actors, singers and dancers over the years – and a lucky few have hit the big time on Broadway. Three Shockers who've had the thrill of treading the boards on the Great White Way – two in the first decade of their careers and a veteran who's moved on to new projects – share their thoughts on their experiences on musical theater's biggest stage.
From Scottsboro to Motown

Julius Thomas III '05 last appeared in The Shocker shortly after his Broadway debut in 2010's The Scottsboro Boys, a musical based on a series of 1930s civil rights cases. His next show on the Great White Way was the 2012 revival of Porgy and Bess, the 1935 Gershwin opera – controversial at the time because of its all-black cast – that originated the blues standard "Summertime."
Thomas was in the ensemble and understudied several roles in Porgy. The show, he says, "was almost more important to me than the first one." That's because, he explains, it proved he belonged on Broadway – that Scottsboro Boys wasn't a fluke. Porgy also provided Thomas the experience of performing with one of the people he admired and strove to emulate. "All through school," he says, "I obsessed over Norm Lewis' rich baritone. It was a particularly important feather in my cap when he complimented me on my voice."
As meaningful as performing in Porgy was to Thomas, it "wasn't without its wonky moments" – like when he ended up in the wrong place at the wrong time and nearly knocked down one of the show's stars. Luckily, no harm, no foul.
In 2013, Thomas landed a part – parts, in fact – in Motown the Musical, a "jukebox musical" based on iconic record producer Berry Gordy's autobiography.
Motown features an astounding 66 songs, everything from The Supremes' "Stop! In the Name of Love" and Stevie Wonder's "Signed, Sealed, Delivered," to Smokey Robinson's "Tears of a Clown" and Marvin Gaye's "What's Going On". Thomas had the honor of playing "several of the most iconic men in the music industry": Jermaine Jackson; the Temptations' David Ruffin; Lamont Dozier of songwriting/production team Holland-Dozier-Holland; and more, including, as understudy, the role of Berry Gordy himself.
His multiple roles in Motown, which spanned several years on Broadway and with the national tour company, marked his first leads on the Broadway stage, "the first time since the (2005) production of Pippin at WSU that someone placed the show on my shoulders and told me to run with it," he says. It was a responsibility he took seriously. "When building any character, I try to start from a place of truth and empathy," he says; for Motown, he did "copious amounts" of research, reading artists' memoirs and combing YouTube for performances to emulate. "I begged Berry Gordy to tell me stories. I watched him interact in the room, and crafted a version of him that I was really proud of."
That pride was rewarded when his performance earned him a nomination for a NAACP Theatre Award in November 2016, which he found out about while standing in line at Trader Joe's. ("Cut to me pulling my grocery cart to the side of the store and furiously Googling my own name.") Though he didn't win, he was thrilled to receive a nomination – and attend the star-studded awards ceremony in LA, where Motown won for choreography, costumes, and sound as well as Best Playwright for Gordy.
These days, Thomas is having a blast performing with friend Mark Kopitzke as The Croonin' Duo (thecrooninduo.com), singing tunes by velvet-voiced gentlemen of the past and present, including Ray Charles and John Legend. He's also had a string of parts in commercials and on TV, most notably the hit sitcom Modern Family. While he enjoyed working with Jesse Tyler Ferguson and Eric Stonestreet, he was even more excited "to have a little screen time with heroes from my childhood – Elmo, Big Bird and Cookie Monster – on Sesame Street. That's the one that made me a star in my nephew's eyes."
Thomas continues to find his career rewarding and full of surprises: "Just when I think I've done all I can do, I'm blessed with another interesting chapter. There are definitely days that it feels like work, but for the most part, I'm just acting silly and having people applaud for it. What!?"
Julius Thomas III '05, who made his Broadway debut in The Scottboro Boys in 2010, honed his talents in such university productions as Pippin. The year he was a senior, Pippin was chosen for performance at the regional Kennedy Center American College Theater Festival.
Swedes, Saigon, and Even Cher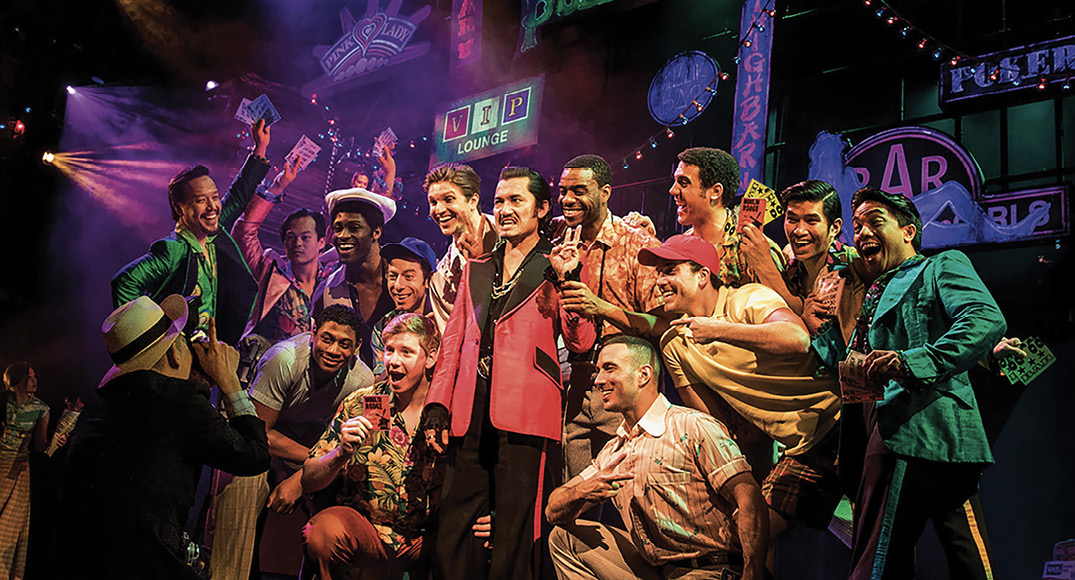 The same 2005 production of Pippin that was Thomas' last lead at WSU is also fondly recalled by Taurean Everett '08, who made his own Broadway debut in 2014 in Mamma Mia!, a frothy, long-running musical featuring the songs of Swedish pop quartet ABBA.
Everett played the role of Eddie, "sort of that cool, calm, island-surfer type," Everett says. "As it turns out, he isn't a terrible departure from how I am in real life, so landing this specific part made the moment I walked onto a Broadway stage feel calm, comfortable, and natural."
That's not to say he wasn't excited: "But the excitement paled in comparison to the feeling of 'arrival.' It meant that I would potentially work more. It meant that I would be taken more seriously. It soothed that seemingly ever-present feeling of self-doubt. It gave me confidence, and made me feel like I was somebody. I was finally Broadway's Taurean Everett."
Before he could be Broadway's Everett, though, he was WSU's, and he's grateful to the many professors who helped him succeed along the way: "Some pushed me to physical limits, so I became strong. Some criticized me, so I worked harder. Some praised me, so I gained confidence. The one thing all of these professor-student experiences had in common was that they came from a genuine place of love, nurture, and personal investment for the well-being of the students." Besides his ensemble turn in Pippin, Everett is most proud of playing Mr. Black in Wild Party, which competed regionally in the Kennedy Center American College Theater Festival in 2008. One of the things he found most valuable about the musical theater program was its warm atmosphere – familial, not competitive – which he says gave him the tools he needed to find his own way.
Mamma Mia! closed in 2015 after a 14-year-run, and Everett currently appears as a Marine in the Broadway revival of Alain Boublil's and Claude-Michel Schönberg's Vietnam tragedy Miss Saigon. The show famously features a tense, action-packed scene set during the evacuation of the last Americans from the U.S. embassy in Saigon. A real helicopter flies over the stage – except for one night, when the malfunctioning copter missed its cue. "It was one of those slightly panicked 'this-is-not-a-drill' moments," Everett says, "because we sort of had a plan B, but no one really remembered what it was because we were so confident we would never need it. But hey, it's live theater! Anything can happen!"
When Miss Saigon closes in mid-January 2018, Everett will jump straight into The Cher Show, a new musical about the singer's life, in Chicago. Juggling rehearsals for Cher with Saigon performances has kept him "busier than you'll ever know," but he's loving the opportunity to join a cast and crew building a show from the ground up. Not to mention that "on the last day of this four-week rehearsal process, we got to meet and present the new musical we'd been working tirelessly on for Cher herself! To be performing so intimately and exclusively for such an iconic star was something really special!"
Everett hopes to stay with the production when it transfers to Broadway next fall – adding another Broadway credit to his Playbill bio.
Taurean Everett made his Broadway debut in Mamma Mia! and is now juggling rehearsals for The Cher Show, a new musical about the singer's life, and performing in Miss Saigon, set to close in early 2018. The photo here is of Bangkok tourists by Matthew Murphy.
Theater of the Imagination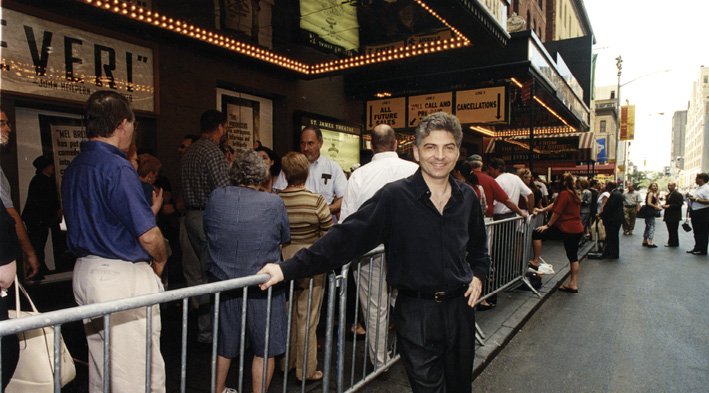 Ray Wills '82 enjoyed decades of success on Broadway stages and as an actor in Los Angeles before returning to Wichita in 2012. He loved his time in the limelight, he says, but is happy to be back in his hometown, sharing his expertise and experiences – and bringing theater to the airwaves across the state.
Wills graced a cover of The Shocker magazine in 2001, when he was quick-changing between 13 roles in the smash hit The Producers, the zany, irreverent Mel Brooks musical about two schemers trying to put together the worst play in history. Matthew Broderick and Nathan Lane played the leads, and Wills understudied the latter, going on in his place dozens of times over the show's run. He also performed in the LA production starring Martin Short and Jason Alexander. In fact, it's Alexander, most famous from Seinfeld, whom Wichita has to thank for Wills' return. The story goes like this:
While living in LA, making ends meet with the occasional television role (including three iterations of the Law & Order franchise), Wills "found myself sitting by the pool, waiting for the phone to ring. That sounds like it might be fun, but after a while, especially when you're getting into your middle age, it's like, what am I doing? I'm just waiting for the phone – I'm waiting my life away."
He expressed his frustration one day while having lunch with Alexander, who replied, "Why don't you go back home and teach, give back what you've learned? You don't have to keep doing this." And Wills thought, "Oh. I guess I could do that." He'd earned a master's degree from Brandeis on his mother's advice. "If you wanna become an actor," she'd told him, "that's great, but you gotta get a master's degree so you can teach."
So Wills came back to Wichita and accepted a teaching position at Newman University. It's a role he finds rewarding. "I can share honestly what it's really like," he says. "When I teach acting or introduction to theater – I can really share that experience."
He finds himself, still, indebted to the professors he had at Wichita State. "Mary Jane Teall was really one of the greatest teachers I've ever had," he says. "One of the things she used to tell me in acting class, she'd say 'I don't believe you. I don't believe you. I don't believe it.' And then when I got to the point where she said, 'Okay, I believe it,' then I knew I was right. I find myself repeating that for students now!"
In July 2017, Wills embarked on a new project, Kansas Radio Theatre (facebook.com/kansasradiotheatre). After returning to town, he reconnected with high school classmate – and Wichita mayor – Jeff Longwell, who asked him if he had any ideas about ways to improve quality of life in the city through the arts. Wills mentioned that he'd always been interested in live radio theater, "just like in the old days," envisioning a show that would be Kansas' answer to Prairie Home Companion. Longwell raised $50,000 in private donations for the project, and Kansas Radio Theatre was born.
"I call it theater of the imagination," Wills says – and a way to showcase all the creative talent Kansas has to offer. Broadcast on 11 radio stations across the state, including 92.3 KKGQ in Wichita, Kansas Radio Theatre is an hour-long variety show, a blend of music, comedy, and original radio plays – voices, sound effects, and all – written by Kansas native Don Winsor, who's currently building a theater career in Australia. Wills narrates, produces and acts, and juggling these hats has kept him "busy as heck." He clearly loves the work, though, and he's thrilled to have the chance to work with Kansas artists, musicians and actors, including several other Shockers: Scott Noah '94, Monte Wheeler fs '97, playwright Tom Frye '71/84, and faculty member Danette Baker '88.
In just a few months, Kansas Radio Theatre has attracted a loyal audience; it's been particularly popular with the elderly – it's "appointment radio" for some folks in assisted living, Wills reports – and it also provides the blind and visually impaired with a kind of theater they can wholly embrace. A recent performance for a group of visually impaired students from Envision, says Wills, "was one of the most fulfilling things I've ever experienced." In the near future, Kansas Radio Theatre will feature holiday-season material. Looking further ahead, Wills hopes to build a library of online episodes; he'd also like to take the show on the road to broadcast live, giving its fans a chance to see how the proverbial sausage is made.
It's too soon to tell how far Thomas and Everett will go in their Broadway careers. But if Wills is any indication, they've got the education and support base to go far. Who knows? They may even return to Wichita – playing it forward to a whole new generation of Broadway Shockers.