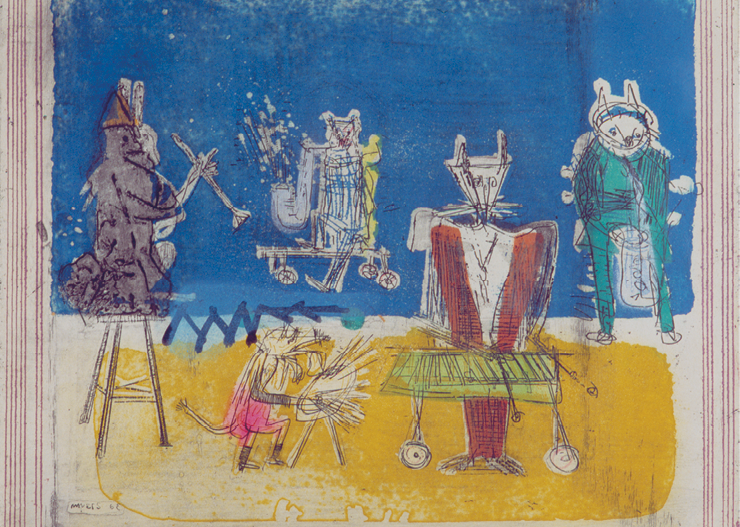 MALCOLM MYERS '40: Untitled 1964, top, and Little Jazz Band, below
From The Shocker's "Wanderings," summer 2002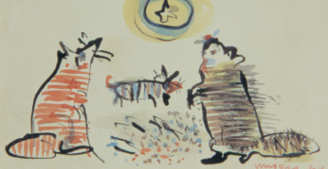 Recognized as one of America's foremost printmakers, Malcolm Myers '40 (1917-2002) liked to make things new. "I have a fear of repeating things too much," he once said. "I like to try new things, new motifs." During his lifetime of artistic pursuits, he not only pioneered new techniques in printmaking but also explored a universe-wide set of artistic themes, ranging from jazz, to landscapes, to knights in shining armor. "The Journey," "The Magic Forest" and "Hundred-Guilder Print" are among his most widely known works.
The artist who once held the 120-yard high hurdles and the 220-yard low hurdles records at the University of Wichita went on to earn two master's degrees from the University of Iowa. As a longtime art professor and former chairman of the art department at the University of Minnesota, Myers was called "an artistic institution." Wichita State honored him in 1973 with the presentation of the alumni association's Alumni Achievement Award, the first given to an artist. Among his most characteristic subjects are medieval knighthood, animal and Wild West figures and religious themes. Another of his artistic explorations focused on jazz, with which his work shares the characteristics of spontaneity and improvisation.
Known for the eloquence and fantasy of his prints, he also was a noted watercolorist. He won two Guggenheim Fellowships, the first of which allowed him to study in Paris in 1951. For the second, awarded in 1954, he studied in Mexico City. Works of his art are in the permanent collections of, among others, the Museum of Modern Art, Bibliothéque Nationale in Paris, Minneapolis Art Institute, St. Louis Art Museum, Wichita Art Museum and WSU's Ulrich Museum of Art, where the artworks featured here reside.
---
The Prairie is Divine
I found solitude: lost
comets, ancient myths,
abandoned kills
bodies on fire
in the ocean of fields—
water in the fire
bellies of the people.
Crazy, the orbits over a lifetime,
floating in the unknown like
Laika—the Russian dog—
periled between something and
nothing.
My lungs are filled with October,
and I'm hungrier than ever.
I'm lost in spring turned winter.
I am covered with clover.
Robert Graves '02/05
2004
"The Prairie is Divine" garnered an honorable mention for poetry in Wichita State's 2004 Mikrokosmos, a literary magazine for students, faculty and staff of WSU. Published annually since 1958 under the advisement of the Creative Writing Committee, Department of English, Mikrokosmos welcomes manuscripts and visual art from any individual who is or has been a student, faculty or staff member at Wichita State University. Send submissions to: Mikrokosmos, 1845 Fairmount, Wichita State University, Wichita, KS 67260-0014.