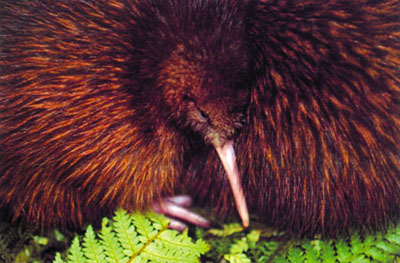 By now, most Americans recognize New Zealand from its role as Middle-Earth in Peter Jackson's Lord of the Rings trilogy.
It was chosen well — no other place on the planet looks so magical, with meadows so vividly green they seem painted, windswept mountains and glittering waters full of life.
Through the WSU Department of Anthropology and ANZ Tours, both student and alumni travelers have the rare opportunity to visit the country the native Maori call Aotearoa — "land of the long white cloud" — and learn how its people are working to save its unique environments and animals.
The trip, offered as a three-hour credit course to undergraduate and graduate students, is a perfect fit for travelers who like a little learning with their sightseeing. Jacqueline Snyder, course instructor, compares the experience to Elderhostel tours: "Very hands-on. For people who want to dig into the local culture and not spend all their time on a bus." In fact, the only difference between credit and non-credit participants will be the final paper.
New Zealand's preservation efforts affect both wildlife and humans. The Maori people, best known for their breathtaking full-body tattoos, arrived from Polynesia about a thousand years ago. The WSU group will visit Rotorua, the center of the Maori nation, and tour Whakarewarewa, a living Maori thermal village with active geysers and mud pools. They'll also witness a Hangi ritual, a way of cooking meat and vegetables over hot volcanic rocks using trapped steam — it can take up to seven hours, but the smoked food is delicious.
The islands (North and South) also boast plants and animals found only in New Zealand. Non-native European species like dogs, cats, rabbits and pigs have caused widespread devastation for indigenous species, but reptiles like the tuatara and many birds, like the kiwi (the country's cute but flightless national symbol), takahe, blue penguin and weka are the objects of rehabilitation and restoration programs. One such is the kiwi breeding program at Rainbow Springs, which participants will visit.
Between breathtaking views, lectures and discussions will cover subjects such as "ecology and culture, postcolonial cultural identity, sustainable resource management and community development" and New Zealand's unique environmental legislation, the Resource Management Act.
An optional reading list will be provided before the trip to travelers who wish to familiarize themselves with the country beforehand. But it's not all academic — there will be ample time off for "shopping, jet boating, rafting, kayaking, strolling spectacular beaches and encountering local arts" — not to mention soaking in nature's hot tubs, volcano-warmed pools.