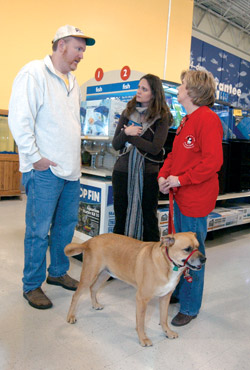 It's early Saturday afternoon at PetSmart near Wichita's Towne West Mall — and Toni Wenger '75 is undertaking her heart's mission: saving stray and abandoned dogs and working to place them in loving homes.
Wenger and eight of her fellow volunteers, all clad in bright red T-shirts, are engaged in a match-making session of sorts as they present a half dozen canines, all cleaned and combed, to potential new owners.
"What are you, baby doll?" asks an incoming customer. Volunteer Nedra Olenick provides the pitch for a possible adoption. "I'm a five-month-old Australian shepherd named Maggie," Olenick answers as Maggie smiles, showing off her bright, young teeth. Seeing interest, Olenick continues: "I'm looking for a good home where
I will be well-treated." This looks promising, Olenick thinks, while Maggie vigorously wags
her tail.
Connie Unrein, the customer, takes a closer look at Maggie, who is making her first appearance at the meet-and-greet. Unrein's parents are looking for a new dog, and Maggie could be the one. The size is right, the breed is right — and that smile!
Welcome to Wenger's world of animal rescue. Seven years ago, Wenger, a Goddard, Kan., resident who works as an assistant pension manager for the city of Wichita, founded Kansas K-9 ResQ & Adoptions.
Since its inception, the group has saved more than 350 dogs from being euthanized. Another volunteer, Linda Willis, holds Lucky, a 9-year-old Sheltie with a forlorn look on her face. It remains to be seen if the Sheltie's name is fortuitous today, but hope is the operative word at the group's events. Wenger loves success stories, and spends time looking through a collection of photos with fellow volunteer Chuck Willis. Like proud parents, they ooh and aah over the photographic record of a successful placement. But not all adoptions go smoothly.
Darren and Melinda DeFrain bring in Rusty, a 4-year-old mixed Boxer with "aggression problems." Rusty was abandoned in the country, and Wenger took him in and cared for him until the DeFrains adopted him. Wenger is taking Rusty in for the night, to provide additional training. It's all part of her mission to create new beginnings for dogs in need of loving homes.
Estimates on the number of dogs euthanized each year vary widely. A comprehensive study by researchers at Purdue and Tufts universities found that there are 3.1 million dogs available for adoption at shelters each year; only about 1 million are adopted.
Animal rescue groups such as K-9 ResQ have grown in number, spurred on by the Internet, which facilitates quick networking among members as well as with potential animal owners, says Kim Intino, the director of animal sheltering issues for the Humane Society of the United States. "They really seemed to have multiplied," she says.
Such rescue groups are a valuable resource, Intino adds, although it's vital that guidelines are in place in order to ensure a proper match and that the long-term safety and needs of the adopted animal are met.
Kansas K-9 ResQ is different from many other groups, says J.D. Irwin, who is president of the organization and has been active with it for six years. There are other groups in the area that do specific-breed rescues, but this one works with all breeds. And it's canine-only oriented. The group, which has a network of eight foster homes, gets its dogs from a network of volunteers and the Wichita Animal Shelter.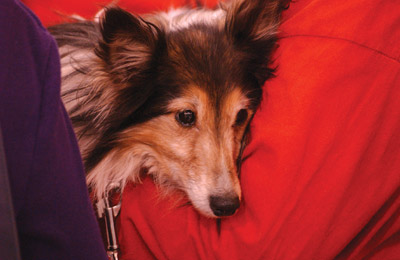 He says, "We take them and give them love, discipline and the training they need." The Irwins — J.D.'s wife, Sherry, serves as the group's treasurer — have two foster dogs along with one of their own. Irwin stressed that K-9 ResQ's mission is not an easy one.
"There are so many dogs that are put to sleep we're not able to take them all," he says. "On top of that, it's hard to get people willing to take a dog into their home and foster it."
Like Wenger, Irwin is struck by the abuse some dogs face. "It's unbelievable how some dogs are mistreated," he says. Or abandoned. Sometimes it's a case of people getting a cute puppy and not thinking that the pup will grow into a much bigger animal — and they don't have the resources and patience to handle the change. If it's one thing Wenger has, Irwin says, it's patience, especially with hard-to-handle canines, such as Rusty. "Toni is great," he says. "She is so kind with them."
While Kansas K-9 ResQ shows the dogs at PetSmart, its members don't just hand them off to anyone. There is a careful screening process, including filling out an application and an onsite visit to ensure that the new home meets the group's standards. If approved, there is a $95 adoption fee.
The group, which typically has 13 to 14 dogs in its care at any one time, has a website (www. ksk9resq.com), which contains information on how to adopt a waiting dog, along with photos of available dogs.
Some of the dogs come in and out of the network quickly, going to a new home within a matter of weeks. Others — especially larger, older canines — wait for a year or more.
At the group's Saturday event, customers continue to come in and out of the store. Some stop and pet the dogs, others stroll past, intent on their shopping. The volunteers are content with their afternoon's work and the resultant feeling that they are making a difference. Wenger continues to work the area, talking, showing dogs and spreading the word about K-9 ResQ and its mission.
A smile crosses her face as she talks with a woman about a successful adoption. It's all the payment Wenger needs for her efforts. "This is why we do this," she says. "This is the reason why we're here."