Shockers in England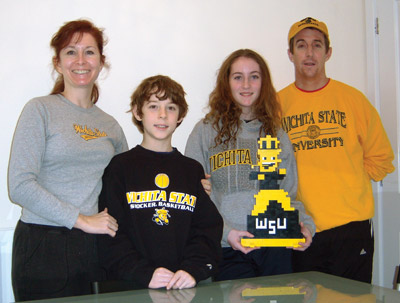 Dear The Shocker:

We're a Shocker family that spent five months in Bristol, England, where my husband was on a work assignment for Airbus North America. I'm a graphic designer and was able to take my work with me. Our children were enrolled in the local school system. It was an amazing and unforgettable experience — although it was hard for my husband to miss attending WSU basketball games.
We visited Legoland in Windsor, England, and decided to buy Lego bricks to build our own WuShock. When we finished, my 10-year-old son decided that since we were in England with the Queen, Wu needed a crown. Our Wu is now displayed — crown intact — where our cat can't knock him over.
Jennifer Lee '92,
Valley Center, Kan.
---
Thanks for the Memories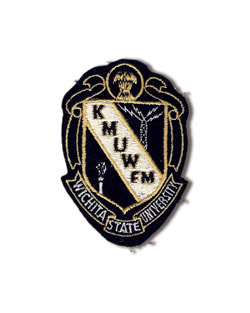 Dear Editor:
Thank you for your article on Tracy Rowlett (fall 2007). I enjoyed reading it, and it brought back some memories. I also worked at KMUW with Tracy. I was the station's engineer. I kept the electronics working and the station on the air and also helped with our setups at the field house, campus activity center and the music department.
I even won the "Smiley Award" for the person who told the best (or worst) jokes
one year.
During the time I was at KMUW, they had a program of awarding "patches" to volunteers who put in a certain number of hours at the station. I'm attaching a scan
of my patch for your viewing. We sewed them on a black blazer and wore them
when representing the station.
Although I worked at KMUW, I was not a journalism student, but a full-time engineering student. I received a BSEE in January 1968 and was immediately "encouraged" to join the military. I
was able to qualify for the Air Force Officer's Training School and got my 2nd Lt. commission in June 1968. Since then, I've accumulated a MSEE degree and an MBA degree from other universities.
Thanks, again, for the article on Tracy.
Lawrence E. (Larry) Jennings '68
Annaheim, Calif.
---
Quality Coverage
Dear WSU Alumni Association:
I received The Shocker (fall 2007) today, and continue to be impressed with its quality and in-depth coverage. I look forward to getting it each term.
Thank you!
Bob Kerr '75
Corvallis, Ore.