Bernard and Boyd, a current exhibition at the Wichita Art Museum, encapsulates the history of Wichita State University's printmaking program, a program that began with David Bernard's careful intaglios and continues today with John Boyd's new digital techniques.
The exhibition showcases the work of Bernard (b.1913 – d. 2006) and Boyd (b.1939), two distinguished WSU professors, who through talent, hard work and dedication to their craft developed a program that claims national recognition.
Bernard, who more than once explained that he believed the mission of an artist is to create order and structure, joined the University of Wichita faculty in 1949. He immediately set about creating a printmaking department and by 1954 had established a program that offered several degrees, including a Master of Fine Arts.
Of the hundreds of students earning degrees under him, many went on to teach at major universities. He also brought to Wichita a new awareness of post-war art that had few advocates before his arrival.
Boyd came to Wichita State in 1972. Born in Arkansas and raised in Iowa and California, he joined the printmaking department as a specialist in lithography. Educated at Cal State Long Beach and the prestigious Cranbrook Academy of Art near Detroit, Boyd offered students a hip and funky style that reflects his roots, as well as an opportunity to become expert lithographers. As with Bernard, many of his students have gone on to successful university careers. Boyd retires this spring after 36 years at WSU.
In Bernard and Boyd, Bernard is represented with nine works drawn from the museum's large collection of his works. These multiples reflect his skill as a printer in the European modernist tradition of Stanley William Hayter and Mauricio Lasansky. Noted in the assortment of intaglio and relief prints presented at the museum is earth cruiser, a 1970s collograph reflecting Bernard's interest in machinery in general and farm implements in specific.
Bernard was nationally prominent for re-introducing the collograph as a significant printmaking technique. A type of relief print, the collograph is made by attaching diverse materials onto the printing surface — cloth, paper, screens, almost anything that creates a pattern when inked.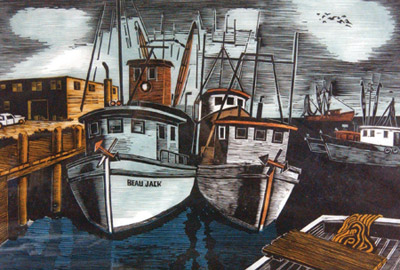 Bernard recognized that students would enjoy the wide range of results using this method and the relatively inexpensive cost of production.
Boyd has 46 prints in this exhibit which, when taken together, form a retrospective look at the artist's career. Though known as a lithographer, this selection of his work also includes paintings and drawings.
All point to his distinctive iconography reminiscent of folk artists, or outsider art, with a heavy dose of the modern masters, most notably Pablo Picasso. Born near Russellville, Ark., and raised in Sioux City, Iowa, and Torrence, Calif., Boyd's art reflects these somewhat cross-cultural influences.
His work reflects a time when printmaking was driven by the needs of the Pop Art movement, when organizations such as the Tamarind Institute and Gemini Editions Limited returned printmaking to being a significant fine art medium.
Boyd's artwork is stylistically very consistent. There is little attempt at dimensional realism or depth. His figures, often animals, lay flat on the surface amidst patterned backgrounds. The colors are bright, sometimes glaring, reflecting pop art tastes.
He once said, "A cartoon style fits my art approach because of its directness, simplicity and clarity." Dogs appear often. Titles such as granny's dog and snake dog reflect his interest in funky imagery and echo his roots in Arkansas. However, these are sophisticated contemporary works — often edgy, sometimes profane and always able to fix the viewers' attention on the image in front of them.
These two influential artists and educators, with their distinctively diverse personalities (Bernard wore a tie every day to class; Boyd wears the laid-back style of 1960s California), have combined to lead generations of young printmakers to success.