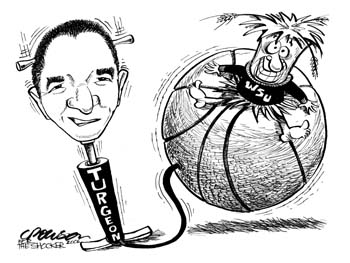 ---
"It's time to cut down some nets!"
Mark Turgeon, WSU men's basketball coach, during the Koch Arena celebration after the Shockers' Feb. 25 victory over Illinois State, a win that gave the Shockers sole possession of the Missouri Valley Conference regular-season title — the first in 23 years.

"A lot of high-fives and hugs and a lot of back-slapping going on."
Senior Paul Miller, at a March 12 WSU news conference at Koch Arena about the Shockers' selection for the NCAA Tournament, where in first-round play they defeated the Big East's Seton Hall, 86-66, March 16, Greensboro, N.C.

"It would be awesome. To put everybody back on the court in their prime to play together would be worth twice the admission."
Cliff Levingston fs '84, as quoted in The Wichita Eagle in response to sportswriter Bob Lutz's question about how the five best players in WSU's first century of men's basketball as voted in an online poll — Antoine Carr (1976-83), Levingston (1979-82), Cleo Littleton (1951-55), Xavier McDaniel (1981-85), Dave Stallworth (1962-65) — would play together.

"His first words were 'Go, Shocks!' "
Brian Silcott '98/00, city manager of Osage City, Kan., about the first words his now 3-year-old son, Sampson, ever spoke.

"It's a Shockademic of Yellow Fever!"
Debbie Kennedy '94, former career nurse now WSU Alumni Association director, at an MVC Tournament pep rally during Arch Madness in St. Louis.