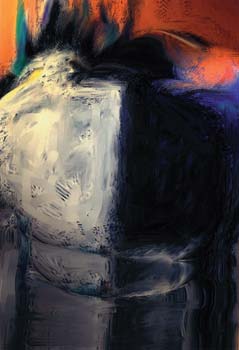 Brother Day, Brother Night
Vernon Peasenell '87
Early on, Peasenell was drawn to Abstract Impressionism, where brushstrokes are typically uniform and restrained, creating a lyrical quality reminiscent of the Impressionists. Yet painting is not this versatile artist's only medium.
A printmaker as well, he also sculpts. His master's degree from Wichita State is in sculpture. Often opting for bold, large-scale installations, he creates many unique groupings that combine painting and sculpture.
"There is an interaction between the painting and sculptures. They become a part of each other," he explains in a recent artist profile in the Inside Roseville magazine.
Peasenell lives and owns a gallery in Roseville, Calif.
---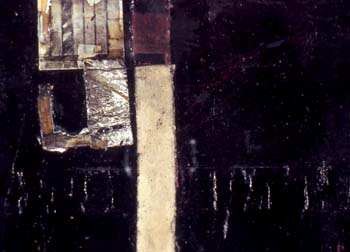 Untitled
James Gross '74/81
Through his unique employment of universal elements of design, Gross communicates personal feelings and experience. The abstract artist often incorporates found objects -- leaves, bits of cloth, fragments of wood and metal, pieces of paper -- into his paintings as a means of "uniting the real world of transitory matter with the ideal world of pure form," as Novelene Ross writes in 1998's Assembled Vision: The Artwork of James Gross.
Ross goes on to point out that many of his works, "especially the black pieces, evoke a romantic sense of nostalgia and melancholy." Ross live and works in Wichita.

---
Acme Academy of the University of Megalomania at Melancholy
Zeno, stoic before there were Stoics,
your colonnade calls, whereupon I scrawl
Xs and Os in the dust as if hugs
Were smug gestures at odds with kisses, where
verily you spake unto me, "Howbout
you play yourself a little tic-tac-toe,
the aim to outwait fate?" Or am I all
screwed up, confusing you with that other
rogue from antiquity by the same name,
quorum in this phantom forum of bum
philosophers: novice less paper, the
old boy in back honing scissors, and you,
neo-Zeno, the rock. Moreover, I
must bring to pass the task without ink, must
lilt like doves, while one's double, the soul, is
keelhauled through heck on the senses and back,
jolted dead awake to your namesake's odd
intent upon a rapt paradox of
halving one from illusions of many,
God having flunked Intro to Anthro, the
first twist in this, His less-than-orthodox
enlightenment foisted upon us, His
dark little tryst away from home when it's
common sense He ought to return where He
belongs—no harum-scarum harem of
angels to pluck, "He loves me … loves me not."

Karl Elder '77
The National Poetry Review, Vol. 3, No. 2 (Fall/Winter 2005)