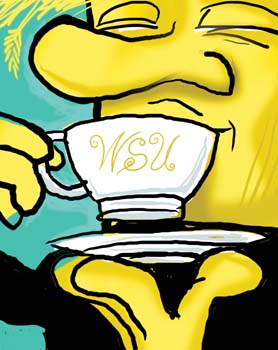 What's a Zoomdweebie?
In Wichita, Zoomdweebie's is a tea bar owned by Frank Horbelt '06. His business website at zoomdweebies.com explains that the noun is a shortened version of neomaxizoomdweebie, a derogatory term for intelligent, hard-working people first heard in the 1985 flick The Breakfast Club. Horbelt's site goes on to offer a more personal alternate definition: "A liberal arts major who abandons his literary curriculum in order to obtain a degree in accounting so he can open a teahouse." Zoomdweebie's Tea Bar, in addition to boasting more than 200 varieties of tea and baked goods, sports a 1980s atmosphere and promises a poetry/literature reading every hour, even "if we have to do it ourselves." Aha! It seems Horbelt hasn't abandoned his literary studies after all.
---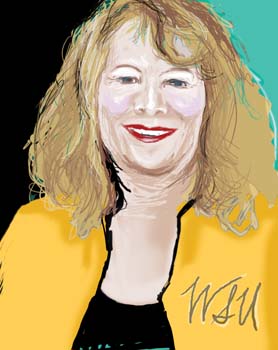 Distinguished Artist
This June, actress Shirley Knight fs '57 was honored with the 2007 Kansas Governor's Distinguished Artist Award. Nominated for an Oscar as Best Supporting Actress for her performance in The Dark at the Top of the Stairs in 1960, and again, in 1962, for her role as Paul Newman's sweetheart in Sweet Bird of Youth, this Kansas native has collected many awards over the course of her four decades as a performer, including a Tony Award for 1976's Kennedy's Children and three Emmys. Among her recent notable TV roles is Phyllis Van de Kamp, Rex's mother who battles with Bree after Rex's death on ABC's popular series Desperate Housewives.
---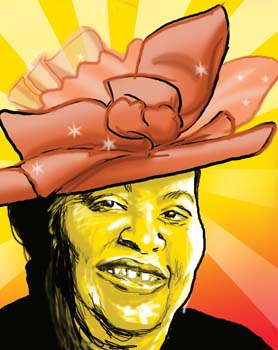 Hattitude
"Hattitude is a fabulous thing," says Karla Burns '81/81. The Wichita native who's been the toast of Broadway and London's West End is talking about Crowns, a gospel musical celebrating black women and their church-going hats that was produced this spring at Wichita's Stage One. Burns, who admits to owning some 70 to 80 hats of her own, played Mother Elsie Shaw in the show, which was adapted by Regina Taylor from the book Crowns: Portraits of Black Woman in Church Hats by Michael Cunningham and Craig Marberry. Other Shockers with hattitude — and roles in the play — were Sheila Kinnard fs '05, who played Wanda, and Trisha Garnes '95/00, the fiery preacher's wife Mable.
---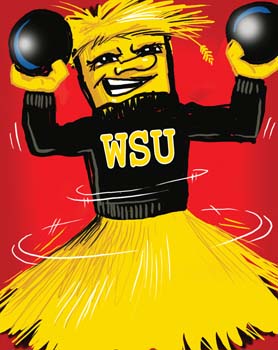 Bowling Dervish
Gordon Vadakin '82 has joined the bowling elite with his induction this March into the U.S. Bowling Congress Hall of Fame in St. Louis. It's the fourth hall of fame for Wichita State's head bowling coach. Vadakin is being recognized in the performance category, which means he's garnered notice for both his extraordinary run as WSU's top coach and as a bowler himself. Although he describes his own game as "not pretty — or even fundamentally sound" and admits to looking like "kind of a whirling dervish up the lane," Vadakin has bowled 27 sanctioned perfect games and shot the first 300 in a U.S. Olympic Festival in 1989.
---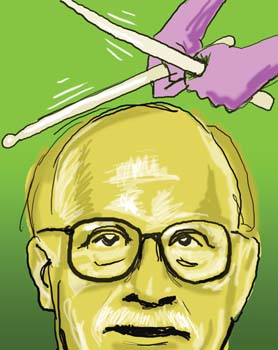 The Different Drummer
WSU's intrepid explorer of the outer limits of percussive music, J.C. Combs, has decided to hang up his professorial drumsticks and retire. Wichita State will never sound the same. Combs has taught percussion and music appreciation classes at WSU since 1970. Among other honors, he's received the Kansas Regents Award for Excellence in Teaching, and is a known clinician at universities and professional conferences across the nation. He has scores of performance credits, both as conductor and player. He was, for instance, the principal percussionist and timpanist with the Wichita Symphony Orchestra for 30 years. Yet it's his rollicking forays into the wild, wild world of the percussive avant garde that have generated the loudest flourishes for this educator and performer. Included in his corpus of offbeat (figuratively speaking only) compositions are Pizza Hut-2-3-4 (a work requiring 100 Pizza Hut delivery boxes and five sizes of pizza pans) and The Keglers' Concerto (created for marimba, tom-toms, beer cans and bowling pins). One of the most raucous productions was War Games for Professional Wrestlers and Extended Percussion, a piece written by Walter Mays and often conducted by Combs. The surrealistic extravaganza that is War Games requires side-by-side performances of percussionists and pro wrestlers.
---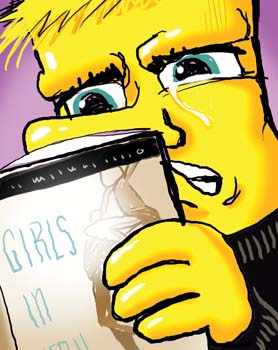 Girls in Peril
This February, Karen Boren '94, an associate professor at Rhode Island College in Providence, returned to Wichita as a participant in WSU's Visiting Writer Series. Boren is the author of the critically acclaimed novella Girls in Peril, her debut novel. Girls in Peril — a coming-of-age story about a group of adolescent girls living in a small Wisconsin town in the 1970s — was released last May and is a Barnes and Noble Discover Great New Writers selection. "The guidance I received in (WSU's) MFA program was invaluable to me," she says, adding that special credit goes to recently retired program director Phil Schneider. After graduating from Wichita State, Boren went on to earn a doctorate in English from the University of Wisconsin, Milwaukee.
---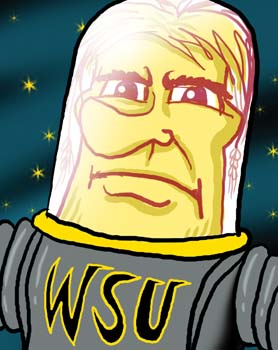 Weird Science
If you're a sci-fi lover who craves reading about new conceptual theories, then Jack Jacobs and the Doomsday Time Machine by Albert Abraham '81 should find its way onto your summer reading list. Available at online bookstores or bluecometbooks.com., the novel is Abraham's first. He is an aerospace engineer at Boeing in Wichita.