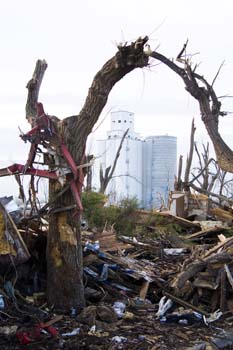 At least three clocks stopped at 9:50 the night of May 4, when a wedge tornado 1.7 miles wide lumbered through Greensburg, the county seat of Kiowa County, population 1,500 – killing 10 residents and destroying as much as 95 percent of the Kansas town. With top wind speeds an estimated 205 mph, the tornado demolished every business along the main street, stripped trees bare and hurled vehicles about as if they were Matchbox toys. Entire neighborhoods were leveled, and 17 WSU alumni and their families were directly affected – including Kansas Rep. Dennis McKinney '82/84.
McKinney, whose home was razed but family members unharmed, spent Thu., May 10 helping in cleanup efforts with a number of his fellow Kansas congressmen. The day before, President Bush visited Greensburg for about three hours, surveying the damage and offering solace to residents. "I am struck by the strength of the character of the people who live here," he said. Now more than a month after the storm, residents and volunteers continue the massive cleanup with sober determination – and gritty humor. "For Sale. New Skylights," "Pardon our mess," and other signs dot the landscape as residents set about making concrete plans for rebuilding their city.
Tornado disaster assistance is still needed. According to the Kansas Adjutant General's Department, monetary donations are the recommended way to help at this time, although all donations are appreciated. For ways to help, visit www.greensburgks.org.