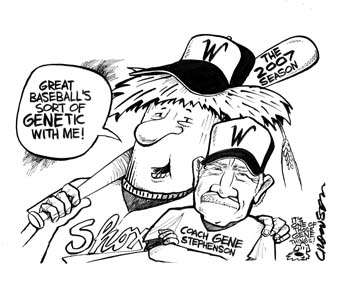 ---
Shockers everywhere, at events long ago or happenings just the other day, always have something interesting to say. Take this sampling as a Shock Talk example:
"Give Wichita State credit. That was a great ball game."
— Arizona baseball coach Andy Lopez after his team lost its first of two to WSU in the NCAA regional playoffs, as quoted in the Arizona Daily Star.
"There are many great teams playing women's tennis across the country, so to enter the national rankings is tough, but to make the jump we did is special. I didn't realize how significant our move was until I was told it is believed to be one of the greatest leaps in history."
— Chris Young, WSU tennis director, as quoted in a season wrap-up posted May 27 in Bob Larson's Tennis News. The article opened with the following recap: "A memorable 2007 season ended this week for Wichita State, but Friday's release of the final national poll provided another record. Following their 27-3 season, the Shockers finished No. 31 in the final ITA/FILA National Rankings. Unranked in the preseason top 75, the Shockers have made one of the biggest leaps in college tennishistory during the spring campaign. Climbing over 45 spots, it is believed to be one of the greatest moves since the rankings included the 75 teams."
"He already has made significant contributions to three historically black universities, and we have every reason to believe he will do even more for Savannah State."
— Elridge McMillan, chairman of the committee that interviewed finalists for the presidency at Savannah State University in Georgia, as quoted in the Rome News-Tribune in May, about the hiring of Earl G. Yarbrough '69, former chief academic officer at Virginia State University.
---
BABE RUTH may indeed have been truthful when he said, "I had only one superstition. I made sure to touch all the bases when I hit a home run." Ruth's stance aside, the game of baseball is replete with superstitions — and Shocker baseball certainly has its own.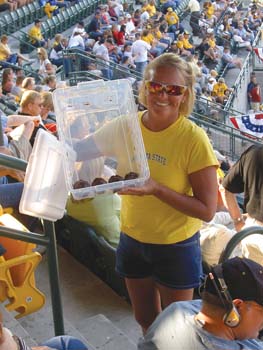 This baseball season, the Shockers won an NCAA regional at home and moved on to a super regional appearance, also played at Eck Stadium. Through it all, Shocker fans indulged in strange and idiosyncratic personal rituals, all of which they believed would help the team win.
One of WSU's biggest baseball superfans is surely Sherl Zogelmann, an alumni association life member and wife of fellow Wichita State baseball nut Tony Weatherbee.
Early in the post-season, Zogelmann saw cupcakes being handed out in honor of the birthday of association executive director Debbie Kennedy '94, who was cheering on WSU at the May 25 game.
When WSU won, Zogelmann put two and two together and decided that baked goods were the key. She mixed up a batch of yellow cupcakes with chocolate frosting before each and every Shocker game.
She even made her husband retrieve more from home between games of a double-header – until WSU lost one in double-elimination super regional play. "After that game, I said, 'Well, we can't do cupcakes again because that isn't working any more,' " she recalls. "So I went to the store and bought Juicy Fruit gum because it was yellow – but it didn't work." After hearing about Zogelmann's good-luck cupcake streak, radio sports broadcaster Mike "Voice of the Shockers" Kennedy '71 laughs knowingly.
"Baseball generally has more of those kinds of superstitions than any other sport I've been around," he says. Cupcakes, Juicy Fruit: we can't wait to see what new voodoo next year's baseball season will bring.