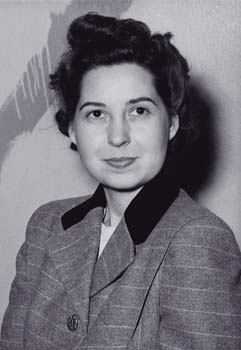 Witness to History
Esther L. (Myers) Wenzel '34/34, graduated from Wichita University with double majors in English language and literature and journalism. She became a teacher after college, and then utilized her journalism training when she wrote a correspondence article about her experiences visiting Nazi Germany and seeing Hitler during the 1936 Olympics.
In 1944 William Jardine, president of Wichita University, invited Wenzel back to the university to manage the first alumni office. As the first full-time executive secretary of the alumni association, she catalogued alumni files, tracked down "missing" graduates and, at President Jardine's request, created and distributed a survey to see if GIs who were also former students were interested in coming back to school after the war.
The newly organized alumni association put out a one-page monthly newsletter and organized an annual reunion. While Wenzel worked there, the alumni office was also responsible for basketball and football season-ticket sales and spearheaded the fundraising campaign to build Veteran's Field, the university's first football stadium. She was executive secretary for two years before her husband returned from the war. Later in life, while living at Larksfield Place in Wichita, she participated in the I, Witness to History program in retirement communities; her life experiences can be read about at http://iwitnesstohistory.org.
She died Feb. 15 in Wichita.
— Dani Wellemeyer
---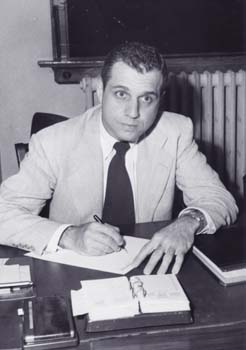 Gentleman Doctor
Retired physician, educator and health-care administrator D. Cramer Reed '37 never actually retired from his lifelong practice in the healing arts.
Reed, the driving force behind the establishment of the College of Health Professions at WSU and the Wichita branch of the University of Kansas School of Medicine, "possessed character, grace and wit. People sought him out because of his warmth," said WSU President Don Beggs during an April 14 memorial at the university's Hughes Metropolitan Complex.
Among the many enterprises, medical and otherwise, Reed is credited with having a hand in developing are Exploration Place, Wesley Medical Center's Health Strategies and Larksfield Place, a retirement community that carries on his commitment to remaining active after retirement. In his 70s, Reed took up mountain climbing, specifically the "14ers," as the mountains in Colorado that rise to 14,000 feet or higher are called.
Presented the WSU Alumni Achievement Award in 1987, Reed was nominated by former WSU President Clark Ahlberg, who wrote, "Dr. Reed's qualities as a man, his ability as a physician and surgeon have earned for him a unique position in the Kansas medical community."
Cramer Reed died April 11 in Wichita.
— Connie Kachel White
---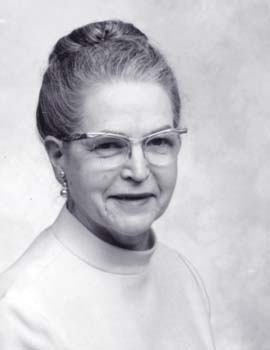 The President's Good Companion
Irma W.E. (Lann) Lindquist was a model homemaker, mother and the lifetime companion of WSU's first president, Emory Lindquist, the noted educator and historian who eased the university through its transition from a municipal university into a state institution.
A well-read and well-educated presidential partner, Irma Lindquist earned a post-graduate degree in nursing and had experience as a teacher, a nurse, director of nursing and hospital manager and as First Lady of Bethany College for 10 years before moving to Wichita in 1953, the year her husband accepted the position of University Professor at WU.
She died April 29 in Lindsborg, Kan.
— Connie Kachel White
---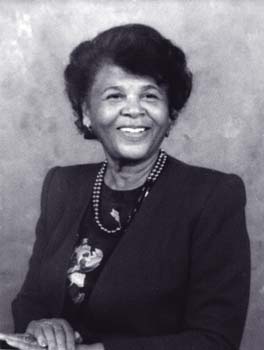 Woman of Achievement
Sara M. (Savage) Black '61, the first female black principal at a Wichita public school and longtime member of Delta Sigma Theta sorority, is remembered for her grace and fairness during a difficult time.
When Black was tapped for the head job at L'Ouverture Elementary in 1969, the district was struggling with desegregation. In fact, she testified during a federal hearing on the district's racial integration policies in 1970. L'Ouverture, located at 1539 N. Ohio, is one of two elementary schools in historically black neighborhoods that remain open; the school board elected to close the other five in the early 1970s.
Black's career is a study in persistence. A native Oklahoman, she arrived in Wichita in 1942 with a teaching degree, but took a job with Boeing before working as a secretary for three black schools – Dunbar, Douglas and L'Ouverture – before earning a master's degree at Wichita State. Black worked inside a classroom for the first time at L'Ouverture, where she taught third and fourth grade before moving into administration.
In 1976, she was honored as a Woman of Achievement by the Wichita Professional Chapter of Women in Communications. After her retirement, she stayed connected with her alma mater and in 1984 joined fellow alumni for an alumni association-sponsored cruise of the Greek isles.
Sara Black died Feb. 4 in Aurora, Colo.
— Emily Christensen
---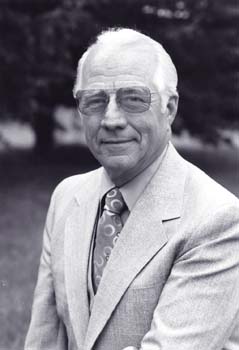 Golf Champ
Richard H. Price '38 captained the University of Wichita golf team for three years and in 1936, 1937 and 1938 was the Central Conference golf champion. He went on to become Wichita's city champion in 1938, 1940, 1946, 1955, was state champion in 1940 – and shot four holes-in-one during his career.
This owner and president of Dick Price Motors from 1946-80 is a member of the Shocker Hall of Fame, inducted in 1980, who never lost his love of sports. As a senior golfer, he brought home to Wichita from Glen Eagles, Scotland, a second-place trophy awarded him by the International Amateur Senior Golf Society – competing against some 220 entrants from 30 countries.
A past president of the WSU Alumni Association (1970-71), Price served with the 84th Infantry Division during WWII. Active in his community and his church, he once commented, "I've been blessed by my Creator. I'm very grateful and feel that I should help."
Dick Price died Jan. 20 in Wichita.
— Connie Kachel White
---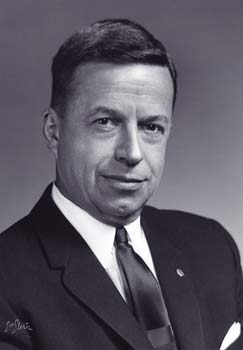 Mr. Kansas City
John A. "Jack" Morgan '37, the 1966 WSU Alumni Association Achievement Award honoree, earned a bachelor's degree in political science from the University of Wichita and his master's degree in business administration from Harvard in 1939.
Morgan then joined Butler Manufacturing Co., working his way up through the ranks and guiding the company through one of its most critical eras. After a successful tenure, he retired as CEO of the board and president in 1979.
Recognized as a civic leader in the Kansas City area, he served on the boards of numerous companies and organizations, including the Menninger Foundation, the University of Kansas City and the Midwest Research Institute. In 1968 he was named Mr. Kansas City.
Described once as having a "busy, restless mind," Morgan became enamored of Pueblo pottery and donated 112 stunningly beautiful pieces to WSU, enhancing the university's American Indian collection housed in the Lowell D. Holms Museum of Anthropology.
Jack Morgan died Jan. 23 in Overland Park, Kan.
— Connie Kachel White
---
Anneke S. Allen, homemaker, community activist, scientist and educator who arrived at WSU in 1964 as the university's first PhD female chemist, retiring in 1995 as associate professor emeritus of chemistry, April 25, Wichita. Active in the struggle for human, civil and women's rights, Allen was appointed to the first Wichita Commission on the Status of Women and served as president of the WSU Human Rights Commission. During her tenure at WSU, she was affirmative action officer, interim chair of the chemistry department and associate dean of liberal arts and sciences. In 1973, she was honored as Faculty Woman of the Year.
E. Bruce Appling '44, World War II U.S. Army Infantry veteran, retired engineering consultant and CRS vice president, active in Kiwanis and the ASHRAE Engineering Society, racing pigeon enthusiast, Feb. 26, Spicewood, Tex.
Douglas L. "John" Bebout '84/91, Marine Corps Vietnam veteran, paralegal at Stinson, Morrison and Hecker law firm, April 19, Wichita.
Walter D. Bernhart '59, WWII veteran, inventor and educator who retired as professor emeritus of aerospace engineering after a 33-year career at WSU, March 30, Sun City West, Ariz. A music enthusiast, he played trumpet with Big Bands in the 1940s. While working in research at the Boeing Co., he and co-worker Bill Fetter invented a computer programming process for drawing three-dimensional figures; the first commercial application of the process was an animated Norelco shavers TV spot that debuted in 1970.
Vincent W. Blanchat Jr. '76, tool room machinist, served in the U.S. Army as a nuclear weapons assembly specialist, was a partner in Blanchat Machine Co. and worked as a toolmaker for a number of Wichita companies, including Raytheon Aircraft, history buff, Jan. 20. Wichita.
Sharon G. (Buell) Brown '53, retired operating room nurse, July 12, 2005, Littleton, Colo.
Virginia "Tiss" K. (Stallwitz) Brumback fs '58, homemaker and advocate for the Wichita Art Museum, where she volunteered for more than 40 years, March 9, Wichita.
O. Herman Buckley '62, retired United Methodist minister of 49 years who pastored churches in California and Alabama, retired educator who taught religion, history and English at two Alabama colleges, March 5, Gadsden, Ala.
Ray H. Burrows '60, plant engineer for United Carbon Co. and process engineer for National Helium Corp. before his retirement in 1990, U.S. Army Korean War veteran, April 21, Liberal, Kan.
David W. Cale '60/65, artist, professor of art at Amarillo College 1965-93, former acting director of the art division at Wichita's Institute of Logopedics and one of a group of artists who established the Bottega Gallery, a Wichita art studio widely acknowledged as an incubator for major Kansas visual artists working in the modern style, Feb. 11, Amarillo, Texas.
Randolph W. Castleberry '71, WSU philosophy graduate and retired buyer for Boeing Aircraft, April 23, Wichita.
Edward L. "Jack" Chaney '40, WWII veteran who served overseas in the Army and remained active in the Reserves, attaining the rank of colonel, retired Southwestern Bell Telephone district manager who held various assignments in Wichita, Kansas City, St. Louis and Hawaii during his 40 years with the company, Feb. 7, Overland Park, Kan.
Maria M. Chaple '78, homemaker, WSU Spanish master's degree graduate and retired Newton, Kan., High School employee, March 12, Wichita.
Orville "Orv" K. Clevenger '58, retired financial consultant, barbershop music enthusiast, Shocker basketball fan, March 29, Wichita.
Thomas R. Collins '75, political science graduate and vice president of leasing at Stewart Allen and Associates, Feb. 14, Tucson, Ariz.
Virgil A. Combs '63, retired school administrator and rancher, founding member of the Kansas Saddle Horse Association, March 10, Wichita.
David L. Cook '39, retired research chemist for Shell Oil Co., May 13, 2004, El Cerrito, Calif.
Jess D. Cowen '90, Tec Engineering Inc. project manager, April 28, Andover, Kan.
Steven K. Cox '81, Warren Theatre payroll manager, University of Kansas law graduate, Feb. 18, Wichita.
Charlotte E. (Schneider) King Crawford '48/62, homemaker and teacher for 17 years at the University of Wichita's Institute of Logopedics and later at The Timbers, a home for disabled adults, April 6, Wichita.
Julia A. (Casad) Dagenais '69, former high school English teacher and adjunct instructor at Friends University, published poet, Kansas State Historical Society board member, March 31, Wichita.
Dorothy J. (Eby) Day '56/74, homemaker and retired speech pathologist for the Wichita public school district, April 27, Wichita.
Jerald "Jerry" F. Dean '70, global credit risk training manager for BP Oil International Ltd., Houston, Texas, who received his master's degree in business administration from St. Francis University in Loretto, Pa., author of The Art and Science of Financial Risk Analysis volumes I, II and III and president of the National Petroleum Energy Credit Association, Jan. 27, Magnolia, Texas.
Tommy R. Dickey '66, a geology graduate and Lonestar Steakhouse & Saloon employee, April 9, Wichita.
Peggy L. (Nelson) Du Bois '69/75, a psychologist who later entered the commercial world working at EDS in Dallas and Ernst & Young and Price Waterhouse Coopers in Seattle and San Francisco, April 18, Oakland, Calif.
Larry E. Duckworth '71, president and CEO of OmniAmerican Bank of Ft. Worth, Texas, and cattle rancher who served as president, CEO or senior vice president of three credit unions (Carswell Federal Credit Union, Ft. Worth; John Deere Community Credit Union, Waterloo, Iowa; and Tulsa Teachers Credit Union, Tulsa, Okla.), recipient of the Medal of Merit given by the U.S. Secretary of the Treasury and the Medal of Recognition presented by the Department of the Treasury, Feb. 8, Southlake, Texas.
Gary L. Duncan '59/74, retired U.S. Air Force major who served in the Strategic Air Command, retired public school teacher, March 11, Clearwater, Kan.
William H. Duvall '51, owner of General Oil Tool Co. in Duncan, Okla., an expert fisherman and a WWII and Korean veteran who retired from the U.S. Army in 1969 with the rank of lieutenant and many honors, including a Bronze Star and a Purple Heart, April 7, Lawrence, Kan.
William E. Fein '49, retired U.S. Air Force major whose service included 17 months in Korea and an assignment as chief of publications development in Washington, D.C., former Kansas State Chamber of Commerce public relations director, editor of the Air Force Systems Command newspaper and associate editor of the U.S. Air Force Inspector General's magazine from 1972 until 1980, the year he retired, Feb. 28, Newhall, Calif.
Kelton S. Francis '74, actor, stagehand, stage manager and house manager, who served in the U.S. Army from 1966-69 with the 101st Airborne stationed in both Vietnam and Germany, Jan. 31, New York, N.Y.
Fred Fruhauf fs '47, chairman of Fruhauf Uniforms Inc., a Wichita-based company that designs and manufactures band uniforms, an accomplished musician and WWII veteran who served in the U.S. Navy, Feb. 27, Wichita.
G. Shelly Gard '50, WWII Marine Corps veteran who served in the Pacific Theatre, retired Noland Co. chief counterman, Feb. 1, West Palm Beach, Fla.
M. Elaine (Strawn) Gauld '55, retired elementary school teacher, May 14, Wichita.
Jan A. Gaylord '04, homemaker, former first grade teacher and then special education teacher for Wichita public schools, April 7, Derby, Kan.
James E. Green '58, retired salesman for Orbit Fluid Power Inc., Sept. 6, 2006, Little Rock, Ark.
Mildred P. Haney '60/67, retired Wichita Job Services employment counselor, Jan. 20, Wichita.
John L. Harnsberger, professor emeritus of history who retired from WSU in 1987, scholar and author among whose works is Jay Cooke and Minnesota: The Formative Years of the Northern Pacific Railroad, 1868-1873 (Arno Press, 1981), April 17, Wichita.
David T. Hindman '84, financial advisor at Waddell & Reed Financial Services, former support services supervisor and evening shift supervisor at Hutchinson Hospital's laboratory, Feb. 24, Hutchinson, Kan.
Jerry L. Hollowell '71, former Hershey Co. employee, Jan. 28, 2006, Overland Park, Kan.
M. Earlene (Duke) Hull '44, homemaker and former teacher in the public school systems of Kansas City, Planeview and Wichita, May 17, 2004, Schaumburg, Ill.
Marcia J. (Salsman) Hunt '77, a creative writing graduate, Feb. 27, Albuquerque, N.M.
James R. Jacobs '62, former Derby, Kan., Junior High School social studies and government teacher and assistant principal, retired history teacher at Morris, Okla., High School, where he was recognized with two Oklahoma history teaching awards, rancher, Jan. 19, Council Hill, Okla.
Lonnie James Jr. '64, retired U.S. Army lieutenant colonel, April 8, Killeen, Tex.
Karen M. Javier '00, Farmer's Insurance agent, former assistant news editor at the Andover Journal-Advocate, Delta Gamma Sorority member and former staff writer for WSU's The Sunflower, March 12, Wichita.
Joye R. (Banks) Jones '63, homemaker and retired fourth grade teacher, March 3, Wichita.
Verna O. (Wells) Keller '38, retired teacher, April 27, Coffeyville, Kan.
Abbie M. (Slentz) Kenagy '48, homemaker and instrumental music graduate, April 5, Wichita.
J. Gilleran Kendrick '42, retired OB/GYN and Wesley Medical Center senior vice president of medical affairs honored in 1990 by the Medical Society of Sedgwick County Auxiliary for 40 years in the medical profession, March 23, Wichita.
Kenneth R. Kuhlman '64, former senior engineer in the electronic division of Heath Co., Benton Harbor, Mich., Jan. 24, 2006, Stevensville, Mich.
Mason S. Leonard '92, utilities superintendent at the Kansas Turnpike Authority, March 23, Mulvane, Kan.
Harry Litwin, retired owner of Litwin Corp., philanthropist, chemical engineer, patron of the arts and university friend who was awarded the WSU Alumni Association's Recognition Award in 1981, Feb. 23, Wichita.
Leander "Lee" J. Lohrenz '55, retired psychologist who during his career served on the staff of the Eisenhower VA Medical Center in Leavenworth and the Menninger Foundation in Topeka, Kan., where he helped establish alcohol treatment programs, U.S. Army veteran who served in counter-intelligence in Germany and who remained in the Army Reserves and achieved the rank of colonel, Feb. 20, Lawrence, Kan.
Harold L. Low '40, a U.S. Navy physician during WWII and retired general practice physician who served on the hospital boards of Wesley Medical Center and St. Joseph in Wichita, as president of the Sedgwick County Medical Society and of the Blue Cross of Kansas board, Feb. 19, Wichita.
Feryl D. Lowe '66/68, former plant manager for Gott Corp., Winfield, Kan., March 5, Joplin, Mo.
Judy L. (Rinehart) Malina '71, WSU accounting graduate, Feb. 25, Humble, Texas.
Harlan E. McClaskey '73, retired Wichita Police Department head of internal affairs, April 22, Branson, Mo.
M. Eleanor (Moore) McKee '31, retired elementary school music teacher, avid equestrian and golfer, dedicated volunteer, Feb. 12, Reston, Va.
Ruth E. (Schriber) Milbourn fs '40, 1937 University of Wichita "Belle of the Ball," homemaker and former airlines ticket office employee, Feb. 2, Manhattan, Kan.
S. Paul Mitchell '46, retired educational media specialist and a member of the national debating fraternity, Delta Sigma Rho, at the University of Wichita, July 7, 2001, Austin, Texas.
Fairy N. (Mayweather) Moore '71, a WSU elementary education graduate who worked for the foster grandparent program at Interfaith Ministries of Greater Houston, April 21, Houston, Texas.
Esther J. (Thomson) Morris '61/61, homemaker and retired second grade teacher who began her career teaching eight grades in a one-room schoolhouse in Butler County, March 11, Andover, Kan.
Therese W. Munley '72, homemaker and retired bookkeeper, Feb. 16, Wichita.
Geraldine F. (Kantzer) Musson '74, homemaker and retired junior high school teacher, March 21, Arkansas City, Kan.
Daniel A. Neifert '56, retired teacher and former Bureau of Indian Affairs adult education specialist, Jan. 20, Taos, N.M.
Sherman C. Nystrom '56, retired dean of institutional advancement and professor emeritus of biology at Barton County College in Great Bend, Kan., former science editor for McGraw-Hill Companies in St. Louis and award-winning educator whose accolades include the 1970 Outstanding Educator in America Award, March 23, Dallas.
Helen M. Owens fs '84, retired middle school teacher with 40 years of experience in the Derby, Kan., school district, 1993 nominee for the National Teachers Hall of Fame, May 9, Wichita.
Marguerite C. (Jamison) Patton fs '74, homemaker and retired Valley Center, Kan., High School teacher, Feb. 9, Yucca Valley, Calif.
Musa P. (Jones) Patton '74, homemaker and retired Wichita public schools Early Childhood Center pre-school teacher, Feb. 18, Wichita.
Patrick W. Perkins '80, industrial engineer, April 23, Andover, Kan.
Edna V. (Bird) Peterson '51, homemaker, April 29, Augusta, Kan.
L.C. "Len" Price Sr. '81, retired Boeing employee and Air Force senior master sergeant, May 5, Mulvane, Kan.
Paul E. Porsch '63, retired postal clerk and realtor, April 7, Wichita.
Charles R. Purnell fs '44, WWII veteran who served in the U.S. Army's 86th Infantry Division, attained the rank of captain and was recalled to duty during the Korean War, a retired attorney with Pillsbury Madison & Sutro in San Francisco, who founded the Pillsbury Environmental Law Group, Jan. 18, Palo Alto, Calif.
Betty A. Putman '69, homemaker and retired West High School business teacher, Jan. 25, Wichita.
Mark A. Reed '78, former world-wide troubleshooter and computer system analyst at ncr Corp. and an accomplished saxophonist who performed at the Monterrey Jazz Festival, March 25, Southlake, Texas.
Elmer H. Rodehorst fs '46, retired accountant for S.A. Long in Wichita, WWII Navy veteran who served as a mechanic in the Pacific, active member of Wichita's Immanuel Lutheran Church, former president of the Lutheran Laymen's League and Kansas District Historian of the Lutheran Church-Missouri Synod, March 21, Wichita.
Ramon D. Roessler '62, former Sherwin Williams plant manager in Coffeyville, Kan., former director of streets and utilities in Bella Vista, Ark., and retired physical plant maintenance employee at the University of Arkansas in Fayetteville, March 8, Bentonville, Ark.
Thomas L. Ross III '86, Sedgwick County appraiser and former Continental Airlines employee, Jan. 20, Wichita.
Hal K. Rothman, WSU assistant professor of history (1987-92), University of Nevada-Las Vegas history professor and chairman of the history department from 2002-05, nationally known historian on tourism and post-industrial economies, whose many acclaimed books include Neon Metropolis: How Las Vegas Started the 21st Century (2002), Feb. 25, Henderson, Nev.
Gregory "Greg" S. Ruhl '95, quality control specialist for the Eaton Corp., April 21, Hutchinson, Kan.
Sherman F. Saffier '47, retired physician, Aug. 21, 2005, Stockton, Calif.
Joanna M. Sater '79, retired nurse, April 21, 2006, Wichita.
Harold E. Schmidt '59, retired director of elementary education for Salina, Kan., public schools and former teacher and principal at a number of Kansas schools, enjoyed playing and tuning pianos, March 19, Salina.
Myron D. Severson '54, WWII veteran who served as an Air Force mechanic in the South Pacific, retired Chicago Transit Authority driver, mechanic, teacher and union steward, May 19, 2006, Georgetown, Fla.
James D. Shafer '58, retired NASA engineer working at the Marshall Space Flight Center in Huntsville, Ala., Jan. 24, Grapevine, Tex.
Thomas G. Slattery fs '44, prominent business executive in the San Diego title insurance industry, civic leader, retired career Naval officer who was awarded the Legion of Merit with the Combat "V" in Korea and served as commanding officer of the destroyer U.S.S. Morton, former University of Wichita varsity football center, Jan. 15, Rancho Santa Fe, Calif.
Chloe (Rutledge) Smith '47, homemaker and University of Wichita Master of Education graduate, March 22, Winfield, Kan.
Kevin L. Smith '81, mechanical engineer and production manager at Aero Mach Labs in Wichita, Feb. 19, Wichita.
Ruth I. Smitherman '67, retired teacher, Nov. 8, 2004, Longmont, Colo.
Oweida G. (Snyder) Snodgrass '42, homemaker, retired social worker at the Kansas Children's Home and Service League and later Family Consultation Service of Wichita, worked to preserve and develop wildlife and habitat on her land in rural Kansas, served on the organizing committee and then the board of Butler County Rural Water District No. 5, April 21, Benton, Kan.
Irene L. Snowden '66, homemaker, retired teacher who taught for 31 years at Wichita's McCormick Elementary School, March 14, Wichita.
Herbert L. Stanton Jr. '65, former vice president of sales for Alchemy-South Ltd. in Marietta, Ga., and former marketing manager for the Atlanta area of the AMSCO Division, Union Oil Co. of California, Feb. 7, Tucker, Ga.
Richard A. Sutter fs '61, retired U.S. Navy radioman chief and self-employed electrical contractor, Feb. 1, Wichita.
Dorothy M. (Jordan) Ternes '52/83, homemaker, retired secretary, teacher and author, March 29, Wichita.
Donna H. (Robinson) Thomas '60, University of Wichita elementary education graduate and spirit squad member, Jan. 23, Bedford, Texas.
Valgene J. Valgora '75, former director of the Louisiana State University Medical Center's physician assistant program, Shreveport, La., Jan. 8, Papillion, Neb. Considered a pioneer in the PA profession, Valgora began his career in the medical field as a Navy corpsman, graduated from pharmacy technician school in 1960, from Creighton University with a bachelor's degree in medical technology in 1966, from Duke University's PA program in 1972 and in 1975 earned a master's degree in education from WSU. While in Wichita, he served as director of WSU's PA training program and practiced clinically at the Wichita Veterans Administration Hospital from 1972-77. He then served at the University of Nebraska Medical Center, where he was director of undergraduate family-practice education; he practiced from 1977-94 at the university's health clinic and was the manager of student health from 1985-93. In 1994, Valgora was called to guide the newly created PA program at LSU Medical Center, where he was director until 2000. He was active on many committees and in numerous organizations promoting PAs and PA education.
Cynthia L. Van Arsdale '84, homemaker, who worked for many years at the El Dorado, Kan., Police Department and retired from Butler County as a dispatcher, April 17, El Dorado.
Barbara A. (Bergstresser) Vedder 'fs 41, homemaker, English major at the University of Wichita, traveled the U.S. and Europe, Sept. 9, 2006, Colorado Springs, Colo.
Henry W. Voth '42, retired physician, Feb. 29, 2004, Bakersfield, Calif.
Jacob R. Wambsganss '73, business professor at the University of North Dakota in Grand Forks, where he also served as MBA director and Masters of Accountancy director, author of Management Accounting for Effective Decision Making, Feb. 28, Fordville, N.D.
Robert "Bob" R. Warrender '57/60, retired music teacher who taught at Kansas schools in Ford, El Dorado and Sedan where he served as band director for 21 years, tenor saxophonist with the 129th Army dance band while in the service, March 12, Geuda Springs, Kan.
Jeanne L. (Bohannon) Watters '70, case worker for the state of Kansas SRS, March 2, Wichita.
Robert L. Webster '54/57, former music teacher, retired computer programmer for the city of Tulsa, Okla., served from 1954-56 in the U.S. Army 3rd Armored Cavalry Division as a bandsman, Feb. 26, Tulsa.
Jeffrey "Jeff" G. Wenzel fs '91, co-founder and executive director of Youth Horizons, a faith-based mentoring organization, April 21, Wichita.
Cora L. White '79, teacher for more than 40 years, homemaker and pastor's wife, Jan. 17, Topeka, Kan.
Michael R. Wilson '79, chief court service officer and director of community corrections for Kansas' 11th judicial district, March 3, Pittsburg, Kan.
Richard A. Wilson '71, retired Defense Contact Audit Agency accountant, served in the U.S. Navy from 1954-58, May 1, Olathe, Kan.
Mary B. (Bryant) Wilt '52, homemaker and retired kindergarten teacher and elementary school librarian, March 3, Wichita.
Thomas P. Wingate '90, geologist for Penzoil in Houston, Jan. 29, Kingwood, Texas.
Franklin B. "Bud" Woolley '60, retired B&W Micronutrients president, Dec. 19, 2006, Bartlesville, Okla.
Lon L. Yourdon '69, factory operations reporting employee for World Impact, a Christian missions organization based in Wichita, Jan. 27, Wichita.