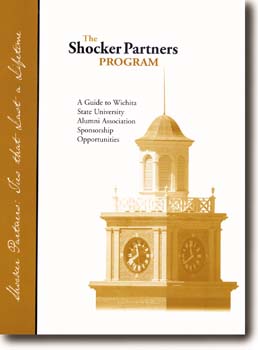 A Proud Shocker Partner

Dear Shocker Editor:
I am writing this letter as a result of Emprise Bank's participation in the alumni association's Shocker Partners Program.
We are in our second year of participation and find the program a great asset to our marketing efforts.
Wichita State is our community's institution of higher education. If you live and do business in Wichita, you should know what opportunities are available through Wichita State's alumni association.

The Shocker Partners Program has helped us reach a very viable target audience, helping make them aware of our presence in the community and highlighting the products, services and employment opportunities Emprise Bank has to offer.
We are especially excited about our advertising benefit in The Shocker magazine. The quality and distribution of this publication makes us proud to have Emprise Bank's name a part of it.
Thank you for introducing us to the Shocker Partners Program. We look forward to a longstanding partnership with the WSU Alumni Association — a great organization committed to supporting a great institution of higher learning.
Sincerely,
Steve Onken
vice president of marketing
Emprise Bank, Wichita
---
Way to Go, Hall of Famers
Madam Editor:
I am very pleased to receive the summer/fall 2001 issue of The Shocker. The articles are first-rate. In addition, it is good to learn that Judy Bell and Linwood Sexton have been inducted into the Kansas Sports Hall of Fame.
Yours,
Francis W. Schruben '52/54
Canoga Park, Calif.
---
Food for Thought
Dear WSU Alumni Association:
Due to the plight of the world's wildlife, perhaps "Shocker Safari" was not the best theme for a fundraiser. And no, I'm not a humorless environmentalist! Just food for thought…
Sincerely,
Liz Daggett, Wichita

Editor's Note: This letter is one of two penned by Shockers concerned about the choice of theme for the 22nd Annual Shocker Auction, held Sept. 15 to raise money in support of higher education at Wichita State. (The other letter is unsigned.) Members of the auction planning committee stress that the choice of theme was based on its connotations of adventure and its possibilities for generating decorations and promotional materials. The theme was in no way intended to imply support of any activity that might harm endangered wildlife.