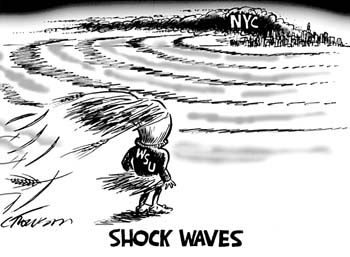 ---
Shockers everywhere, at events long ago to happenings just the other day, always have something interesting to say. Take this sampling as a Shock Talk example:
"When you discover you are riding a dead horse, the best strategy is to dismount."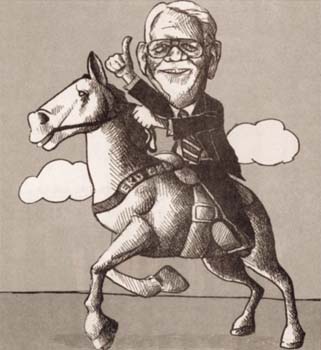 — Eugene M. Hughes, former WSU president, using a dose of Dakota tribal wisdom in his Aug. 15 convocation address at Eastern Kentucky University, Richmond, Ky., as quoted in EKU's student newspaper. Dr. Hughes rode into Richmond June 29, coming out of retirement to take up the educational reigns again as interim president. (Cartoon, Nathaniel Bullock/The Eastern Progress)

"Playing in the major leagues is great, (but) the best time I ever had in baseball was right here at Wichita State."
— Darren Dreifort '99, during his Dec. 3 address as the third of six distinguished alumni speakers in the 2001-02 breakfast lecture series. Dreifort attended the event with his wife, former Shocker basketball player Ann (Hollingsworth), and their three-month-old son Jake.

"I was one of the characters who ran a donkey named Lulubelle for Homecoming Queen. I remember well the discussion with Dean Hekhuis about the incident. When I became president of William Jewell College in the mid sixties, Dean Hekhuis wrote me a letter: 'Dear President Olson: Impossible!' I still have that letter."
— B.G. "Bob" Olson '51, commenting on some of his most memorable experiences as a WU student, during class of 1951 reunion festivities.
---
In the last issue, The Shocker asked dues-paying members of the WSU Alumni Association why they are members. Four of the responses are being highlighted in this issue. Two are reprinted here. The other two are featured in an association membership ad. We hope all of these answers inspire you to a more active involvement with your alma mater.

"Why am I a member of the WSU Alumni Association? I'm proud to have earned my degree from an outstanding institution like Wichita State! By joining the association, I have the opportunity to give something back to a school that's already given me so much. I owe it to WSU — and to all new Shockers!"
— Clinton D. Everhart '00, Mesa, Ariz.
Everhart, who earned his undergraduate degree at WSU in communications, is currently a graduate student in postsecondary education at Arizona State University, where he works as a graduate assistant in student activities at the campus union.

"I fell in love with WSU when my cousin, Tom Reeves, got me a bench pass for a Shocker football game back in the late 1960s. How exciting it was for me to actually sit with the players during the game! Tom's name is now on the memorial for those who did not survive the Colorado plane crash. Being a Life Member of the alumni association is my way of staying connected to the university and the community Tom introduced me to so many years ago."
— Michael D. "Mike" Dungan '80, Beeville, Texas
Dungan earned a bachelor's degree in administration of justice and now works as an associate warden with the Federal Bureau of Prisons in Three Rivers, Texas. The Shocker community remembered Dungan's cousin, Tom Reeves, and the other 30 WSU football players, administrators and supporters who lost their lives in a plane crash Oct. 2, 1970 during an annual ceremony of commemoration held this year at 9 a.m., Oct. 2 at the memorial site on campus. The plane crashed near Silver Plume, Colo., en route to a game with Utah State University in Logan, Utah.