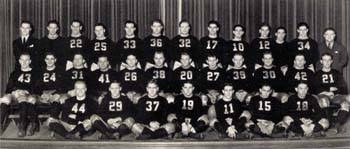 For years the Shockers had sought to induce the University of Kansas Jayhawks to play in Wichita.
Some fans, in jest, suggested that Wichita wanted revenge for a 6-0 loss suffered in 1902 when, as Fairmount College, the Shockers had bowed to KU.
Wichita eventually lured the Jayhawks back, and on Oct. 10, 1937, the headline on the Wichita Sunday Beacon said it all: "Wichita U. Trounces K.U." Jack Copeland, Wichita Beacon sports editor, would hail the "amazingly powerful University of Wichita Shockers" for writing a new chapter in the annals of football with their 18-7 victory. Nationally, KU's defeat was termed a major upset.
On the evening of Oct. 8, KU coach Ad Lindsey and his 38-man traveling squad arrived by train in Wichita. The next day they would face the Shockers, led by head coach Al Gebert, who had arrived in 1930, at the age of 23, from Notre Dame. Gebert rejected other offers and decided to come to Wichita because he and legendary Notre Dame coach Knute Rockne were looking to spread the Notre Dame system of football as widely as possible.
At Notre Dame, Gebert had been one of Rockne's "shock troops," those who began a game and did their utmost to wear down the opposition before the regulars came on, usually to win — and this at a time when there was no separate offense and defense, or free substitution. Gebert started at quarterback Nov. 16, 1929, at Soldier Field in Chicago when the "Fighting Irish" gained the national championship.
On game day, Oct. 9, a contingent of boisterous KU students, faculty, fans, pep club and marching band arrived in Wichita on a chartered Santa Fe. Met by local alumni, they were treated to lunch at the Hotel Lassen before being escorted to a reserved section of WU's stadium in the south part of campus.
When the game started no one, except perhaps Gebert and his team, thought the Shockers stood a chance. So it was a surprise when the Shockers, using the Notre Dame shift with variations, jumped out front for an early lead when quarterback Jakie Ogden '39, snatching a pass from halfback Harold "the Great" Brill '38, ran 65 yards for a touchdown.
Spectacular as Ogden's run was, WU's next tally would bring the crowd to its feet "with a roar." Here was Brill — "King Harold," as he was also known — at his best, with a run that "won't be forgotten in football circles hereabouts." Years later, Brill would give credit to his blockers, Mickey Perino, George Ax '39, Johnny Cotter '38, Dave Jounson '40 and Nick Stevens '40, for knocking Jayhawks out of his way like "ten pins."
In the second half, Wichita would score its third and final touchdown when KU fumbled on their 36-yard line. WU lost on their first down, but on the next one Captain Tromer Smith '39 caught an 11-yard pass and shed tacklers as he scored. KU's only score came late in the game when Clarence Douglas, a bruising fullback held in check until then, began a series of plunges that took KU to the 10-yard line. From there Milton Sullivant lugged the ball into the end zone.
Looking back at the action, Copeland would later agree with KU's Daily Kansan that other than the touchdown runs, the game was largely a shoving match as the teams seesawed up and down the field. Copeland would emphasize again and again that with its win, WU had entered the world of big-time college football.
Near the end of the season, KU rolled to a 13-13 tie against Nebraska — who earlier had defeated Minnesota's Golden Gophers, always a top contender for the national title. And without being tied or scored upon, the Shockers went on to win the Central Conference championship.
Does all this mean, though, that the Shockers could have been number one, or at least, in the top five nationally? Probably not. But for WU, its 18-7 win over KU is a game to remember.