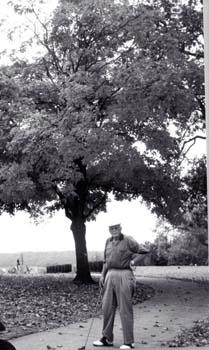 On Dec. 8 of last year, Associated Advertising Agency hosted its traditional open house to celebrate both the holiday season and the 56-year career of chairman and CEO Preston "Pres" Huston — at which time Huston announced his retirement, effective Jan. 1, 2001.
But January came and went, as did month after ensuing month, and he continued to come to work as usual. "I guess I haven't quite got the hang of retirement yet," he dryly comments.
Kerry Gray fs '74,Huston's successor as president and CEO of the Wichita agency, says, "Pres' concept of retirement is interesting. When he told me he was going to cut back to half days, I told people that I guessed 12 hours a day was enough for anybody. But the fact that he continues to come to work pretty much every day since he retired makes it all the more interesting."
While Huston has exited the scene in theory if not in practice — he alternately refers to his compulsion as a "bad habit" and the "work ethic" — it is an undisputed fact that his driving determination has been the crucial catalyst for his company's success.
Associated Advertising was chartered in 1946 by Clyde R. Sullivan; six months into the venture, the then-21-year-old Huston, who was a student at the University of Wichita, joined the small staff as general office boy.
Working his way up, he became in rapid succession a media buyer, a production manager and an account executive. In 1951, he was named vice president and, in 1957, president of the company.
During that time, Hesston Manufacturing had become one of the agency's major clients. "They wanted me to manage their account full time," Huston says, "so I became their interim vice president of corporate marketing and communications in 1975, which worked well for a couple of years."
However, he retained his position as chairman of Associated Advertising's executive committee while at Hesston, and, after heart bypass surgery in 1977 — preceded by a serious heart attack in 1969 — he returned to Associated as chairman.

Systems and Strategies
Nationally recognized as one of Kansas' premiere marketing agencies, Associated's growth has been phenomenal. Currently employing some 40 people, the company boasts capitalized billings of more than $20 million. In the beginning, its clients were largely manufacturers of agricultural, industrial and construction machinery, but over the years, the agency steadily built a diversified account base that today ranges from resorts to heating and air conditioning, from transit buses to corporate jets, from tourism to sunrooms, from mowing machines to computer accessories and from health care to mortuaries.
Clients include Koch Industries, Boeing Commercial Airplane Group-Wichita Division, Bombardier Aerospace, Greenbrier Basket Company, the Grasshopper Company, Intrust Bank, Preferred Health Systems and Art's & Mary's Home Style 'Tater Chips.
Such growth did not happen by accident. In the 1950s, Huston began defining and then refining Associated's niche: to be both a full-service agency for and a marketing partner with its clients.
"We've since named our total marketing approach 'GREAThinking,'" explains Gray. "It's a process whereby we develop a comprehensive strategic marketing plan for each client. We don't just sell advertising, we just don't sell creative, we sell thinking. We assess each client's needs via a thought-out, written-down plan grounded in research and analysis that focuses not only us but the client."
By adhering to that strategy, Associated Advertising has flourished during good times and weathered the bad.

Reality and Alchemy
Although Huston always said that he wanted to be a writer — which would have made him a natural for the advertising game — his true talent and value ultimately lay in his bottom-line business smarts. Just out of the Army, where as one of the youngest first sergeants he fought in the Battle of the Bulge and earned several medals, including the Bronze Star, Huston enrolled at the Municipal University of Wichita in 1946.
"I needed to graduate in three years," Huston remembers, "and I figured the best way to do that was to major in English."
But he also took every business course he could. "They didn't have marketing as such back then, nor what would come to be called research analysis, and no one was talking about business plans or strategic marketing at that time," he comments. "But I found that the principles of salesmanship and public relations I learned at WSU translated well to the agency."
His creative vision was also firmly grounded in reality, which he believed was a necessity for Associated's business-to-business clients. "I never actually wrote much copy," he says. "But I know good copy when I see it. Our clients generally need fact-based advertising, not hype, and not fiction. I sometimes have to tell this or that writer, 'Look, you're making this product walk on water, which we all know it can't do. Let's try something a little more realistic.'"
That pragmatic vision inexorably hallmarked both the man and the agency. Al Higdon '61, former chairman and co-chief of Sullivan Higdon & Sink, one of Associated Advertising's competitors and currently a professional-in-residence at Wichita State, remarks, "Pres has headed up Associated Advertising for so long and so effectively that, of all the agencies in town, it's the one that most reflects the character of the man and vice versa. The two are synonymous."

Innovations and Advantages
During Huston's long tenure, Associated Advertising has garnered many awards and accolades, but one of the most recent — the first Business of the Year award given by the Wichita Independent Business Association in 2001 — affirms the agency's entrepreneurial spirit and corporate zeitgeist.
In 1975, Associated converted to an Employee Stock Ownership Trust, according to Gray, "the first company in the state and one of the first in the country" to do so. The company is thus 100 percent employee-owned, which, Huston says, "encourages the employees to take an active interest in the agency's success."
Having prospered for 56 years as an independently owned business based on growth, innovation and community service, this company remains firmly rooted in Wichita, unlike many other entrepreneurial ventures that began here only to be sold out of town to national conglomerates.
"In that respect, Wichita has become a branch office city," comments Gray. "Over the years, we lost some major clients whose buyers took the corporate offices, the budgets and eventually the marketing decisions elsewhere."
Those experiences forced the agency to diversify, to stay innovative, to hone its competitiveness and to continue to forge ties with the community. Ultimately, says Gray, "Pres' full-service vision served us well."

Giving and Receiving
Associated's community commitment includes the donation of time and services to numerous nonprofits, including Big Brothers & Big Sisters of Sedgwick County, KETCH, Rainbows United, Roots & Wings, United Way, Students in Free Enterprise, the Wichita Area Chamber of Commerce, the Wichita Children's Home, the Wichita Symphony, WSU's Elliott School of Communication and Youth Entrepreneurs of Kansas.
"Last year alone, we donated $160,000 worth of time and services," says Gray. "Pres' philosophy is, 'Let's give 'em what we do best; they can get money from anybody.'"
Shelly Chenoweth, executive director of Youth Entrepreneurs of Kansas, comments, "I'm just amazed at Pres' generosity. His staff will be working on one of our projects, and at some point he'll say, 'OK, that's gonna be enough, that's gonna be enough,' and the next thing you know he's committed them to more pro bono work. Now, that's not the way you make a ton of money in the short run, but Pres realizes that civic involvement is important, because a strong community ultimately benefits his agency."

The Irrepressible Consultant
Huston currently is listed as both chairman emeritus and consultant at Associated. Exhibiting his novel take on retirement, he remarks, "I generally have four or five balls in the air at any one time. I'm getting our systems in order so that everyone is on the same page, and taking on some assignments that don't look like they're going to get done otherwise. But I've got to be careful that consulting doesn't become initiating. At least not too often."
Higdon says, "I myself retired at age 60 because I saw advertising as a young man's game. Obviously, Pres doesn't agree with that viewpoint, and it seems to work for him."

While Huston does admit that he's trying to sidestep working with clients directly — "I don't think anyone wants to hear from a 76-year-old man" — and while he also believes that advertising for the young is best done by the young, he remarks with a chuckle, "I guess it all depends on how you determine age."
And Associated Advertising is pleased to confirm that the fact of the irrepressible Huston's retirement is a pleasant fiction.