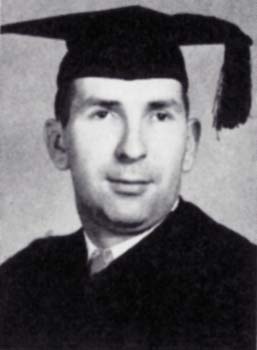 Reuniting Friends
Edward Z. Szczepanik '50 was always in the lead when it came to organizing reunions geared to Shocker sports enthusiasts. For instance, he and Linwood Sexton '48 spearheaded the first gathering of University of Wichita football, basketball, track and baseball alumni in the early 1990s that coalesced into WSU's Old-Timers Club. Club members meet the third Thursday of each month in Wichita to reminisce about playing Shocker sports. As the "old timers" say, they have a million stories that get better all the time.
And in 1998, it was Szczepanik who came up with the idea for a 50-year reunion for members of the 1948 football team that played in two bowl games that season, the Raisin Bowl in January and the Camellia Bowl in December. Szczepanik was an end on that legendary Shocker team. "I can't believe the fun I'm having with this," Szczepanik reported at the time of the reunion. "It's work, but it's worth it."
Just days before his 1950 college graduation, Szczepanik, who hailed from East Rochester, Pa., married Donna Truffelli in Wichita, where the two made their home. Through the years, he supported his growing family and built a career for himself in business, retiring as a pharmaceutical supplier and Coach employee.
Ed Szczepanik died Aug. 26 in Wichita. He is survived by his two sons, Edward and Michael, and his two daughters, Victoria and Betsy.
---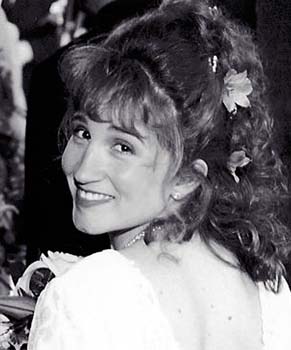 Engineering Success
Robyn Marie Ryan was enthusiastic about many things: her work, her family and friends, her cats, Pierre and Jasmine — and the advancement of education, technology and engineering.
Born Sept. 16, 1973 in Green Bay, Wis., Ryan graduated as valedictorian of her high school class.
In 1996 she earned a bachelor's degree in engineering mechanics from the University of Wisconsin-Madison and in 1999 earned a master's degree in mechanical engineering from Wichita State University. While in Wichita, she worked for Raytheon Aircraft Co.
Moving to Marinette, Wis., in 1999, she worked for ERDA's Medical Systems Division as a program manager. She was also an active volunteer and contributed to, among others, the M&M Jaycees and the Society of Women Engineers.
Ryan married her husband, Michael Brandt, also an engineer, in 1998. Brandt says, "From the beginning to end of her battle with leukemia, she maintained an exceptionally positive attitude and lived each day as if the next would always come. Even in her last days, she finalized the development of a curriculum to introduce local high school students to careers in engineering and technology. Her countless talents were overshadowed only by her unselfishness in everything she did."
Ryan died Sept. 17 in Green Bay, only an hour after her 28th birthday.
---
George V. Alexander '47/48, April 14, 1999, retired consultant, Woodland Hills, Calif.
Larry A. Allen '64, Sept. 3, retired music teacher and former Engage-A-Car owner, Wichita.
Mary S. Allen, May 19, retired in 1996 after 23 years of service from Wichita State as a secretary in the controller's office, Topeka, Kan.
Gerry Lynn Bandhauer fs '77, Sept. 8, Cessna Aircraft Co. executive secretary, Wichita.
Max B. Benjamin fs '40, Sept. 4, former Benjamin Flowers owner, Wichita.
Clyde C. Berger '43/48, Sept. 7, retired Institute of Logopedics head librarian, Wichita.
William G. Bobier fs '53, Oct. 18, retired basketball coach, teacher and counselor, Las Vegas, Nev.
Michael D. Brouhard '78, Oct. 13, Western Resources Tecumseh Plant manager, Topeka, Kan.
Rose Jeanette Brown '66, Oct. 21, educator, Placentia, Calif. Brown, a teacher in the Anaheim, Calif., Union High School district and chairman of the reading department at Fremont Junior High, was honored as an Outstanding Secondary Educator of America and elected to the National Teachers Hall of Fame.
Arnold Buhler '49, Aug. 18, retired USD 490 superintendent and World War II veteran, El Dorado, Kan.
Edward B. Burnett '77, Nov. 8, captain and chief investigator for the Kay County Sheriff's Department, Kaw City, Okla. Burnett had retired after 29 years of service with the Wichita Police Department before moving to Oklahoma.
Mary P. Byrnes '73, Oct. 12, retired Wichita Clinic Medical Records clerk, Wichita.
Dale B. Carter '61/61, Aug. 10, retired Mobil Oil chemist, Wichita.
Michael A. Carter '95, Sept. 15, Sedgwick County Detention Center deputy sheriff, Wichita.
Corinne E. (Bennett) Clarke '39, Oct. 20, homemaker and retired Ed Clarke Co. real estate associate, Wichita.
Jack D. Cummings '85, Sept. 25, retired Army major, Carlisle, Pa.
Patricia Ann (Phillips) "Pat" Daniels '49, Aug. 16, homemaker, Wichita.
Meredith L. (Rick) Dobson fs '54, Aug. 13, homemaker, Wichita.
Michael B. Downing '70, Sept. 17, Caterpillar employee for 31 years, who held various positions including overseas business economics manager, regional manager in Africa and the Middle East, and regional manager of Eastern and Canadian Regions, North American Commercial Division, Dunlap, Ill.
Phyllis Mae (Merry) Edwards '44, Sept. 4, graphologist and accountant who retired as secretary and treasurer for Industrial Card Chrome Plating Co., Denver, Colo. While at the University of Wichita, she served as editor-in-chief of the Parnassus.
H. Norman "Norm" Eston '50, Sept. 27, retired radiology pharmaceutical sales specialist and manager, Newton, Mass.
David E. Evans '69, Sept. 11, Air Force veteran and founder of a hearing aid business with Hearing Aid Institute Inc., Great Falls, Mont.
Joan Finney, July 28, former Kansas governor and university friend, Topeka, Kan. A maverick politician, unabashed populist and the state's first woman governor, Finney, a Democrat, served a single term,1991-95, after 16 years as state treasurer. During her term, the state rewrote its law for distributing money to public schools, revised its abortion law, revamped its workers' compensation system and re-enacted a capital punishment law. Kansas Gov. Bill Graves said, "Kansas has lost one of our finest public servants."
Kenneth O. Friend '58, Nov. 5, cofounder of Specialty Steel Service Co., Atherton, Calif., who most recently served on a volunteer basis as assistant director of the newly opened Groveland Yosemite Gateway Museum, Groveland, Calif.
Jacklyn J. (Denman) Funk fs '46, Nov. 4, spiritual counselor, Oklahoma City, Okla.
Anne L. (Smythe) Gabriel '71/77, Sept. 17, educator, teaching at USD 259, Wichita Area Technical College and Wichita State University, Wichita.
Charles Nolan Gorham '70, Oct. 18, retired automotive parts salesman, Valley Center, Kan.
Margaret A. Hamill-Strickler fs '86, Sept. 16, Boeing Wichita systems analyst, Wichita.
Neal Hart '61/61, Aug. 20, retired American General Life insurance agent and high school substitute teacher, Wichita.
Amy B. (Partridge) Hill '86, Aug 19, a CPA and former tax accountant for Varney and Associates, Manhattan, Kan.
Martha P. (Peterson) Houston '76, Sept. 7, retired St. Francis Hospital and WSU biomedical librarian, Wichita.
William W. Hudson '79, Oct. 3, barber and barber science instructor, retired Shawnee County Sheriff's Department, owner of Mr.-Fix-It Inc., and U.S. Army veteran, Tecumseh, Kan.
Della (Bates) Inman '52, Aug. 3, former educational representative with IBM and community volunteer, Pittsburgh, Pa.
John George "J.G." Jacobs Jr. '79, Aug. 17, retired Air Force, Wichita.
Marjorie M. (McGrath) Jones '64, Sept. 23, retired teacher, Hazelwood, Mo.
Kathleen J. Kelly '81, Sept. 30, registered nurse and nurse clinician, Wichita.
Jimlee R. Kemper '50/50, Sept. 29, served in World War II and worked for the Small Business Administration in Kansas City, Mo., and Cessna Aircraft Co. in Wichita, Overland Park, Kan.
Jeff H. King fs '99, Sept. 16, retired King Cattle Co. owner, Wichita.
Julia D. (Fraser) Laster '59, Oct. 12, retired USD 259 first grade teacher, Wichita.
Grace Ann (Berberich) Lennartz fs '52, May 19, homemaker and former stewardess for Braniff International Airways, Saint Louis, Mo.
Norman V. Linnear '81, Feb. 15, 1990, retired U.S. Army and former correctional facility specialist, Ft. Leavenworth, Kan. Linnear was decorated with the third award of the Army Commendation Medal, which is awarded to those individuals who demonstrate outstanding achievement in the performance of their duties on behalf of the Army.
Charmane F. Lyday '98, Aug. 31, former Intrust Bank customer service employee, Wichita.
Myrtledea D. (Werts) Mayer '29, Aug 9, homemaker, Topeka, Kan.
Phyllis A. (Paul) McCausland fs '47, Aug. 6, homemaker, Wichita.
Ronald B. McElvain '72, Sept. 10, former employee of U.S. Gypsum Co. and Iowa Beef Packers, before founding an oil and gas production business, the McElvain Energy Co., Delaware, Okla.
Eldon W. Meyer '77, Nov. 8, retired John Deere Co. sales representative, Wichita.
Mac W. Miller fs '47, Aug. 11, retired Solar Gas Turbin Engines international sales manager, Downers Grove, Ill.
Glenn A. Moore '29, Oct. 2, retired S.G. Holmes and Sons clothing salesman, World War II veteran who served many years in the Army Reserves, retiring as a major, Wichita.
Vinola Mae Moore '44/50, Aug. 19, retired elementary school teacher, Wichita.
Helen A. (Morris) Morgan '65, Oct. 18, homemaker and former kindergarten teacher, Wheaton, Ill.
Jack B. Nichols fs '51, Sept. 26, retired businessman, Overland Park, Kan.
Beatrice E. (Sanford) Pease '31, Nov. 10, violinist and original member of the Wichita String Quartet, founded in 1946, and one of the five founders of the Wichita Symphony in 1944, Wichita. Pease served as concertmistress when the symphony played its first concert in the Arcadia Theater and played with the symphony until her retirement in 1985. Awarded the 12th annual Arts Recognition Award in 1981 and named the 9th annual Kansas String Teacher of the Year in 1994, she was a member of Wichita's Music Theatre Orchestra, serving as contractor and concertmistress for many years, and was a member of the World Symphony formed by Walt Disney Productions and the U.S. State Department, which performed at Lincoln Center in New York, the Kennedy Center's Opera House in Washington, D.C., and for the dedication of Disney World.
Lora Pearl (Downing) Pray '36, Sept. 3, homemaker, Bedford, Texas.
Lillian B. Razak fs '64, retired Razak Engineering Inc. partner, Wichita.
James H. "Jim" Reber '59, Nov. 8, retired Harvey Co. treasurer, Newton, Kan.
Lola Lloy (Austin) Rhodes '78, Sept. 5, homemaker, Wichita.
Lowell M. Rhodes '49, Nov. 12, retired general practice physician, Wichita.
Marcella Stewart Roberts '80, Nov. 1, commercial real estate appraiser and former journalist and educator, teaching English and journalism at Southwestern College and English at Mount Carmel, Wichita. As a journalist, she took her first job in New York with Conde Naste Publication as the assistant to the travel editor of Glamour Magazine; she later held an editorial position on the Beech Log.
James E. Rowsey '55, Aug. 19, retired city of Wichita health inspector, Wichita.
Carolyn L. (Wilkinson) Sanders '55, Sept. 6, former elementary school teacher, Wichita.
Jennifer J. (Gunderson) Schmidt '75, Sept. 30, homemaker and elementary school and learning disability teacher, Wichita.
Donald H. Schwab '64, Sept. 5, World War II veteran and retired music education teacher, Fredericksburg, Va.
Delbert W. Selby fs '39, Sept. 8, retired Via Division captain of the Wichita Police Department and former University of Wichita football player, Tulsa, Okla. Selby served with the Seabees in World War II and retired from the Army Reserve.
Deborah M. (Gilstrap) Sengstacken '76, Aug. 30, former Boeing Computer Service and Farmland system analyst, Lenexa, Kan.
Nevin D. Shull '69, Aug. 26, sales representative, Lenexa, Kan.
William P.C. Simmons '49/53, Oct. 15, retired Boeing Wichita assistant controller, Wichita.
Rosemary (McPeak) Snook '50, Nov. 18, homemaker and Dane Design office manager, Wichita.
Vincent L. Soerries '86, Nov. 7, reporter and photographer, Albuquerque, N.M.
James L. Stanton '69/73, self-employed CPA, Wichita.
Fayallena (Hutchinson) "Cissy" Steele fs '33, Oct. 21, homemaker, Dallas, Texas.
John D. Sullivan '43, Nov. 2, retired vice president and treasurer of Tucson Realty & Trust Co., Tucson, Ariz.
Amelya (Laas) Tanner '52/64, Aug. 16, retired teacher and farmer, Wichita. Tanner lived to be 99 and once said, "Good, honest work that tires you, whether mentally or physically, is good medicine. And no matter how irritating or tiring it is, I find something rewarding in it — if not in the doing, then in the achieving."
George B. Taylor '58, Aug. 10, retired teacher and Blakey Crop and Hail crop adjuster, Wichita.
James H. Thomas '71/76, Oct. 9, WSU professor and author, La Jolla, Calif. After completing his doctorate at Oklahoma State University in 1976, Thomas joined the faculty at Wichita State, where he was a professor of American studies and anthropology for nearly 20 years. He wrote seven books, including The Long Haul, which was nominated for the Pulitzer Prize in 1979.
Mildred R. (Smith) Trotter '70, Sept. 9, retired high school teacher, Norwich, Kan.
Pamela S. Watland '95, Sept. 23, accountant and medical transcriptionist, Wichita.
Catherine V. (Gilbert) Wertz '39, Nov. 1, homemaker, Prairie Village, Kan.
David W. Wheeler '51, Sept. 6, former attorney and judge, Newton, Kan.
Danny J. Willig '64/66, Boeing Wichita engineer, Andover, Kan.
Cecelia M.J. (Anderson) Winegarner '71, Sept. 27, homemaker and retired accountant, Marionville, Mo.
M. Lorene (Stone) Yabrof '37, retired Wichita South High School counselor, Wichita.