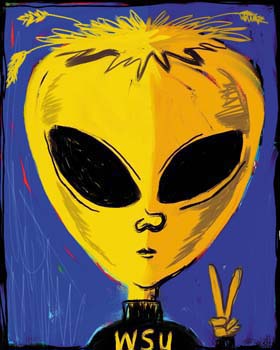 Take Me To Your WU
Aliens at Wichita State? World War II propaganda too? All that and more when WSU's Ablah Library recently held three exhibitions to celebrate its 100th anniversary as a federal depository library. One of the exhibitions featured 20 World War II propaganda posters urging Americans to grow victory gardens and reminding them that "loose lips sink ships." The second featured the documents of artists, engineers and soldiers that explored the American frontier. The third exhibition was based on the 100 best documents of the 20th century, which included "The Roswell Report: Case Closed" (Take me to your WU!) and "Smoking and Health," the famous 1964 surgeon general's report. If you missed the shows, don't worry. The library's departments of Government Documents and Special Collections have all these treasures — and more — in their permanent collections.
---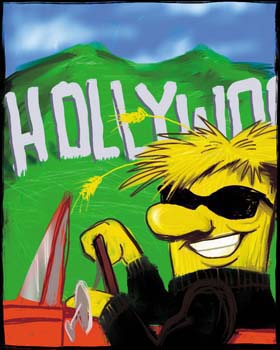 Say Hello to Hollywood
WSU theater major Jim Crawley has a role in the up-coming film, "About Schmidt." The title role is played by none other than three-time Oscar winner Jack Nicholson and co-stars Kathy Bates, who took home an Oscar herself in 1990 for "Misery." While Crawley has a small role, he still gets to share the screen several times with Nicholson, which might seem daunting to a Hollywood neophyte. Leave it to Nicholson to find a unique way to help his fellow actors relax. "He walked past us, then barked and laughed," Crawley told the Sunflower. "It was a lot of fun."
---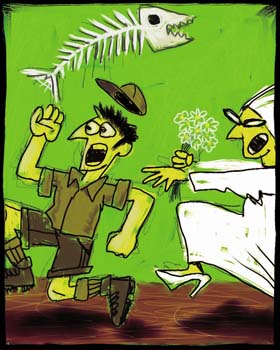 Wedded Bliss?
Not yet. That's why Alan Detrich '74 shares the spotlight with Tiger Woods as one of America's Top 50 Bachelors, as reported by People magazine this summer. Although Detrich has already received several marriage proposals, it seems he's more into bones than babes. His main claim to fame is finding an Xiphactinus fish fossil — or X-fish — named as Kansas' state fossil, and he recently sold a Tyrannosaurus rex fossil over the Internet to a private buyer for more than $8 million. Despite his recent People fame, his sights aren't set on the altar. "This may propel me into politics," he says.
---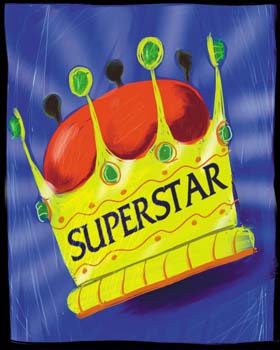 Spin Doctors of Old
Spin doctors are nothing new, says biblical scholar and comparatist Stuart Lasine, WSU associate professor of religion. In fact, some of the most famous biblical kings — Saul and David, for instance — were expert in image-building and controlling information. Their tactics, Lasine writes in his new book Knowing Kings: Knowledge, Power and Narcissism in the Hebrew Bible, included using court informers and disseminating disinformation. Lasine conducted painstaking research for his book, which, he explains, doesn't debunk biblical kings, but rather describes and compares their use of royal power.
---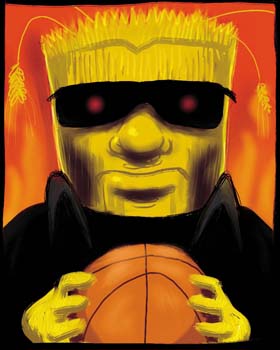 Turgeonator II
As promised, the Turgeonator returned to the Roundhouse on Nov. 28. Sponsored by Emprise Bank, Turgeonator Night helped entice 6,875 fans out to sport their free Turgeonator sunglasses and cheer the Shockers on to a 102-89 victory over the University of Texas-Arlington Mavericks. Terrell Benton's career-high 32-point game lifted the team to its first 100-plus point game since the 1989-90 season. Coach Mark Turgeon said he was "happy with the win."
---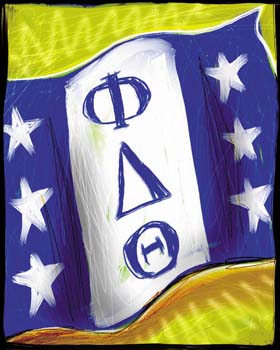 Gardner Award
Stephen L. Clark '62, is the 2001 recipient of Phi Delta Theta International Fraternity's Raymond Gardner Award. The "Alumnus of the Year" award, presented annually to the most outstanding member of the fraternity, is based on service to the fraternity, community and higher education. A retired captain in the U.S. Air Force and president and CEO of Clark Investments, Wichita, Clark became the youngest licensed real estate sales person in Kansas at the age of 18. During the past four decades he's been active as an appraiser, general contractor, real estate broker, property manager and developer.
As a real estate developer in 14 states, he's responsible for building more than 2,000 apartment units, 2 million square feet of industrial space and 3,000 homes and multifamily units. Active in many community and university projects, Clark is chairman of the YMCA of Wichita's current capital campaign, and his support of real estate education led to the creation of the Stephen L. Clark Chair in Real Estate and Land Economics at Wichita State. He was also instrumental in the attainment of funding and building of the $2 million home for the WSU chapter of Phi Delta Theta.