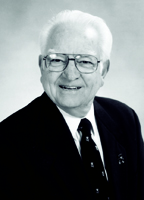 I have enjoyed my year in the spotlight as president of the alumni association. It has been an interesting and challenging year at Wichita State with the retirment of one popular University President and First Lady and the inauguration of another. How lucky can we be?
It has been an exciting time this year, as well, working with Brad Beets '87, who has renewed and reenergized our relationship with the campus and established new programs that will enance our continued success in future years.
Our alumni staff work diligently to facilitate the many programs that the board of directors and the executive committee establish to meet your desires and needs. I ask you to give them your thanks and encouragement for a job well done. They are hard-working, dedicated people, and they deserve your praise.
We also have hundreds of volunteers working on numerous projects and programs that benefit our alma mater. These Shocker volunteers keep us moving forward, and by volunteering they stay connected to the life of our great university. They need your thanks and praise as well, as they make programs such as the WSU Distinguished Alumni Speaker Breakfast Series, the "Drive Your Pride" License Plate Program, student mentoring, Alumni Awards Night, Shocker Auction and many other such activities not only possible but highly successful.
And a special note of appreciation goes to the members of our executive committee, all of whom I've had fun working with this year. They're all about the same age as my own kids, so I feel we've developed a true Shocker family here!
So, thanks to David Eads '84/86, Don Glenn '75, Jeff DeGraffenreid '88, Sheryl Wohlford '82, Kathy Sexton '88/89/92, Eric Melgren '79 and WSU Student Ambassador Gretchen Jabara for making such a difference during my term as president.
Please don't forget June 26: Shocker Auction Night. With all the effort and enthusiasm that organizers are pouring into auction preparations, our 1999 KIA Carnival Shocker Auction does promise to be our biggest and best yet.
We can still use many more auction volunteers, and we also need your attendance at Century II's Exhibition Hall on Sat., June 26. The doors open at 5:30 p.m.
Thank you for the privilege and the opportunity to have served as your alumni president this year.
It has been a Great Experience!