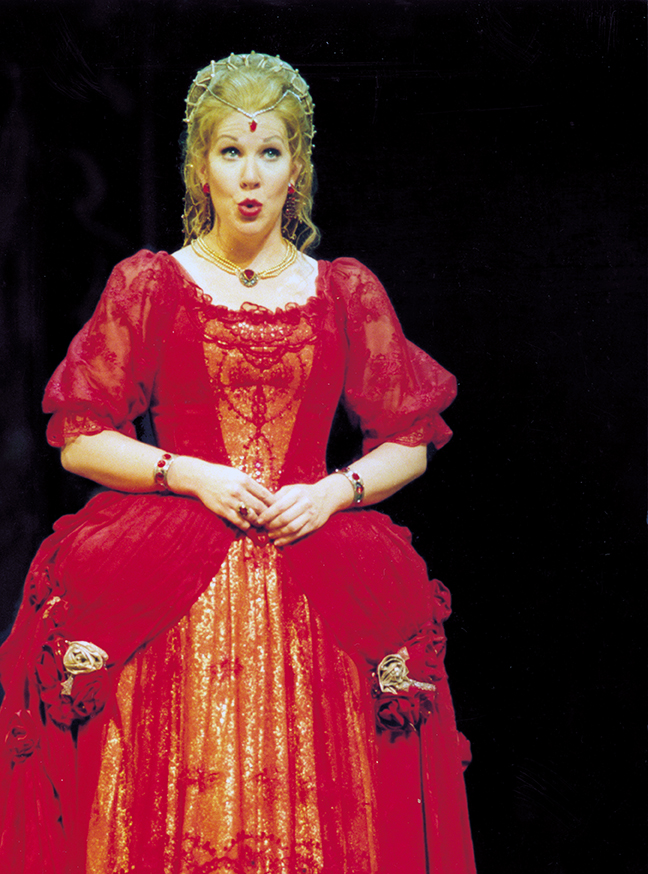 Joyce (Flaherty) DiDonato '92 is well on her way to becoming opera's next big star. In 2000, she received one of three $15,000 ARIA Foundation annual awards. On July 12, 2001, she debuted dazzlingly at Italy's famously infamous Teatro alla Scala.
She received the ultra-prestigious $30,000 Richard Tucker Music Foundation award for 2000; she made her debut with the New York City Opera on Sept. 13, and she's been invited back to La Scala in 2004.
This is all pretty exciting stuff for a native of Prairie Village, Kan., who came to Wichita State University with every intention of becoming a vocal music teacher. Active in choir, musicals and plays throughout high school, she enrolled in music education at WSU with majors in piano and voice.
"In high school, I kept hearing how hard it is to make it in show business, and I just never thought I'd be among the successful ones," DiDonato says. "Since I enjoyed choral music, I decided I'd stay in Kansas and teach. And I would have been perfectly happy."
In her third year at Wichita State, the road forked. Her roommate, who was also a voice major, wheedled her into trying out for opera.
DiDonato remembers: "When I stepped onto that stage in a production for the first time — I got it. What a rush. I was hooked."
She sang supporting and lead roles for WSU's Opera Theatre primarily for then-director George Gibson, graduated in 1992 as Senior Woman of the Year and stayed on another year to study voice with him.
"Joyce is a rare mezzo soprano," comments Gibson, now professor emeritus of music. "Her voice is vibrant, well focused and tremendously agile. Those qualities alone distinguish her among mezzos, but she can also sing the long lyric lines, a combination that is extraordinary when paired with her wonderful range, stage presence and acting ability."

Leaps and Bounds
It also doesn't hurt that DiDonato is blonde and attractive. In fact, the German newspaper Die Welt, reporting her $20,000 second-place finish at Placido Domingo's 1998 Operalia Competition, held in Hamburg that year, cursorily described her as "a blonde from Kansas … who drew attention to herself as Grace Kelly at the Houston Opera's world premiere of Jackie O."
DiDonato says, with a mischievous laugh, "I actually don't mind reviews like that, because I just love to go onstage and turn that stereotype around. I am blonde, I am from Kansas — my husband and I live in Kansas City — and, oh my gosh, that little Kansas girl can sing. I enjoy the element of surprise."
To be fair, the review also mentioned that DiDonato was "possibly the most mature performer of the competition," a significant assessment given her delayed entrance onto the operatic stage. "Joyce was a late bloomer," remarks Robert Glasmann, WSU associate professor of music. "But when she finally discovered opera, her talent grew by leaps and bounds."
DiDonato is reluctant to name any one lightning-bolt moment that validated her new career choice. "I had a steady diet of confirmation," she remembers, "from the first time I stepped on stage in high school to the moment I did so at Wichita State. It just felt right."
Late in her studies at WSU, she went to New York to take some lessons with Joanna Levy, a recommended voice teacher. Levy told her at one point, "If there's anything you'd rather do than opera, do it. It's too hard a life unless you're really passionate about it." DiDonato decided to give it her best shot: "I didn't think I'd be happy not knowing where that fork in the road might have led."
After WSU, that road led to the Academy of Vocal Arts in Philadelphia, Pa., for three more years of voice training and then to a two-year stint with the Houston Grand Opera. But her first intimation of possible success came during an apprenticeship with The Santa Fe Opera.
"That was my first real exposure to the professional world of opera, to people who were actually working in the business," she recalls. "When they said, 'You've got something,' I finally believed I was on the right path."

A Quickening Tempo
She vaulted onto the international stage with a dizzying schedule of concerts, performances and roles at such renowned venues as Madrid's Teatro Real, the New Israeli Opera, The Netherlands Opera, the Palais Garnier in Paris and the Bayerische Staatsoper, a whirlwind ascent arguably culminating with her debut in the role of Cinderella — La Cenerentola — at La Scala.
But in the operatic arena, a singer hasn't made it until she's performed in New York. DiDonato was considered to be just another young artist, albeit a talented one. That's why her debut this September as Sister Helen Prejean in the New York City Opera's production of Dead Man Walking was so important.
"It was a huge opportunity to show what I can do," she says. "It's a powerful production, a high-profile role and a fantastic showcase for my voice, in New York." While reaction to this contemporary opera was mixed, DiDonato herself received great reviews.
The New York Times wrote, "In her City Opera debut, the mezzo-soprano Joyce DiDonato … sang impressively and conveyed both the character's inner doubts and quiet strengths."
The influential trade newspaper for the performing arts, Musical America, said, "Sister Helen is an arduous role, to put it mildly, and DiDonato was magnificent in it — powerful, heartfelt, intense, vocally ringing."
Also among those in attendance was Gibson; her former teacher and close friend says, "The house was virtually sold out, and I was very moved by the production — and her voice. Joyce sang brilliantly."

The Coloratura of Success
Ultimately, opera is all about the voice. "Joyce is a coloratura mezzo," explains Gibson. "A coloratura voice is one that can move quickly, that has great agility in addition to range, which, for example, the Mozart and Rossini roles require."
Indeed, in 1998 the San Francisco Chronicle hailed DiDonato as "the Rossini mezzo for the next generation," only one of an increasing number of accolades that caused the Richard Tucker Foundation to take notice.
Peter Carwell, executive director of the foundation, remarks, "The Tucker Award is not given lightly. We solicit the informed opinions of some 350 opera professionals nationwide, and the award is given to a young artist who we believe is on the verge of a major international career."
Gibson comments, "The award's $30,000 is wonderful, but it's nothing compared to the prestige. It's a huge award."
DiDonato says that the exhilaration of a successful La Scala debut, the Tucker Award and her recent City Opera triumph is as intense as the concert finale of Operalia '98, which, for her, manifested voice literally personified.
She sang a duet from Bellini's Norma with Placido Domingo himself. "He hadn't sung that role in maybe 20 years, yet he suggested it because he knew it would show off my voice," she says. "Nothing in my life had prepared me for listening to the glorious sound coming out of this body standing next to me on stage. I was singing, listening and learning the whole time. It was incredible."
DiDonato has been seasoned quickly by such experiences — and none too soon, because things are moving fast for her. "Joyce won't be called a young artist much longer," remarks Carwell. "She's rapidly developing into a mature singer who we think is destined to be one of the premier mezzos in the world."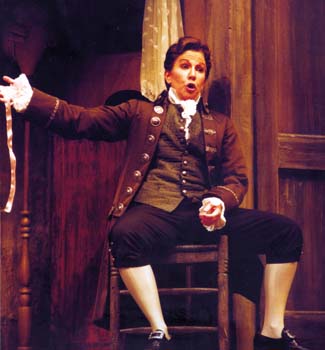 She will take part in the foundation's annual Opera Gala, to be held this year on Nov. 17 at New York's Lincoln Center, and she'll share the billing with previous award winners — and WSU's own Samuel Ramey '68.
Future roles will take her to venues including Paris' Théâtre du Chatelet and Opéra la Bastille, London's Royal Opera House, Tokyo's New National Theatre and Geneva's Grand Theatre.
In 2004, she returns to La Scala and to San Francisco, where she will perform in The Barber of Seville with another WSU alum, Catherine Cook '87.
Glasmann says, "Joyce has sprung onto the international stage quickly, probably more quickly than she ever imagined. It's not for the faint of heart, but she can handle it. She's going to be WSU's next big opera star."
Husband Alex, whom she met while they were WSU students living in Brennan Hall and who works for the Kansas City Royals, is able to travel with her when she's singing in the United States and is a constant source of encouragement on this wild operatic journey.
DiDonato can be heard in the Houston Grand Opera's production of Little Women and in the lead role of that house's world premiere of Resurrection on recently released CDs. Burton Pell — who met DiDonato years ago when she participated in Opera Kansas' outreach program, was one of her earliest fans and became her "Wichita Godfather" — says that PBS is taping the Lincoln Center gala, to be aired some time around the holidays; fans who tune in will have the rare opportunity to savor both DiDonato and Ramey.
This will be the first time the two have appeared together, and, says DiDonato, "I could not be more excited!"
Pell, who also attended her New York debut, remarks, "For all that's happened to her, Joyce remains genuine, unaffected and unpretentious, the complete opposite of the stereotypical diva. She's still our girl from Kansas."
Harrison Boughton, WSU professor emeritus of music and also one of her former teachers, agrees: "Although she was preparing to debut at La Scala, she found time to come back to sing the mezzo solos in The Messiah, which was part of my 2000 retirement bash. That meant a lot to me."

A Voice from Somewhere
When DiDonato debuted at La Scala, she was an unknown quantity. The Italian audience didn't know who she was or whence she came. No recordings, no hype, no marketing campaign preceded her.
She and her voice were on their own, to win or lose. She holds close a delicious memory from that debut: "Afterwards, two finely dressed Italian gentlemen, obviously opera buffs, came backstage. One of them told me, 'We wondered, who is this girl? Then we heard your first couple of phrases and thought, Hmmmm.' Then we heard a few more phrases and thought again, 'Hmmmm.' We were thrilled. Here was this voice from nowhere that we absolutely love!'"
As DiDonato's career continues its promising ascent, in no time she'll be known not as the blonde from Kansas, but as the voice from somewhere.