Making It Happen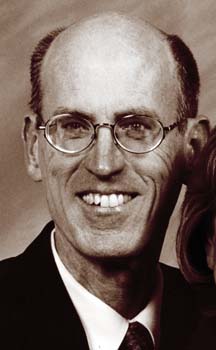 John R. Leonard was born in Fort Scott, Kan., in 1946, and attended Pittsburg State University. He had owned the Garden City Community College bookstore for years, when Wichita State University entered his life, hiring him as general manager of the Rhatigan Student Center bookstore in September 1997.
Under Leonard's leadership, the WSU bookstore grew more technologically advanced, even setting up a web page. He was instrumental in negotiating a contract with the athletic department that allowed the bookstore to sell souvenirs at Henry Levitt Arena and Eck Stadium, which had not been done for years.
He also supervised the opening of the Southside bookstore in May 2001. "He did a really good job. He was committed to giving 110 percent all the time," says Derek Keller, marketing manager of the RSC, who will take over Leonard's position.
Leonard was also active in the wider WSU community, serving on several committees, including one developing new athletic logos. He was also part of a faculty committee, trying to streamline the textbook adoption process, so that books could be ordered earlier and made less expensive for students.
"He was a good guy," says Bill Smith, RSC director. "He had the students at heart and did everything he could to make sure the bookstore served students well."
John Leonard died July 22 in Wichita.
— Anna Perleberg
---
Yes, He Did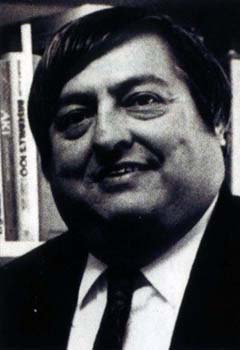 B. Roberto Cruz's final days were surely bittersweet. Ill with cancer, he watched his labors bear fruit: The National Hispanic University in San Jose, Calif., of which he was a founder and president, had just received accreditation from the most prestigious accrediting organization in the western United States, while the physical campus was moving from an old elementary school to a three-story, $18 million full-fledged university campus.
NHU is one of only two national Hispanic colleges in the country. The university originally opened in 1981 in a two-room storefront in Oakland, Calif.; a decade later the school was moved to San Jose.
Cruz attended the University of Wichita on a football scholarship and graduated with a degree in secondary education in 1964. He earned a doctorate from the University of California-Berkeley and later became a professor of education at Stanford University. Cruz founded NHU as a response to the low Latino enrollment he saw in mainstream universities. Tellingly, the motto of the university is Sí, se puedo (yes, we can).
"His legacy," said U.S. Rep. Zoe Lofgren, who knew Cruz for 20 years, "will be the lives of young people who have a future because he let them have one through education." Bernard Roberto Cruz '64 died Sept. 4 in San Jose.
— Jedd Beaudoin '01
---
The Good Doctor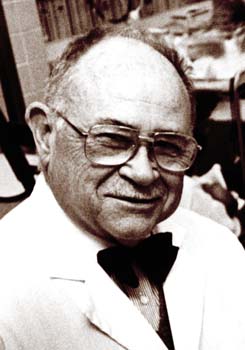 In 1988, his alma mater's alumni association recognized him with the WSU Alumni Achievement Award for his distinguished service to the community. A champion of women's and children's health care, Russell A. "Jiggs" Nelson '41, a retired pediatrician and neonatologist, died Sept. 12 in Wichita.
In addition to maintaining a successful private practice and serving on numerous statewide committees, he spearheaded the drive to establish Wesley Medical Center's neonatal care unit and served for many years as the hospital's director of neonatology.
A co-founder of the Lifewatch system, he was also the recipient of the first Wesley Medical Research Institutes' Quality of Life Award. In 1982, he was named Citizen of the Year by the National Association of Social Workers.
---
Jewell Adams '60, July 17, retired Cowley County and USD 259 elementary teacher, Wichita.
Kathryn (Bailey) Allen '50, Aug. 10, a Gamma Phi Beta sorority member, Wichita.
Avis C. (Brader) Arnett '41, July 31, former aviation instructor at Stephens College, Columbia, Mo., and former Columbia Travel and Service Co. manager, El Dorado, Kan.
Ralph K. Bargen '58, Sept. 4, former mathematics teacher, primarily at Chicago University Laboratory Schools, Park Forest, Ill.
Gerald B. Becker '60, July 6, retired independent geologist, Wichita.
Valine Kathryn (Foley) Bell '76, Aug. 5, home-maker, Wichita.
James M. Berry '65, July 16, Indiana University emeritus professor of business, Ocala, Fla.
Ralph L. Bowman '49, June 10, World War II veteran, retired Internal Revenue Service criminal investigative agent and retired senior investigator for the Texas Attorney General's Office of the Medicaid Fraud Control Unit, Austin, Texas.
Kathy Lynn (Hutchinson) Brinigar '89, July 6, Airborne Express station manager, Kansas City, Mo.
Mary Kathryn "Kitty" Brock fs '84, Aug. 17, homemaker, Austin, Texas.
Adem Calik, Aug. 28, Wichita State graduate student and teaching assistant in aerospace engineering, Wichita.
James L. Carroll fs '95, June 21, former professor of educational psychology at Arizona State University, Tempe, Ariz., and former professor and dean of education at WSU, Northfield, Minn.
Alan K. Casebourn fs '56, June 11, retired band and music teacher, former member of the U.S. Naval Band, North Coast Band, Symphonic Band and the Tuba Quartet, Astoria, Ore.
Andrea S. Chadick '98, July 3, Southwestern University director of professional studies, Wichita.
Mary L. (Baer) Chambers '33/57, Sept. 3, former Wichita University and high school Latin teacher, Sept. 3, Wichita.
Blanche K. Coiner, Feb. 24, 1999, friend of the university, homemaker and wife of Melvin C. Coiner '30, Tulsa, Okla.
Everett L. Cook '54/58, June 21, retired Raytheon Aircraft Co. aeronautical engineer, former WSU aeronautical engineering professor and former Learjet Inc. aeronautical engineer, Hesston, Kan.
Jerry L. Cooper '62, July 2, retired real estate appraiser, Wichita.
Lewis E. Crain fs '66, July 2, mechanical designer and former HEB Manufacturing Co. Inc. manager of tooling, Randolph, Vt.
Karyn N. (Kreeck) Criss '89, July 28, retired Berexco Inc. and Beren Corp. administrator, Wichita.
Eleanor J. (Thomas) Dishong '79/83, July 15, founder and general manager of Interim Personnel Service of Southwest Missouri, Poplar Bluff, Mo.
Mary L. (Cramer) Doris '72, July 2, middle school special education teacher, Wichita.
Jimmie L. Downing '67, Aug. 6, retired Barton County Community College president, Ellinwood, Kan.
Eugene B. Everett '36, July 9, retired TransWorld Airlines aviation meteorologist and airline operation supervisor, and Air Transport Association high-density airport reservation center director, Sun City, Ariz.
Dennis E. Foreman '47, Aug. 12, retired, Wichita.
Welton F. Foster '55, July 27, former junior high school teacher, Texas Instruments employee and retired Cessna Aircraft Co. engineering department employee, Wichita.
Juanita Maria (Ewell) Gamble '52/64, Aug. 11, retired elementary school teacher, Wichita.
Willard W. Garvey fs '41, July 25, the Wichita entrepreneur and philanthropist who helped underwrite private schools and who built the Epic Center, chairman/CEO of Garvey Industries Inc. and friend of the university, Wichita.
Ruth Marie (Stevens) Gebhart '50, June 10, retired teacher, Medford, Ore.
Gordon "Ray" Gillespie '93, June 5, technical design engineer, Wichita.
Judson A. Gilliland fs '36, June 9, retired Messman-Rinehart Oil Co. accountant, Wichita.
Arnold R. Graef fs '79, Sept. 4, retired junior high school math teacher, piano tuner and technician, furniture repairer and refinisher, Wichita.
Rheba M. (Coyle) Haley '35/49, March 24, suffragette, retired teacher and principal, Carl Junction, Mo.
Amy A. Halsey '98, July 11, Mental Health Association employee, Wichita.
William C. Helderman '49, July 14, retired Boeing Wichita supervisor, Wichita.
Jack F. Henderson '74, Aug. 10, SWAT Patrolled Security supervisor and retired Wichita Police Department detective, Wichita.
Roger D. Heriford '72, June 18, Liberal, Kan.
William J. "Bill" Hodge '52, Sept.11, retired The Wichita Eagle executive sports editor, former Eagle sportswriter and columnist, and 1989 inductee into the Kansas Baseball Hall of Fame, Wichita.
Mary E. Hutchison '90, July 4, USD 260 Derby, Kan., elementary school teacher, Durango, Colo.
James P. "Jim" Knapp '74, Aug. 17, Boeing Wichita quality specialist, Wichita.
Dorothy M. (Lay) Knight '76, July 4, former executive secretary and retired high school and Wichita State librarian, Honey Brook, Pa.
Hubert R. "Hub" Kuhn '47, June 3, retired Arn Mullins Unruh Kuhn & Wilson attorney, Wichita. Dennis R. Kuntz '74, Aug. 17, Penske Automotive inventory control employee, Tooele, Utah.
Marguerite (Baker) Laster '31, Aug. 31, retired junior high school teacher, Hutchinson, Kan.
Carl J. Lehr '50, Aug. 4, retired Lehr's Restaurant manager, Lehr's Tradition co-owner, Augusta, Kan.
John J. Lewis fs '50, July 16, retired Meredith Burda purchasing agent, Des Moines, Iowa.
Beverly M. (Burleigh) Mann fs '58, July 13, retired antique dealer, Wichita.
Maurice R. Martin fs '33, July 19, retired Hutchinson National Bank loan officer, Hutchinson, Kan.
Sharon A. (Kopke) May '64, April 18, speech language pathology consultant, Los Angeles, Calif.
Lonnie E. McDannald '91, June 4, Postal Service manager, Merriam, Kan.
Otis Irvin Melcher '36, July 31, World War II veteran, former Melcher Lumber Co. owner and farmer and horseman, Goddard, Kan.
Paul C. Miller '26, Aug. 27, farmer and former industrial arts teacher, Belle Plaine, Kan.
Garnet L. (Gleason) Miller '73, June 24, former substitute and private piano teacher and Gridley Schools paraprofessional, Burlington, Kan.
Ramiro M. "Ronnie" Montano '93, Sept. 7, attorney, former Kansas Department of Transportation engineer and trumpet player, Newton, Kan.
Anna May (Lampkins) Moon '49, July 1, retired USD 259 teacher and black historian, Wichita.
Velma M. (Howard) Moser fs '47, Sept. 5, homemaker and former Cessna Aircraft Co. employee, Wichita.
Joe N. Myers '58, May 6, retired CPA and former secretary/treasurer and controller for Petroleum Investments ltd, Oklahoma City, Ok.
Mildred (Lundy) Nicholson '42, July 19, 2000, homemaker, Englewood, Colo.
Charles L. Noland '49, Aug. 27, retired marketing consultant, Dallas, Texas.
Benjamin Frank Palmer '70, July 5, World War II veteran and retired engineer and program director at Boeing Wichita, Hurst, Texas
Burley Lloyd Parker '33, Aug. 27, retired paving contracting businessman and president of Joplin, Mo.-based Hydrocarbon Specialties Inc., Las Cruces, N.M.
Wallace B. "Brad" Parkinson '65, July 22, Vietnam War veteran, 20-year National Guard reservist and music teacher, Amarillo, Texas.
James R. Parrish '54, Aug. 29, retired self-employed investor, Denver, Colo.
Ivan O. Poe '58, July 6, retired self-employed attorney and Sedgwick County small claims judge, Wichita.
Jarrett C. Quigley '57, July 29, World War II veteran and retired public school teacher, Wichita.
Leonard W. Radermacher '72, July 24, manufactured homes representative and insurance salesman, Wichita.
Adelia Ray '81, Sept. 7, retired parochial school teacher and principal, and Boeing Command Media Office administrator, Wichita.
Louis W. Rollmann '33, July 20, retired Davies Manufacturing sales representative, former Pratt County Clerk's Office employee and Ford Tractor dealership owner, Pratt, Kan.
Fern C. (Covert) Roth '27, June 8, retired home economics teacher, Colorado Springs, Colo.
Vivian F. (Kruse) Rupert '74, Aug. 26, retired Via Christi Medical Center-St. Francis campus registered nurse, Wichita.
Louise A. (Kelly) Salyer '50, June 30, retired USD 259 teacher, Wichita.
Fred E. Schmidt '70, July 21, former farmer and commodity broker, and Springwood Tree Farm owner/operator, Kremlin, Okla.
Eunice J. Schwemmer '60/70, July 27, retired educator and one of the first special education teachers in Kansas, El Dorado, Kan.
Franklin C. Settle '88, Aug. 15, senior manager of strategic services for Anderson Consulting, Houston, Texas.
Harold E. Stanley fs '52, July 8, freelance photographer and retired insurance adjuster, Wichita.
Edwin B. Stewart '68, July 3, retired USD 259 elementary school teacher, Derby, Kan.
James L. "Jimmy" Switch '96, June 30, Vietnam War veteran, drug and alcohol counselor, and Absentee Shawnee Tribe member who was involved in tribal culture as a sun and gourd dancer, Saleen, Neb.
Barbra Torbey '77, Sept. 5, rancher, farmer and concerned citizen for the mentally ill, Wichita.
Thelma G. (Richert) Walker fs '77, Aug. 10, homemaker and retired WSU housekeeper, Wichita.
Robert L. "Bob" Wallace '77, Sept. 2, retired Boeing Wichita industrial engineer, Wichita.
Patrick A. Walsh '85, May 9, U.S. Navy photographer who served on the USS Mississippi from 1938-43 and retired journalist, Vallejo, Calif.
Curtis A. Whitney Jr. '88, June 8, retired Intrust Bank vice president, Wichita.
Sandra B. Wildey '87/90, June 22, retired Gates Learjet executive secretary, Mesa, Ariz.
Kathryn E. (Tennant) Wood '37, Aug. 4, retired elementary school teacher, Chevy Chase, Md.
Sarah S. Wood-Humbolt '85, July 7, Raytheon Aircraft Co. quality assurance group manager, Wichita.