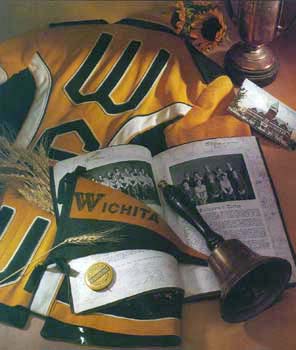 SHOCKER MEMORABILIA: If you have university items of interest and want to learn more about donating them to WSU, please call the WSU Alumni Association at (316) 978-3290.
Plans for a new Wichita State welcome center are underway. Yet as building designers and university planners look to the future, they also pay heed to the past.
WSU's Marcus Center for Continuing Education occupies the site on which the welcome center will be built. This year, the Marcus Center is being utilized as headquarters for WSU athletics during Roundhouse Renaissance construction, but after the completion of Koch Arena, the center will be razed and the new welcome center will be built in its place.
James Rhatigan, former senior vice president who is now with the WSU Foundation, works with a group of interested individuals on fleshing out the look and the many purposes of the new center. "The welcome center," Rhatigan says, "is going to be an outstanding campus facility for prospective students and alumni."
The welcome center — the idea for which has been championed by WSU President Don Beggs — will continue to carry the name Marcus, reminding visitors of not only the long-standing relationship between WSU and the Marcus family but also of the wider connection between current students and the university's rich heritage.
Brad Beets '87, executive director of the WSU Alumni Association, who serves with Rhatigan on the building committee, sees the Marcus Welcome Center as a place that will "reflect and teach the heritage and history of the university." As a committee member and an alumnus, he is also excited that the Marcus name will be kept with the building. "When we approached the family about the center, they were happy to lend their support and happy to have the tradition continue," he says.
The overall goal of the center, say Rhatigan and Beets, is to offer prospective students and their families a central location to check in and learn more about the university — both its present and its past.
Since the center will house admissions staff, students will be able to meet with admissions counselors and also check on all kinds of information, from degree and course offerings to scholarship availability. And they'll be able to do that and more in an environment that, as Beets puts it, "is all about the evolution and the tradition of the university."
To help create this Shocker atmosphere, the alumni association will be collecting and organizing memorabilia for display in the center.
Says Beets, "We need to capture the history of the university and preserve it. We have such a rich background. There's an incredible story to be told about this university, and we see this as an outlet for telling that story. We're always looking for memorabilia. For instance, someone approached us recently with some beanies from a fraternity. That's an unusual find because those are typically thrown into a fire at the end of initiation. No one would have any idea what they were if someone hadn't come forth and said, 'We have these — these are part of the story.'"