Shockers everywhere, at events long ago to happenings just the other day, always have something interesting to say. Take this sampling as a Shock Talk example: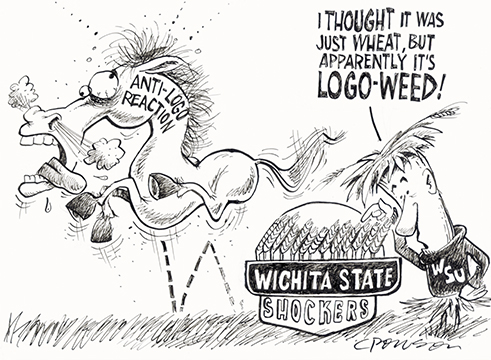 "A good logo is something with strength, which the new logo doesn't have. A good logo makes interesting use of positive and negative space, which the new logo doesn't really do. A good logo is memorable, which is maybe true of the new logo just because it's so awful."
Jim Hellman, head of WSU's graphic design department, as quoted in the Sunflower about the athletic department's revised wheat logo, before WSU AD Jim Schaus' decision to drop it.
---

"In 1916, John Dewey described democracy as the most ethical aspiration conceived by ethical communities. This aspiration was unobtainable, he wrote, without a society's commitment to life-long education to develop the capacities for associated living in a society characterized by complexity and diversity. Female and male, Christian and Jew, Muslim and Hindu, African American, White, Latino, Native American and Asian must search for what binds us together, in common hope and in common need, not what divides us. We may or may not all come to love one another, but to be part of the best of this place we must have the moral courage to respect one another."
M. Lee Pelton '74, president of Willamette University, in his WSU Distinguished Speaker Breakfast Series address Sept. 27 in Wichita.
---

"I am pleased that more students are choosing to take advantage of our programs to meet their needs."
WSU President Don Beggs, as quoted in Inside WSU about Wichita State's fall 2002 student headcount of 15,534 — a 4.58 percent increase in enrollment when compared to fall 2001.
---
In the last issue of The Shocker, we ran the photograph below and asked for help in identifying what the people are doing. All we knew then was that the photo was taken circa 1900 looking south from Fairmount Hall, the signature building of Fairmount College. Although we can't be sure we've found the answer, Phil White of Wichita called in to share his best guess: "Looks like they're playing a game called Buck Buck."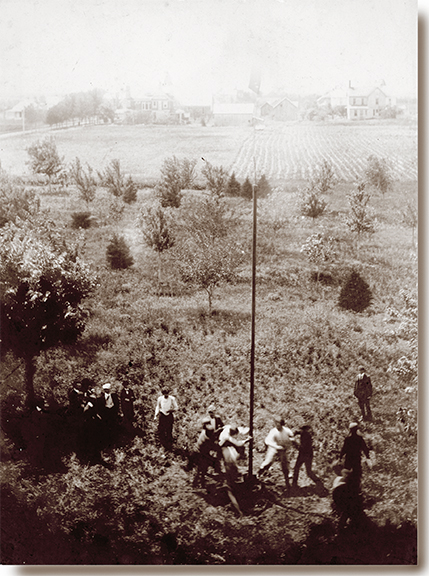 Buck Buck? We must admit, The Shocker staff was skeptical at first; none of us had heard of Buck Buck. But after a bit of research, we think Phil White just might be right. The game: Players divide into two teams. One team lines up by having the first player bend over and wrap his arms around a pole or tree. The next player bends over and hugs the first and so on, until the players form a "horse." The other team takes turns shouting "Buck buck number 1 (2, 3...) coming," and then one by one they jump onto the back of the horse. The object is to see how many players it takes to break up the horse.