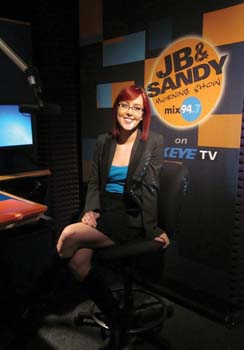 "I made a list of cities I thought I'd like to live in," says Cassiday Proctor '06. Most theater grads set their sights on The Big Apple or perhaps Chicago and set out in search of menial labor while auditioning for The Next Big Show.
But, Proctor says, she was in an unusual position after earning her bachelor's degree in fine arts – she had a salaried job in retail that offered mobility.
So it wasn't long after making her list of potential new homes that she was able to move to Austin, Texas. "It was chance," she says. "A lot of things that have happened since I moved here have been chance."
Proctor settled in and grew comfortable in Austin and by chance saw an ad that piqued her interest. "Now that I know something about radio," she explains, "I know that what happened to me never happens. I saw an ad on Craigslist: 'Radio producer wanted.' I thought, 'Well, that sounds interesting. I listen to radio.'"
With a combination of hope and curiosity, she applied for a job as a producer at Austin's Mix 94.7. With no radio experience. But she landed the job.
"They took a chance on me," she says. It probably helped that she was honest from the first moment. "I said, 'I don't know anything about this industry, but I want to know more.'"
Her first job in radio was producing the station's afternoon show, but that position only lasted a year. The economic crisis of late 2008 saw some shakeups at the studio, but, as fate would have it, Proctor stayed on, moving to the station's morning show. Morning shows in radio are easily the most popular programs. These shows tend to have the largest audiences, the most on-air time for announcers and the most unique opportunities for producers.
Mix 94.7's morning program, which airs from 5 to 10 a.m. weekdays, is the JB & Sandy Show Morning Show, one of the longest-running and most recognizable programs of its kind in the Austin area. The JB & Sandy Show is also simulcast on the local CBS TV affiliate, which jettisoned its morning news coverage some time ago.
The pace is, predictably, fast – and, Proctor adds, familiar. "It feels theatrical," she says. "It's funny because I never really compared the two other than thinking that radio is the theater of the mind. But it goes far beyond that. We have to cooperate, work together – all the things you think about when you think about theater."
A native of Stillwell, Kan., Proctor notes that she followed her brother, Cody, to WSU's theater program after she'd spent a year at Emporia State. As a Shocker student, she encountered Joyce Cavarozzi, associate professor of theater who, she says, encouraged her from Day One, casting her as the lead in a production of Electra. "She took a chance on me. She gave me great life lessons. She's traveled the world, and I feel that she's one of the wisest and nicest women I've known."
Proctor also points to theater enthusiasts Danette '88 and Ed '88 Baker, both WSU speech/theater grads, as supporters: "It's hard when you're away from your family. It was good to find a couple who shared the same interests."
She adds, "I didn't even know radio was a possibility for me. But after I'd been on air for a while, my boss said, 'I really think that more people with theater backgrounds should work in radio because, although it's not an obvious career choice, the training lends itself to being great on radio because you're able to think on your feet.'
"If it weren't for the education I had at WSU and having the ability to think fast, I don't think I would be where I am."