Multiple Personalities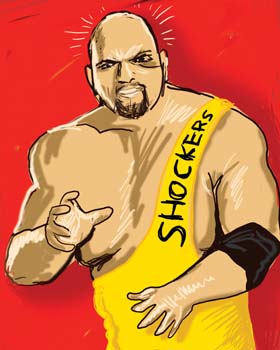 Since his student days at WSU, Paul Wight fs '92, A.K.A., The Giant, The Big Show and Captain Insano, has amassed some pretty hefty national acclaim, not to mention a string of names.
The five-time world champion — known in pro wrestling circles by his ring names The Giant (from World Championship Wrestling, now defunct) and The Big Show (from World Wrestling Entertainment) — has just finished WrestleMania 27 in Atlanta.
When WWE presents WrestleMania 28 in April 2012 in Miami, Wight will be right at home. The 7-foot, 500-pound Miami resident jokes that it will be a "short drive to work." Last year, Wight landed his first major film role in the comedy "Knucklehead." That's where he picked up that third "Also Known As" — Captain Insano.

---
A Salute to WSU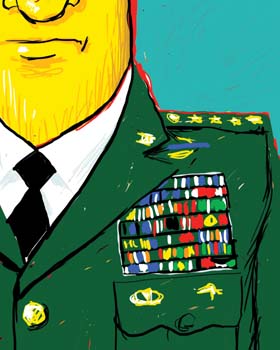 The publication Military Advanced Education salutes Wichita State as among America's "Top Military-Friendly Colleges and Universities," noting that WSU "is dedicated to the success of all its students and excels in supporting the educational needs of veterans and non-traditional students."
The recognition was published in MAE's Fourth Annual Guide to Top Military-Friendly Colleges and Universities 2010-2011.
---
Teachin' with Weezer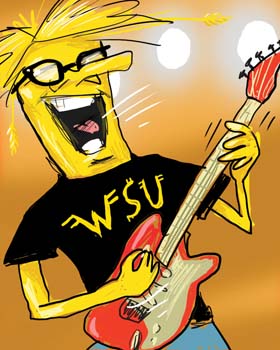 Back when Matt Gerry '03, who's a music teacher at Salina (Kan.) Middle School, was in high school, he was a fan of the alt rock band Weezer.
So it wasn't much of a stretch for him to enter the Grantin' Wishes with Weezer contest — and win it with a video that features his middle school guitar students strumming the tune of the band's song "Pork and Beans."
Check it out at vimeo.com/18089356. As the winner, Gerry traveled to Chicago to meet the band members and go to one of their performances. It was his first Weezer concert.
---
One of 20 Under 40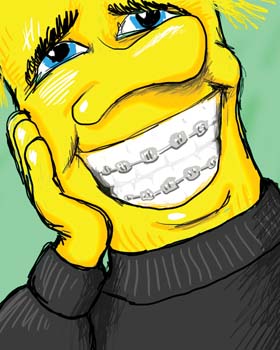 Julie (Horn) Swift '96, a periodontist who lives and works in Topeka, Kan., has been named by the Greater Topeka Chamber of Commerce as a member of its inaugural "20 Under 40" class.
Created to recognize 20 people under the age of 40 who are leaders in the Topeka community, "20 Under 40" promotes mentorship and professional development by introducing these leaders to the established business community and promoting them as role models. Dr. Swift, who earned her undergrad degree in general studies with an emphasis in biology at Wichita State, says the type of leader she most admires is one "who not only can come up with ideas, but also follows through, motivates others and brings their ideas to fruition."
---
Shocker Innkeeper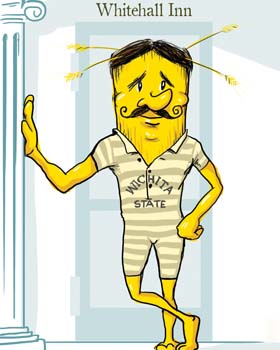 Rebecca (Miller) Hopkins '94, a marketing grad, owns and operates the Whitehall Inn in Camden, Maine. The historic 45-room full service inn has served as a comfortable retreat to royalty, a U.S. president and a slew of celebrities going all the way back to 1901.
As one Whitehall Inn promo reads, "We're one of the few places left in Maine that will evoke the feeling of summers 100 years ago."
---
Pappas Gymnasium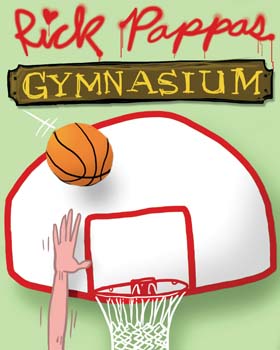 There's Charles Koch Arena at Wichita State, and now there's Rick Pappas Gymnasium at Price-Harris Communications Magnet School in Wichita. Before Pappas '87 joined the faculty of the WSU College of Education, he taught PE at the school, where this past October the gym was named in his honor. An on-site plaque reads: "For 34 years, Mr. Pappas taught the children of Price-Harris the importance of physical activity, health and sportsmanship.
He made Physical Education a positive learning experience daily, and we will never forget his love and dedication for his students." As a clinical educator in WSU's Human Performance Studies department, Pappas now teaches college students how to become effective PE teachers, passing along (we surmise) insider info on upping their chances for having gyms named after them.
---
W. Thor, God of Thunder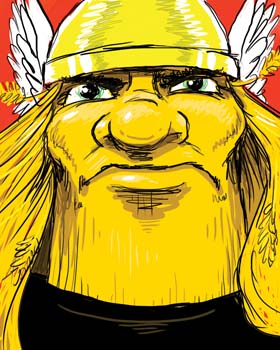 Life ain't easy for a boy named "Sue." How much better is it for a guy named "Thor"? Whether it's the mythological Norse god of thunder or Marvel Comics' fictional superhero Thor Odinson that first pops into your mind, you know the kids on the playground had a field day with their friend Thor. But W. Thor Kissman '93 is doing just fine, thank you very much.
For one thing, he has a line of work that stands up to the demands of his name. He's a space segment program manager at Boeing Space and Intelligence Systems in El Segundo, Calif., and one of his recent work feats was directing Boeing's launch day for the SkyTerra1 satellite from the Cosmodrome in Baikonur, Kazakhstan. The launch was the culmination of four years of Kissman's leadership on the design, assembly and testing of the 702hp satellite built for the telecom firm LightSquared. All of which sounds perfectly Thor-like.
---
K-A-E-L-S-O-N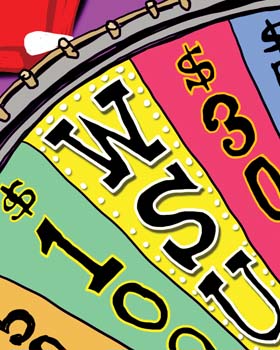 Think about TV's long-running show Wheel of Fortune, and in no time at all your brain fires up Pat Sajak, Vanna White, Carol Kaelson. Wait. Carol Kaelson? Well, maybe Kaelson fs '74 doesn't immediately come to mind.
But she's right there with those high-profile personalities. Kaelson has been the show's still photographer for seven years.