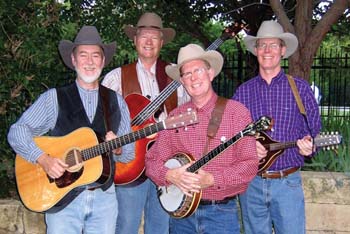 It's not every day your Kansas premier moo-grass cowboy band is called on to provide closing credits music for a video debuting a brand spanking new version of our national anthem penned by the Washington Post's Gene Weingarten and set to the galloping score of Rossini's William Tell Overture – which your moo-grass cowboy band covers quite laudably, thank you very much.
But one day this March that's exactly what happened to band members Richard Crowson fs '91, Stan Greer, Mike Lee and David Hawkins.
"The Home Rangers consider ourselves patriotic in the best cowboy tradition and are honored to have been part of the effort to cowboy up our national anthem," says Crowson, slapping the trail dust off of his red-white-and-blue spangled chaps. The banjo player adds, "Although we think the Bonanza theme might have been a better choice."
Weingarten, spurred on by Christina Aguilera's mangling of the Star-Spangled Banner's lyrics at this year's Super Bowl, rewrote the entire Bill of Rights, cramming its James Madison-authored contents into lyric form for the Star-Spangled Paper: music by Rossini, words by Madison and Weingarten, closing credits music by the Home Rangers.