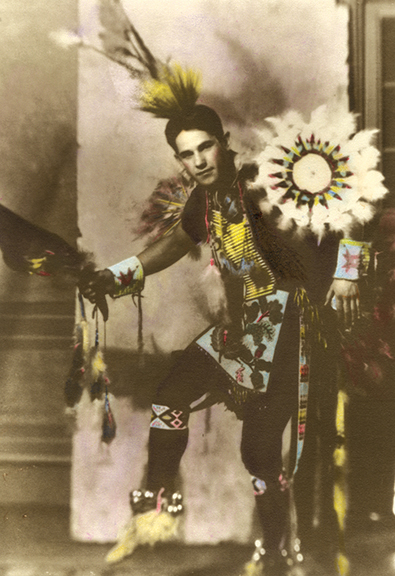 A venerable cedar casts its shade over artist Woody Crumbo's grave, the whir of cicadas and the muffled roar of traffic on nearby I-40 constant in the white-hot afternoon.
As bursts of birdsong ring from the Oklahoma woodlands that surround the small country cemetery, scenes from the artist's life rise in the mind's eye like shimmering heat waves into the summer sky. A dark-haired boy, pocket knife in hand, carves a flute from a reed that had grown strong and straight in a creek bottom. A handsome young man moves to the rhythm of the Eagle Dance, quivering his costume wings in imitation of a fledgling eagle. The artist, confident in his vision, paints with deft hand a proud, blue spirit horse. The scenes fade.
World renowned Native American artist Woodrow Wilson "Woody" Crumbo, who was buried here in Pierce Cemetery in April 1989, reveled in life and in the elementary frameworks of our world: sound, light, line and color. A deeply spiritual man of Potawatomi descent, he dedicated himself to portraying the cultures of American Indians, preserving their ancient traditions and advancing their economic stability. Through the course of his 77 years, he shaped his creative impulses into myriad forms, becoming first and foremost an artist, but also a musician, dancer, writer, historian, educator, prospector and inventor.

"My father was a man of many talents and many interests," says Minisa Crumbo Halsey, an acclaimed artist herself. "He loved to camp and delighted in the natural world — in watching what was going on around us. That love of the world sensitized my brother and me to the beauty of Mother Earth. It was a great gift."

Crumbo's life spanned the decades from the birth of what at first was named Contemporary American Indian Art to what is now often called Traditional Native American Art. He was a leader in the sadly ironic movement to advance Native American art as a legitimate expression of our collective American heritage, not only as an artist of exceptional talent but also as an astute businessman with innovative ideas for promotion and marketing.

"Woody was a joyous person — always had a twinkle in his eye," remembers Margaret W. Teague, a retired journalist who has served on the staffs of the El Paso Museum of Art in El Paso, Texas; the Thomas Gilcrease Institute of American History and Art, Tulsa, Okla.; and the Philbrook Museum of Art, also in Tulsa. Her friendship with Crumbo lasted more than 40 years. "Artistically," she adds, "his fine brushwork is what always set him apart."

Crumbo's finely detailed paintings, etchings and prints evoke ancient designs found on Native American pottery, in paintings on tanned hides and in pictographs, yet resonate with the vibrancy and urgency of contemporary Native American narrative. With his brushes, he painted the saga of America's first residents, telling their stories and revealing their religious spirit, which so compellingly strives to achieve harmony and balance with nature. Yet he did not let his eye for beautry stop him from harsh social commentary about the bitter realities of suppressed Native American identity.

"Before our own American Indian art got started in the very late 1920s and '30s, the Indian was painted as the white man saw him," Crumbo once explained. "Afterwards, the Indian began to paint as he saw himself. Today, we paint everything from dramatic dancers to gentle woodland scenes to squaws quietly grinding corn. We paint our life."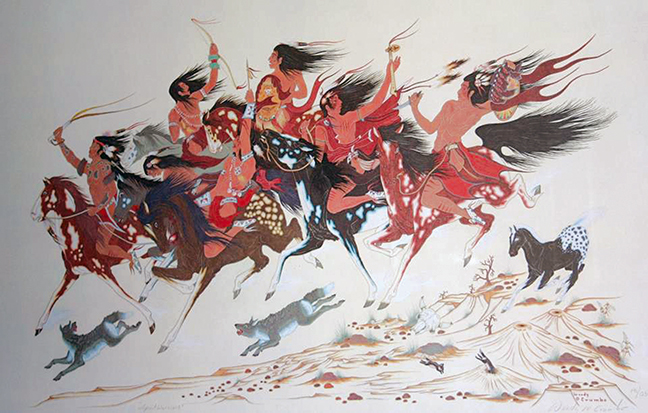 As one of the first masters of Traditional Native American Art, Crumbo helped set the style's most dominant characteristics. He painted two-dimensional works and used a silhouette treatment of subjects. Frequently, there is little or no indication of foreground, horizon or perspective. painted surfaces are flat, with shaping and shading achieved through fine lines that follow the outline of a figure or shape. The colors range from vivid and strong to soft and subtle.

The Metropolitan Museum of Art and the Smithsonian Institute are among the many museums that hold Crumbo's art. Among his most widely known works are a design of the peyote bird, which served as the Gilcrease Institute's symbol for many years, and a series of silk screens depicting Indian dancers in full regalia, each true-to-life detail meticulously researched. His signature work is "The Spirit Horse," about which the artist once commented: "Horses have never been animals to me when they get on canvas. They are spirits, and if I paint them in unreal colors, it is meant to prove that they are phantoms."

"Two of my favorite of Woody's paintings," muses Lillian Crumbo, the artist's widow, "are 'The Spirit Horse' — which has such widespread appeal — and a portrait of Black Owl. But it's hard to say, really, because all his work is so graceful, with such fine, flowing lines." The proud Black Owl portrait hangs in Lillian's Okmulgee, Okla., home, along with a series of blue deer paintings inscribed to her in her husband's hand. Since her retirement from teaching, she has discovered the time to take up drawing. Colored pencils and the almost-finishing sketch of a lily sit on her dining room table, attesting to her own artistic ability.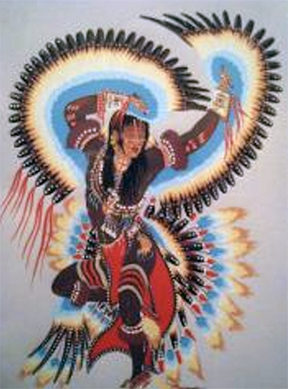 Her husband began drawing at an earlier age. Born Jan. 31, 1912, on Indian land near Lexington, Okla., Crumbo is the son of Alex, a musician and horse trader of English and French ancestry, and Mary, a healer of Potawatomi descent. After the death of his mother when he was 7 years old, a Creek family took Woody into their home. For the next 10 years, he lived with various Creek families in the Sand Springs, Okla., area, where many of his days were filled with tending herds of cattle and horses. To pass the time, he often carried a pocketknife to carve flutes from reeds, and he also took along a pencil and scratch pad for sketching. His favorite subjects were deer, birds, his friends and relatives — and his wards, the horses.

At age 17, Woody enrolled at the Chilocco Indian Agricultural School, where he became friends with several Kiowa youth with whom he spent time at a Kiowa reservation near Anadarko, Okla. Here, Woody came under the influence of Susie Peters, the major figure in encouraging the traditional art style among Oklahoma Indians. It was Peters who made the first significant sale of Woody's work, selling 22 of his paintings to the San Francisco Museum of Art in 1932.

Woody's musical talent and deep interest in Indian culture captured the attention of one of the Kiowa Old Ones, Belo Cozad, a legendary flute carver and player. Woody was inspired by Cozad. After undergoing the appropriate ritual, he was granted the honor of carving and playing the ceremonial cedarwood flute of the Kiowas. "It is a sacred charge to carry the flute," Minisa explains. "The flute carries messages to the soul and restores balance and harmony." In the Indian way of expressing appreciation for inspiration given, her father passed the tradition back to a young Kiowa man during a ceremony in 1976.

While at Chilocco, Woody was awarded a scholarship to the American Indian Institute in Wichita. This Presbyterian school for young Indians with exceptional talents, a school that once stood along 21st Street just north of the Wichita State University campus, had been founded by Dr. Henry Roe Cloud, a full-blood Winnebago. Dr. Cloud instructed his students in art, education, religion and leadership. Woody graduated as valedictorian of his class.

In 1933, Crumbo enrolled at the University of Wichita to study with two of the university's most celebrated faculty members: musician and composer Thurlow Lieurance, who served as WU's dean of fine arts from 1926 to 1946, and the illustrious watercolorist Clayton Henri Staples. "Woody always considered Clayton Staples his favorite art instructor," Lillian says. "They became good friends."

Crumbo also developed strong, lasting ties to Lieurance, who often is credited with being the first person to record Native American music, hauling Edison recording paraphernalia by wagon to various reservations during the early 1920s. At WU, Crumbo helped Lieurance in his continuing efforts to record and preserve Indian drumbeats, melodies, songs and chants. Crumbo was touched by Lieurance's original compositions — so much so that he and Lillian named their daughter after one of Lieurance's most highly regarded works, the "Minisa Symphony." Teacher and pupil also shared another bond: they both treasured flutes made by Belo Cozad.

Lieurance and his wife, Edna, a WU professor of voice, were known for their performances of American Indian music, which always ended with Indian dancers. One of the best was Woody Crumbo. "Woody really knew the Indian dances," recalls Vernon MacNeal, a fellow WU student who often helped Crumbo with his English studies. MacNeal, a talented silversmith and sculptor, became Crumbo's longtime friend. "Woody was a true showman. He basically supported himself as an Indian dancer during the time he was at WU."

Through one government-sponsored program, Crumbo led a group of 13 dancers on a cross-country tour of many Indian reservations. From this contact with other tribes, he learned new dances and details of ceremonial dress. Years later, this knowledge was invaluable to him when he painted a series of Indian dancers. After completing the original works, he produced and sold silk screen prints for $5.50 each, and each print came with an accompanying story, written by the artist, about the dance portrayed.

Crumbo left WU in 1936 to study at the University of Oklahoma before accepting a position as director of the art department at Bacone Indian College, Muskogee, Okla. While at Bacone, Crumbo and other Indian artists were commissioned to paint murals in the new U.S. Department of the Interior building in Washington, D.C., ater first studying mural painting and etching techniques from a famous Swedish technician. Among the murals completed in 1939 are "Buffalo Hunt," "Flute Player" and "Wild Horses."

Before leaving for Washington, D.C., Crumbo asked his friend Vernon MacNeal to step in for him as acting art director at Bacone. After Crumbo's return a semester later, MacNeal stayed on to oversee the college's silversmithing program. Crumbo himself, who invented and held patents on jewelry-making tools, was quite knowledgeable about silversmithing and jewelry making, an ability that his son, Woodrow Max, would later inherit.

As the war overseas escalated in the early 1940s, Crumbo left Bacone and took a job at Cessna Aircraft as a designer. In 1941, he wed Lillian Faye Hogue, a dark-haired beauty of Creek descent. The two set up their first home together in Wichita. "From the first time Woody set eyes on Lillian in the Plaza in Santa Fe, he knew he was going to marry her," says Bob Perry, who is researching Crumbo's life for a book he is writing about the artist. "The beautiful girl, who was walking with some friends, caught Woody's eye — and he had to meet her. He figured she was probably a student at a nearby Bureau of Indian Affairs school, so he later went to visit a friend he had who worked there — and discovered Lillian worked there, too. His friend introduced them. Coincidences like that have played an important role in Woody's life."

In 1942, the couple moved to Tulsa, and Woody put his talents to work as a designer at Douglas Aircraft for the duration of World War II. During the 1940s, Crumbo worked from a varied palette of artistic techniques and mediums — including oil, watercolor, egg tempera and pen and pencil — and garnered numerous art awards and prizes, including the prestigious Julius Rosenwald Foundation Fellowship in 1945, the first Native American artist to receive the award. He also was instrumental in helping assemble American Indian art collections for the Philbrook Museum and the Gilcrease Institute, both of which hold many of his own art works. He served as artist-in-residence at the Gilcrease for three years before moving to Taos, N.M.

"Woody always loved the Southwest," Lillian says. "I can't recall that he ever explained in words why he was drawn there, but the land had a pull on him." It was at Taos that her husband's dream of assisting Indian artists gain profitability by creating wider markets for their work really took flight. A master of both etching and silk screening, Crumbo set up a studio and employed a group of Indian artisans to produce silk screens and etchings of Native American art. Concurrently, he launched an educational campaign, strategizing to place 30 to 50 art shows on the road touring museums, colleges and universities. During the early 1950s, he wrote scores of letters to curators and directors of art departments to explain his mission. That such promotional tactics were effective is evidenced by the general public's increasing familiarity with and appreciation of Natie American art.

Crumbo's interest in geology surfaced during the years he spent in Taos, and he became a prospector, finding valuable deposits of beryllium, copper, uranium and molybdenum in New Mexico's Sangre de Cristo mountains. Then in 1960, he joined the staff of the El Paso Museum of Art as curator and served two separate stints as acting director.

"Woody was one of the few people I know who could communicate with all kinds of people to get things done," Margaret Teague says and cites an impressive example: "El Paso is a surprisingly un-Indian city, but Woody discovered a lost tribe of Indians, the Tigua Pueblo Indians, down the Valley of the Rio Grande River. He secured legal assistance and persuaded the federal government to declare the Tiguas a legitimate Indian Tribe, one of only two in Texas."

Beckoned by a need to return to his own creative efforts, Crumbo resigned his position at the El Paso Museum and moved his family to La Junta, Colo., then back to Taos, and in 1974 returned to Oklahoma. On Nov. 16, 1978, he was inducted into the Oklahoma Hall of Fame. Will Rogers Jr. read the citation: "Woody has become internationally renowned for his etchings, silk screens, murals and painting. He has labored effectively on a volunteer basis to aid Indian artists and entire tribes. He also has been an important force in the preservation of Indian music and dance, and holds patents on jewelry-making equipment."

A year before his death, he and Lillian moved back to the Southwest, to Cimarron, N.M., not far from Taos, where they opened a gallery.

"Woody's genius lay in his ability as a creative designer," MacNeal says. "When he started painting, his works were so unique, so fresh, so innovative and powerful that he influenced his entire generation and the generation that has followed." The list of artists Crumbo's art and life have inspired is a long one. To name only a few: Blackbear Bosin, Willard Stone, C. Terry Saul, Denny Haskew, Wayne Cooper — and Woodrow Max Crumbo and Minisa Crumbo Halsey.

"He was an uplifting man," Minisa remembers. "He always had an encouraging word for young artists — for everyone. He was a true artist, a creator. As a creator, he reinterpreted the creation, bringing out spirit through his art so that we might see the beauty."

As Minisa speaks, her words overlay the words of her father, who once mystically explained: "A person who makes an object is a creator — whether it be art, growing flowers, making a fine piece of machinery, building a hogan or a tepee — anything. The creator projects himself into the object he creates. I have projected my spirit into each work. You look at it, my spirit looks back at you and speaks."

In ways a million words could not express, Woody Crumbo's art speaks of a proud people, their myths and mysteries, their customs and beliefs — and counsels us to fathom the ageless in all things ephemeral.