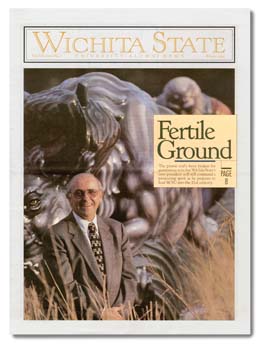 The prairie sod's been broken for generations now, but Wichita State's new president will still command a pioneering spirit as he prepares to lead WSU into the 21st century.
The field of education has always been fertile ground to Dr. Donald L. Beggs, who became the 12th president of Wichita State University on Jan. 1, 1999. Yoked to his own strengths and the tenor of the day — like every WSU president from Nathan Morrison to Gene Hughes — Don Beggs now takes his turn behind the plow.
"I look at a university as a living organism," Beggs says during an afternoon interview at the president's house, where he and his wife of 36 years, Shirley, have lived since January. He speaks thoughtfully, deliberately, analytically. "In doing that, I see us as constantly changing, constantly modifying and learning about ourselves and growing — growing in terms of our ability to provide new experiences in learning for both faculty and students. When faculty pursue research, they're learning. When students are pursuing a degree, they're learning. The rest of us, administrators and staff, have the responsibility of providing a supportive environment for that. We're all trying to create the best environment for learning — then all of us learn."
Beggs came to the top position at Wichita State from a two-year term as chancellor of Southern Illinois University in Carbondale, where he reported to SIU President Ted Sanders. "Don Beggs," Sanders says, "has been an outstanding performer throughout his distinguished professional career, which has involved leadership responsibility at all levels of the university. He is an honest, people-oriented, extremely bright and proven administrator who understands well the challenges of his new position and is prepared to deal effectively with them. He is the right person in the right job. I am confident that he will bring added luster to the already fine reputation of Wichita State.
BUSTING SOD
A native of Harrisburg, Ill., Beggs is the only child of Mary and C.J. Beggs. C.J. was a farmer's son who as an adult employed his talent for mathematics as a bank teller to support his family. Although he didn't have a college degree, he recognized the significance of higher education — and passed that conviction on to his son. Mary was an even more direct proponent of the importance of education.
"My mother was a teacher," Beggs says. "She was a principal and taught in a one-room school. She did all those things that one-room schoolteachers had to do, like build fires and take care of the facility. When my mother and father were married, he was serving on the school board and she was teaching. School was always important. There was never a question that I would go on to college."
Interestingly, Mary, who had taught school with a two-year teaching degree, earned her bachelor's degree only a year before her son earned his.
Beggs now holds bachelor's and master's degrees in education from Southern Illinois and a doctorate in educational measurement and statistics from the University of Iowa, which he completed in 1966.
It was while working on his undergraduate degree at SIU that Beggs first met James Rosser, a fellow SIU student who also played basketball for the Salukis. "Don enjoyed watching basketball" recalls Rosser, who has served as president of California State University-Los Angeles for 20 years now. "Our relationship — our friendship — began when we were both undergraduates at Southern Illinois. I've known Don to be a warm, sensitive and caring individual."
Their relationship broadened into that of teacher-pupil when Rosser returned to his alma mater to work on his doctoral degree in health education. Beggs had carved out a career for himself at SIU, serving in a number of capacities, beginning in 1966 as an assistant professor of educational measurements and statistics. He was then named associate professor in 1969 and associate dean of the graduate school in 1970, professor of educational measurement and statistics in 1972, and assistant dean of the College of Education in 1973.
"In the classroom," Rosser says, "Don's focus was to help us learn how to learn. When he taught statistics, he wanted more for us than to know the answers to test questions. He wanted us to leap the higher hurdle of integrating how to use statistics in our own work. He wanted us to utilize the information."
On a wider plain, Rosser adds, Beggs cultivated self-confidence in his students. "He had ways of interacting with us that helped us understand the concepts being presented, even when the subject matter was intimidating," Rosser explains. "We knew he wanted us to develop and to achieve our educational objectives. That support helped build self-esteem."
As the senior author of a nationally standardized test developed using higher-order thinking skills to be an alternative to traditional itelligence tests, Beggs solidified his strong reputation as both scholar/researcher and teacher within his discipline of educational assessment, measurement and statistics. His academic successes were setting the stage for change.
Although Beggs continued teaching until he became dean of SIU's College of Education in 1981, the pace of his transformation from researcher and teacher into administrator accelerated after he became acting dean for University Programs, acting assistant vice president for Academic Affairs and Research, and associate dean for the College of Education, all in 1975. He was named chancellor of SIU-Carbondale in 1996.
While he enjoyed research administration, Beggs says the transition from the classroom into the boardrooms of university administration was a difficult one. He knew he'd miss the invigorating contact between teacher and students, and with no formal training in administration, he would have to develop his own administrative style through trial and error.
It helped that he thrives on challenge and that he already possessed many of the characteristics of an effective adminstrator. "Don is an outgoing person, who puts his heart and soul into what he sets out to accomplish," says Nancy Belck, former SIU-Edwardville chancellor now at the University of Nebraska-Omaha. "He takes a collaborative approach and partners well with faculty and staff and all the other stakeholders in a university." Rosser agrees, adding, "Don has an inclusive perspective. He's fair; he's more than ready to provide leadership; and he understands that decisions have human consequences."
From his experiences in his various administrative roles, Beggs has gleaned a working definition for administration. It is, he says, "treating individuals with respect and being the one with the final responsibility for making a decision."
Administrative accomplishments notwithstanding, he says his proudest professional achievement is earning the rank of professor, a goal he reached at the age of 30. "That's something I look back upon with pride," he says. "Becoming involved in administration was never a part of my professional goals until I became involved in faculty senate activities. Achieving professorship brought me the other challenges I've had."
TILLING PRAIRIE-EARTH
Ultimately selected for the WSU presidency by members of the Kansas Board of Regents, Beggs, along with the other finalists, underwent an intensive interview process conducted by a nine-person committee comprised of alumni, faculty and staff.
Murray Lull '70, president and CEO of the Smith County State Bank ad Trust Company in Smith Center, Kan., has been a member of the board of regents since 1996. "Dr. Gene Hughes did a wonderful job in redefining Wichita State, in identifying the university's metropolitan advantage," Lull says. "My perspective is that the regents looked for and found someone to continue and to build on that foundation. I am impressed with Don Beggs' style, with his habit of not making decisions until he has listened to the people involved. We like his enthusiasm. He convinced us he has the right stuff for the job."
"The regents made absolutely the right choice," says Chris Shank '69, who was one of the alumni members on the search committee. "Don has a commanding presence. He has the unique quality of being able to draw people immediately into his confidence. He makes you feel comfortable from the outset. That's a gift. What really won me over is that he's passionate about things. When he talked about SIU, he was passionate about that. When he talked about WSU, he was passionate about that."
As president of WSU's Faculty Senate, Elmer Hoyer, a professor of electrical and computer engineering and another member of the presidential search committee, has had occasion to work with Beggs on several issues of special interest to faculty members, including the university's dismissal-for-cause policy. "I like his style of leadership," Hoyer says. "He's inclusive, listens well and invites input. Judging from the interactions I've had with him so far, he'll develop a very good working relationship with the faculty and the other constituents of our university."
Like Hoyer and others, Bobby Patton, WSU vice president of academic affairs, also respects Beggs' leadership qualitites and sees the new president as a good match for Wichita State. "He is very direct in dealing with people," Patton says. "He's astute in analyzing situations, and he's a very energetic individual."
Patton isn't the only person to mention Beggs' high-energy level; just about everyone does. An early riser who enjoys walking and biking, Beggs faces a daily schedule of activities that encompass everything from impromptu chats with students on campus, to trips to Topeka for meetings with Kansas legislators and regents, to talks to local civic groups and out-of-state alumni organizations. In his last year at SIU, he created the time to serve as a member of the National Council for the Accreditation of Teacher Education Review Board, the Southwestern Illinois Higher Education Consortium, the Southern Illinois Collegiate Common Market and the Carbondale Community High School Foundation Board.
During what down time he has, he likes to read novels by such bestselling writers as Stuart Woods and Robert Ludlum. Most of all, he likes spending time with family. He and Shirley, who is a retired teacher, have two grown children, Pam, 29, and Brent, 32. "Shirley and I enjoy doing things together," he says, "whether that's traveling or just talking. It's common for us to strike out for a 45-minute to an hour drive, just to see what's there. It's a way of unwinding. When we get to take vacations, the nicest part is getting to take off your watch."
PLUMBING THE LAY OF THE LAND
Beggs has impressed people with his study of Wichita State's unique setting, history and set of current issues, starting his inquiries even before physically setting foot on campus. In this fact-gathering or "environmental scanning," as Belck puts it, he seems to be of the same mind as the university's sixth president, William Jardine, who soon after accepting the presidency in January 1934 vowed "not to rip the stuffing out of things until I see how they work."
Linda Matson, WSU coordinator of cooperative education and president of the university's Unclassified Professional Senate, says, "I appreciate his ability to come here and be totally immersed in our university and community. He certainly did his research before he came, and he continues to be a thoughtful information gatherer. I've seen that he likes to be out of the office, meeting people, talking with students."
In his turn, Beggs has been impressed with the people he and Shirley have met at WSU and in Wichita. "On campus, as well as in the city," Beggs relates, "the word welcome is said with meaning. It's more than warmth. It's more, 'Come in and be part of us.' People are wanting to help both of us gain an understanding of the history and the strengths of the city and the area."
In January, Beggs penned an editorial to the Wichita Business Journal. Titled "Why Wichita State is everybody's business," his commentary begins with this observation: "In my first week on the job at WSU, I learned something important about Wichita. It is a city of risk-takers and entrepreneurs, people with ideas and the initiative to follow through."
He goes on to stress not only that Wichita State is the source of a superb education, but that one of his priorities is "to see the people of Wichita and south-central Kansas get to know just how strongly connected WSU is to the economic, cultural and social health of our region." He concludes, "Shirley and I are proud and happy to be here. We appreciate how deeply WSU affects the quality of life for all of us." His comments echo those of WSU's eighth president, Emory Lindquist, who in 1965 emphasized that a modern university "is tied up basically and fully with the life of our time."
PLOWING DEEP
Looking out over the polychromatic landscape of an urban university, Beggs sees value in the varied hues of its many disciplines and enterprises, yet cautions that any particular university should build on its strengths and "not spread itself too thin."
He explains, "One of the beauties of being in a university setting is that you will get more good ideas than can be funded. Decisions, then, must be made relating to how best to meet the niche and the mission of the university, and then to try to communicate that to others in terms of our doing it together. Those can be programmatic decisions, athletic decisions, center decisions. None of these decision is made in an isolated way, but in the end, when there's not consensus, the person responsible for the decision-making is the president."
CHISELING THE FUTURE
In the free-ranging world of higher education on the eve of the 21st century, staying abreast of such innovations as distance learning and the technologies that make that possible loom ever more important to schools competing for students and dollars.
Yet as high-tech and competitive as the business of learning may become, Beggs chisels his vision for WSU from two age-old intangibles: the influence of individuals of character and the discipline of the mind.
He sets store by a "set of responsibilities" that go with being an educator: "You are a mentor. You are a model. And because you're trying to influence the lives of others in a positive way, integrity is critical."
Early in his career, while serving on a dissertation committee, he picked up what has become his characteristic mode of decision-making. "I've thought about that dissertation many, many times," he says. "It was about a model for decision-making. You define what the problem is. Then you find out about the problem, the pros and cons, the history of it. You look at what your alternatives are, what the potential solutions are. You try to look at the impact of those decisions. Then you make the decision, then evaluate it. You do that in research; you do that in the classroom; you do that in administration."
You do that in life. And you do it better with an education — or at the least, you do it with a broader sweep.