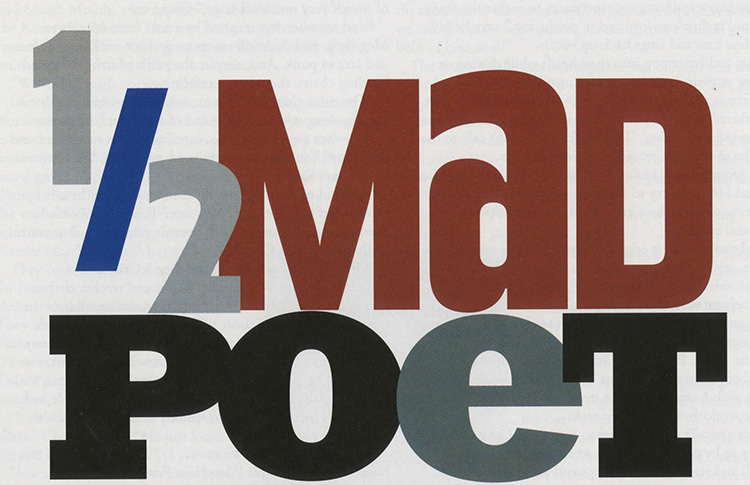 The three members of the Wichita band ½ Mad Poet have been around long enough to experience the ebbs and flows of success, the machinations of a scoundrel agent – and to hone a skill for dodging cups of beer and flying chairs.
Band members Anita Chase '97, Janet Cramer '95 and Sheela Reddy '98 – their ages range from mid- to late-20s – all have degrees from Wichita State's School of Music, and they aspire to seeing their picture on the cover of the Rolling Stone. Well, if not the cover, they certainly want to make a career of writing music and performing as a band, they say.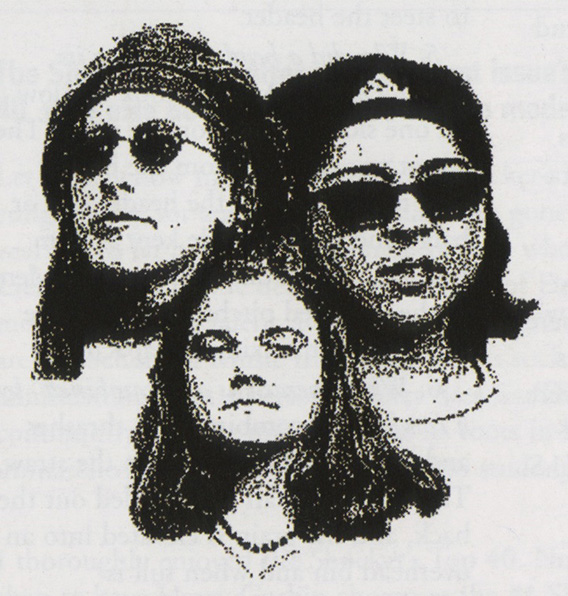 The trio is doing most everything right to promote their band – from maintaining a fun, funky website where you can order their CD and other promotional goodies, to securing Budweiser as a sponsor. They even wrote a jingle "halfmadpoet.com," which they play between sets to remind folks they are only a mouse click away.
Drummer Cramer has been with the band for a year, joining the group prior to the release of a CD produced by Chase, Reddy and former band member Rhea Sewell, who had played together since the band began in 1995. They wrote the lyrics and music for their CD, "Ain't I A Woman," recorded locally by Jim Ismer at Anybody Listening Studios.
"That was a real learning experience, to realize the equipment and technology involved in producing," says Reddy, who plays bass and sings back-up vocals.
Music and lyrics pop into their heads while driving or working at their day jobs or most anywhere, they say. "Sometimes you hum the tune over and over until you get somewhere," Reddy reports. Then she'll rush into the house the band shares, saying, "Don't talk to me, don't talk to me," until she can play it, record it or write it down.
The group's music includes social messages, angst, celebration and love. "We try to sing songs about issues that are important to us," Chase says. "And not lyrics that are just gushy and stuff."
The band's music is edgy, interesting. Songs vary in rhythm, style and expression. Even when the lyrics are on the dark side, the youthful, spirited kind of joy they take from their music comes through to the listener.
The group's members are fairly soft spoken, but they open up on stage, particularly Chase, who sings lead vocals and plays guitar. People tell Chase she sounds like Axl Rose of the heavy-metal band Guns 'n' Roses, a comparison she accepts with humor; she has a penchant for heavy metal. By day she works in an office; by night …
"She's a totally different person on stage," Cramer says.
"I try to be pretty low-key at work, but getting on stage, I can yell and scream and be obnoxious and jump around," Chase says.
"Anita, the animal," Cramer jokes.
"It's this other part of my personality that I would like to express more, but I'm kind of shy, so I don't express that part of myself very much off stage," Chase says.
Band members are inspired by artists from Mozart to Megadeth, and their influences range from rock, funk, blues and jazz to punk. And, despite the perils of flying beer and hurtling chairs, they enjoy performing.
"The times that stand out are when everyone in the bar is singing along with us by the end of the night," Chase says.
"Or when people come up, especially other musicians, and say, 'Wow! You guys are really good musicians. We like your stuff,'" says Reddy.
"It's kind of a mixed compliment, and when I hear it I kind of feel like, 'Yeah, in your face.' People say, 'Well, I thought you guys would suck because you're girls, but you're really good!" Chase says.
"Oh yeah, we hear that all the time," Cramer says.
Reddy works at Wherehouse Music and teaches electric bass at Senseney Music. Her tastes in music are all over the spectrum, she says. Cramer will finish her master's degree from Wichita State in May. She teaches drums at Senseney and accompanies for the dance department at WSU. Cramer is inspired by Latin and Afro-Cuban rhythms. While at WSU, she has led a salsa band, Areito, an Afro-Cuban ensemble and La Band Hispanica. She has studied drums in Cuba with master drummers.
In addition to their own music, ½ Mad Poet covers the music of Stone Temple Pilots, Lita Ford, Credence Clearwater Revival, No Doubt, War Babies, 4 Non Blondes, Asphalt Ballet and others. "Some of those are '80s metal bands that hardly anyone's heard of," Chase explains.
½ Mad Poet has opened for the well-know groups Sugar Ray and Smash Mouth, who appeared at the Oz Fest in '97 at the Kansas Coliseum. "That was before they became more famous," says Chase. "Bands come to Wichita while they're on their way up and on their way down."
"We're the weigh station," Cramer jokes.
One of the highlights of their careers was being selected by demo submission to perform at the '98 Lilith Fair, an annual event that features popular female musicians and a few up-and-comers. ½ Mad Poet was the only Kansas or Missouri-based group to perform at the national tour stop in Bonner Springs, Kan. They played only 20 minutes, but got to share the venue with Lilith Fair creator Sarah McLachlan and other musicians including Sinead O'Connor, Indigo Girls, Natalie Merchant and Martina McBride.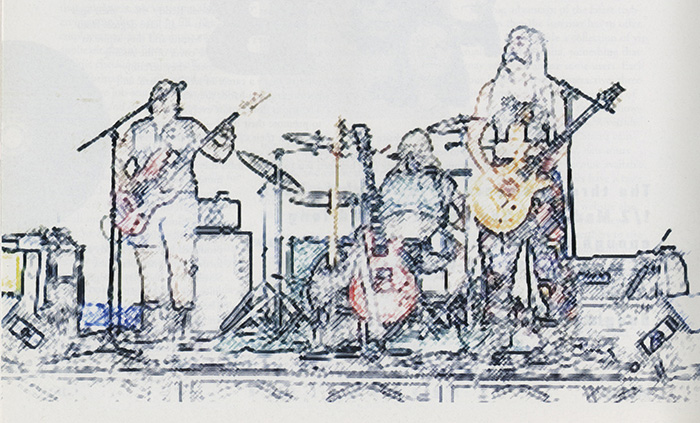 They opened at a Wisconsin casino for Joan Jett, who is "very short," says Reddy, who's herself about 5-foot-1. They also opened for Weird Al Yankovic when he came to Wichita. "He was, well, kind of weird," says Chase, and not as sociable as one might imagine. "I said 'hi' to him as we passed each other," Chase reports. "He just looked at me and kept on walking."
"It was a thrill getting to meet Joan Jett," Reddy says. "I was in awe. I was a big fan of hers growing up."
During the time the band toured Wisconsin, they had an agent out of Milwaukee. "Everything seemed like it was going pretty well for awhile," Reddy says, "even though he booked us in some strange places."
"Yeah, like the Polk County Fair," says Chase. "They told us they would have a PA, and when we got there the system was 30 watts. Our amps are 200 watts. The microphones were cheap – and we were following cloggers."
"And right when we began playing, they started the tractor pulls," Reddy says with a laugh.
"I don't think they were really expecting us," Chase says. "I think they would have been more pleased with a country band. Although there was one person who really liked us – a mentally challenged Elvis impersonator.
"He was a sweet guy," Reddy adds.
Despite providing the opportunity to tour, the agent turned out to be very expensive for ½ Mad Poet. He took off with the band's money they had invested in the production of a CD. "He had the money and the CD master," explains Reddy. "Every time we called him he kept putting us off, then we couldn't get a hold of him at all."
The group finally received a phone call telling them the agent had disappeared with all his clients' money. "We lost a lot of money," Reddy says, "but there were others who lost a lot more than we did."
Financially and musically, they were able to get back on track and release their CD in spring '99. To kick off the milestone event, they had a weekend of gigs planned. That weekend Wichita got a half-foot of snow.
"So, basically, we were the only vehicle driving along Kellogg to our gig," Cramer recalls.
"We had put so much time and effort into advertising. We had put posters up everywhere," Chase recounts.
"Mailings and press releases," adds Reddy. "My parents came down from Kansas City. They were about the only ones there."
On another occasion, the group played the whole night for the only person in the bar – the bartender. "We just considered that as a rehearsal," Reddy says.
Mostly, though, there are full houses with enthusiastic crowds. Sometimes the scene gets pretty wild, they say. They've played during brawls; they've dealt with drunks who climb up on stage with them; and they've stood in front of their equipment to protect it from beer shooting through the air. "We have some hilarious videos," says Chase.
"Like the one of a 'nasty guy' who would come up and stand right in front of me and start taking off his clothes. I was playing singing, and there wasn't anything I could do except close my eyes or just turn around."
In addition to fair dates, snow-challenged performances, bar gigs and openings for headliners, the band has played at several benefits, including a performance for a women's shelter, another for the Children's Miracle Network and another for the Humane Society.
"At Woofstock," Reddy relates, "it was so cold you could see your breath."
"And not feel you fingers," Chase recalls.
But the band played on.
---
"Shocker" Bar Bands
The number of bar bands – big and small, young and old, wholesome and decadent, famous and not so famous – with members hailing from Wichita State must be somewhere in the vicinity of just under a zillion. Well, we couldn't list them all, but with special thanks to Michael Carmody, editor of SEEN Magazine, here's a start. Recognize any of them?
Apostacy, Atomic Howdy, Average Tan, Blinky's, Blivets, Blue Grass Spiders, Bodo Ensemble, Bodo Input Trio, Boot Hill, Bottom Feeder DeLuxe, Boxer Rebellion, Carganza, Cornfed Rubes, Cross Country Felons, Cryout, Dead Orchestra, DJ Karma D, Drunken Monkey Technique, Five Speed Rubber Monkey, Grimus, Gulch, Halosinker, HiFi, Hillary's Sister, Hissy Fit, Hostility, Howdy, Joe's Nose, Jones 6, Klyde Konner, Lather, Legs Akimbo, Maybes, Milo's Trance, Moist Bulb, Mycleed Fryback, Nicotine Duck Club, Old Joe Clarks, Phallus 4 Barrel, Pond Dogs, Rainplow, Rich Arithmetic, Roach Egg Invasion, Roomful of Walters, Scroat Belly, Shinola, Shoobachs, Shoot Out the Lights, Sluggos, Sons of Rayon, Soylent Green, Speedbump and the Tire Tracks, Split Lip Rayfield, Static Face, Stick Men, Stitch Miller, Sugahbush, Sunshine Family, Technicolor Headrush, Terra X, That Statue Moved, The Agaarns, The Bampots, The Catch, The Claytheists, The Embarrassment, The Entire British Navy, The Healers, The Inevitable, The Marauders, The Plaid Family, The Pla-Mors, The Whirligigs, Those Undesirables, Tight Shoes, Triune, Van Gogh Souls, Vent, Winking Spaniard …