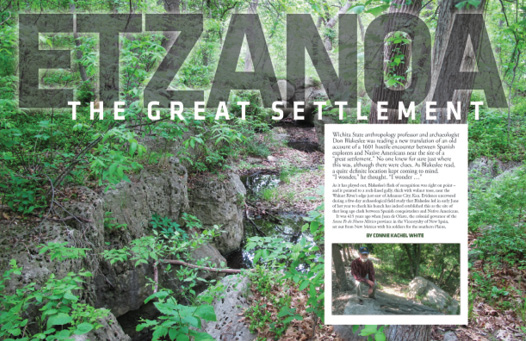 So Many Good Stories
Dear Editor:
I haven't finished reading the spring/summer The Shocker, but I do believe it is one of its best. I thoroughly enjoyed reading about the discovery of the Native American settlement, the coalition of neighbors, the exciting story of the $500,000 career award for WSU's Systems Optimization Lab, the story on Pete Armstrong (whom I worked for in the 1970s and '80s), the story on the "Renaissance Woman," just to name a few.
There are so many good stories in this issue: the Shocker basketball team, of course, and KMUW's new digs in Old Town, the quad racer Brian Morris, the life-cut-short operatic mezzo soprano.
Your magazine staff does an outstanding job. Wichita State should receive its accreditation by the Higher Learning Commission based solely on the quality of The Shocker!
Julie O. Koker
Wichita
---
Dear Editor:
After reading the story ("The Many Iterations of Henrion Hall") in the spring/summer issue of The Shocker, I had flashbacks of the early 1960s sneaking up the Henrion gym fire escape to play basketball on weekends. During the off season, the fieldhouse was locked up and on bad weather days we couldn't play in Fairmount Park just south of Brennan Hall where we lived. We each took turns letting the team in. We took turns because if the campus police caught the same guy twice they would report us to the coaches. The campus police did ask us to leave on a regular basis. Their reason: Must have adult supervision to be in the building!
Bob Powers '69
No. 14 1964/65 Final Four Team
Wichita
---
Dear Editor:
I thought you wrote a beautiful article, "Etzanoa: The Great Settlement," (in the spring/summer issue of The Shocker) that not only gave an in-depth story about the archaeological project, but it also did a great job of highlighting the University's role. And the pictures themselves tell a story!
Thank you.
Stacia Boden, associate general counsel, Wichita State University
---
Dear Editor:
Congrats for a great article, "Coalition of Neighbors," in the latest The Shocker magazine. Good story and great pictures!
Ted Ayres, director of community engagement and opportunity
Wichita State University