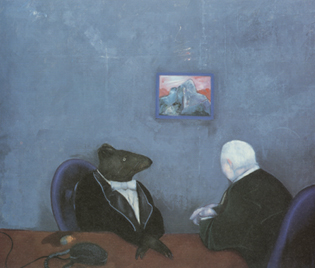 They just won't leave you in peace.
The artworks of James G. Davis '59/63 may repel you. They may draw you into their surreal narratives with a shiver – or a laugh at their dark humor.
They may amaze you with their figures and colors that work together to fuse conscious and subconscious realms, leaving you with an unsettled feeling, like glimpsing something dreadful, yet beautiful out of the corner of your eye.
Davis drew from a seemingly inexhaustible store of uneasy and edgy memories, visions, dreams, hopes, fears, observations, emotions and thoughts over the span of his career. He generated thousands of paintings, lithographs, etchings, woodcuts and collographs.
"His world," says longtime Davis friend and former WSU English faculty member, the poet Michael Van Walleghen, "is full of ordinary objects we recognize, but it's by no means an ordinary reality."
At WSU, Davis earned a BFA with an emphasis in painting; his MFA studies focused on printmaking. While in Wichita, he and five friends opened and ran the downtown gallery, Bottega. In 1967, he became a painting and drawing teacher at the University of Missouri-Columbia. A year later, he married, and then joined the faculty at the University of Arizona, Tucson.
This artist, professor emeritus, husband, father and friend died Sept. 28, 2016, at his home in the Oracle artist commune Rancho Linda Vista, Ariz.