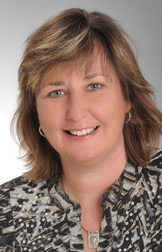 Teri Hall, associate vice president for campus life at Towson University in Maryland since January 2005, has been named vice president for student affairs at Wichita State University, effective Jan. 8, 2017. Tony Vizzini, provost and senior vice president at Wichita State, shared the news on Nov. 17.
"I am excited that Teri has joined our team," Vizzini says. "Her experience at Towson University, a university that has grown considerably in the time she has been there,
is of great value to us as we become the innovation university. She creates communities of individuals who strive to include others and challenge each other
to be successful. The students, staff and faculty of Wichita State will benefit from
her leadership."
Hall has served in several different capacities at Towson from 1998 to the present, including assistant vice president of student involvement and transitions, interim assistant vice president for student diversity and director of student activities.
"Following in the footsteps of student affairs national legend Jim Rhatigan is truly an honor," Hall says. "From my very first interactions with Wichita State, I felt at home. The students, staff and faculty that I met confirmed that WSU is a special place. To say that I am thrilled by the opportunity to join the Wichita State University family is an understatement. The campus is alive with energy and potential. I look forward to working with students and staff to enhance the student experience. I am truly lucky to have been selected for this role."
Rhatigan came to WSU in 1965 at the age of 30, the youngest dean of students in the nation at the time. As senior vice president, he was honored in 1997 with the renaming of the campus activities center to the Rhatigan Student Center. At Towson, Hall oversees campus recreation services, fraternity and sorority life, orientation and new student programs, the parents association and student activities – with budgets in excess of $10 million. In total, she supervises 30 full-time employees, 13 graduate assistants and 300 student employees.
Hall earned a Doctor of Philosophy in higher education administration from Indiana University in 1996. She also holds a Master of Science in college student personnel from Western Illinois University (1988) and a Bachelor of Science in speech communication and public relations from Southern Illinois University (1986).