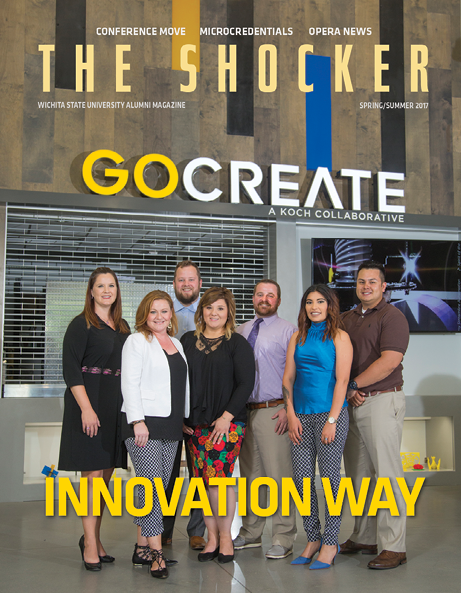 Kudos for Shocker Mag Stories
Dear Editor:
The cover story ("Innovation Way" in the spring/summer 2017 issue) is great! I love the testimony from Youth Entrepreneurs alumni. Such a powerful story!
— Tracee Friess '05, NIAR director of communication and special programs
---
Dear Editor:
Thank you so much for the wonderful article "Coming Up Roses" in the (spring/summer issue). What a surprise! I had calls from several people the day the magazine dropped. I thoroughly enjoy reading the magazine cover to cover.
Keep up the good work!
— David Eads '84/86, Pasadena Tournament of Roses executive director and CEO
---
Dear Editor:
I love the pictures and the article ("Der Heldenbariton: From the Shocker Book of Opera, Chapter Five" in the spring/summer issue). Really wonderfully done.
I will cherish this magazine issue as these pictures with Marie, a dear mentor and great leader, will always be honored at Wichita State as long as I'm around. I thought (the writer) reflected our conversation so well. Brava!
— Alan Held '83, WSU director of opera
---
Dear Editor:
I just received my first WSU Alumni Association magazine and loved reading through it. I am an associate professor of educational leadership at the University of Alabama at Birmingham. I love UAB, but regularly and proudly wear my Shocker colors, especially on game days, just to make people ask about WSU!
I also purchased a brick for the alumni walkway. I was on campus earlier this year and was thrilled at all the impressive changes. Congratulations!
Finally, I wanted to say thank you for including Maryann Reed Papke's name in the memorial section. She and her two kids were all good friends of mine. I was so sad to learn of her passing.
— Keith Gurley '93/00, Birmingham, Ala.