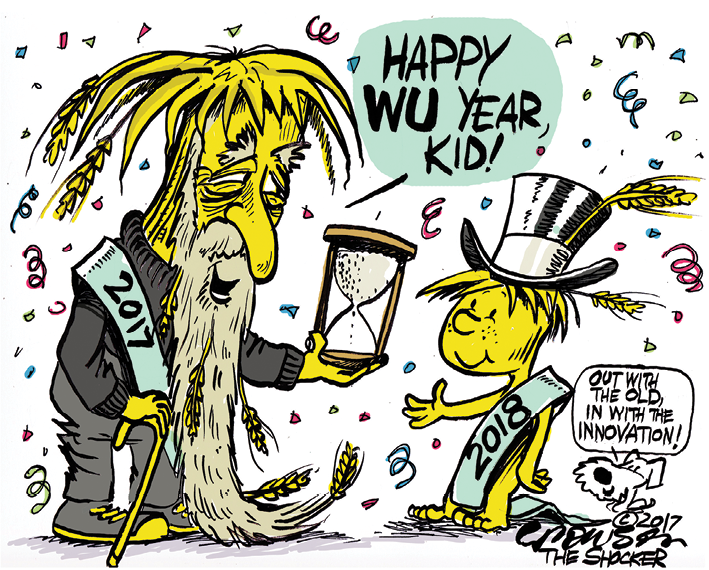 Shockers everywhere, at events long ago or happenings just the other day, always have something interesting to say. Take this sampling as a Shock Talk example:
"Having the opportunity of doing a little bit of magic for Muhammad Ali was one thing, but I ended up actually putting myself through college doing magic."
— Bill Gardner '81/83 in a new video segment in the WSUAA's Shocker High Points video series, up now on the Wichita State University Alumni Association's YouTube channel. In the segment, Gardner, who is principal designer and owner of Gardner Design in Wichita, talks about his profession, doing magic for Ali – and he makes a deck of cards disappear. Yes, really!
"Returning to the Ulrich as director has been immensely rewarding as we have a very impactful presence on campus and throughout our community. I'm exceedingly proud of what my team achieves with every exhibition, program or community activity. The Ulrich continues to have a very bright future as new leadership brings fresh ideas and opportunities."
— Bob Workman '78, who has served as director of Wichita State's Ulrich Museum of Art since January 2013, as quoted in a university news release announcing his plans to retire effective June 30, 2018. During his tenure, Workman oversaw the completion of the conservation and reinstallation of Joan Miró's mural "Personnages Oiseaux," as well as the purchase of 125 photographs by Gordon Parks, making Wichita State the second-largest holding of this artist's work. He also brought Tom Otterness' sculptural group "Makin' Hay" to WSU and led efforts to commission a related work by Otterness titled "Shockers" for permanent installation next year.
"Welcome, Students!"
— The opening words in Charles L. Martin's 2018 edition of Marketing For All the Marbles Every Day. Martin is a professor of marketing at Wichita State.
---
The Wichita State University Alumni Association is proud to announce the 2017 class of recipients for WSU Alumni Awards. The honorees will be recognized during a banquet and ceremony slated to begin at 6 p.m., Tuesday, April 17, 2018 in the Beggs Ballroom of the Rhatigan Student Center on Campus.
CONGRATULATIONS to each of these eight honorees: M. Lee Pelton '73, top, the president of Emerson University in Boston, will be presented the WSU Alumni Achievement Award. An English language and literature graduate of Wichita State, Pelton also holds a PhD in English language and literature from Harvard University. A longtime university administrator, he is a former president of Willamette University in Oregon.
Mike James '71, second from top, is the recipient of the Alumni Recognition Award. A political science graduate, James, has spent his career in the medical industry. He was a basketball letterman, president of the Student Government Association and a Senior Honor Man during his time as a WSU student.
Cindy Claycomb '79/91, third from top, is the University Recognition honoree. She is well known on campus as a business professor and administrator and as the founding director of WSU Ventures. This year, after scaling back her university duties, she campaigned for and won a seat on the Wichita City Council. At Wichita State, she maintains her role as professor and serves as the assistant to the president for strategic planning. In addition, she is an active WSUAA board member.
Kaye Monk-Morgan '93/96, the Laura Cross Distinguished Service Award recipient, served as director of Wichita State's TRIO Upward Bound Math Science Center for 20 years, before being tapped to join the Fairmount College of Liberal Arts and Sciences Dean's Office as assistant dean for students. Monk-Morgan began her career at Wichita State in 1993 as a residence hall director in Fairmount Towers.
Lisa Teachman '02, who will receive the Young Alumni Award, is the chief meteorologist of the KSN Storm Tracker 3 Weather Center, the first woman to hold that position in the Wichita area. To prepare for her career, she completed a dual degree program in communications at Wichita State and meteorology at Mississippi State.
Dorothy and Bill Cohen, the 2017 Award of Distinction honorees, are the namesakes of WSU's Honors College. As major university donors and members of the Society of 1895, they have generously supported both academics and athletics because they believe that a strong university is essential to a strong community.
Bob Gutschenritter '70/75, the Shocker Tribute honoree, is a proud Shocker graduate and retired CPA and director of oil and gas services and marketing for his firm Gutschenritter and Johnson LLC CPAs, now GJ&Company LLC CPAs.