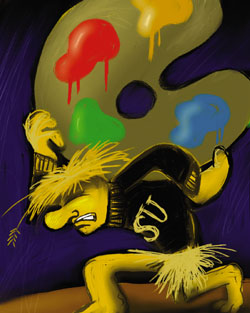 Supporting the Arts
A number of WSU alumni, including George Fahnestock '69, Mirko D'Angelo '96 and Chris Eden '00, are among those behind a campaign called "Wichita: Supporting the Arts."
The venture, involving local arts organizations, intends to increase attendance at art functions, encourage volunteerism in the arts and boost donations. Keep an eye out for the group's special events, coming in the near future. For more information, or to find out how you can support the cause, visit the website at http://www.supportingthearts.com

---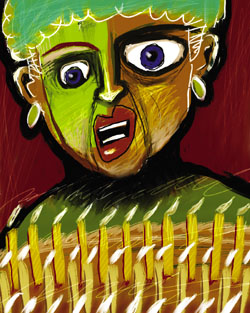 Happy 100th!
Alumnae Marjorie "Marge" Bare '60 and R. Ruth McNay '62, both of whom enjoyed long careers as teachers, celebrate their centenary birthdays this year.
Bare taught at schools in Douglass, Newton, and Wichita. Her 100th birthday on Aug. 17 was fêted with a reception at which Douglass Mayor Mark Roberts read an official city proclamation applauding her "exemplary career of teaching young people and helping to make a better world of educated and caring citizens."
McNay, who turns 100 on Dec. 14, taught high school math in Colorado and Oklahoma before rounding out her career with a 15-year stint as elementary-level teacher in Wichita.
---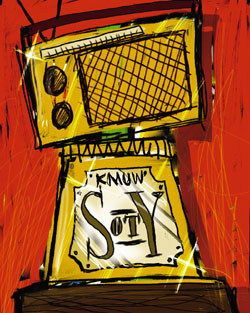 Station of the Year
Wichita State's KMUW FM89 won Station of the Year in the noncommercial division in the Kansas Association of Broadcaster's 2004 KAB Radio and Television Awards competition. There were 433 radio entries by commercial and noncommercial stations in Kansas. In addition, KMUW reporters Frank Dudgeon, Sam Hendren and Rob Simon individually won awards in several categories.
---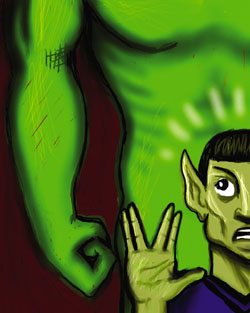 We're All Trekkies
Paul Wight fs '92, aka pro wrestler The Big Show, is slated to appear as a character known only as Orion Slaver #1 in an episode of Star Trek: Enterprise called "Borderland," tentatively scheduled to air Oct. 29 on UPN.
Never before has a TV audience seen an Orion male, and the episode boasts the first appearance of Orion females since the original Star Trek series. Guest starring along with Wight will be Star Trek: The Next Generation regular Brent Spiner (Data), who begins a guest stint as Dr. Arik Soong, the grandfather of Data's creator, Dr. Noonien Soong.
---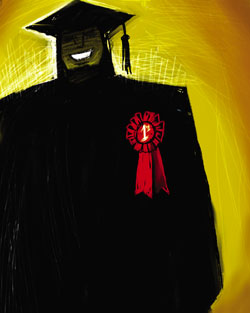 Brooks Top Communicator
Wichita's superintendent of schools Winston Brooks '74/77/80 received the Bob Grossman Leadership in Communication Award this July. The award, given annually to active superintendents and CEOs of educational agencies, recognizes excellence in public relations.
Brooks has also been selected for the Fulbright Exchange Program, sponsored by the U.S. State Department and intended to encourage understanding among educators from different nations. He will participate in a three-week seminar in Germany.
---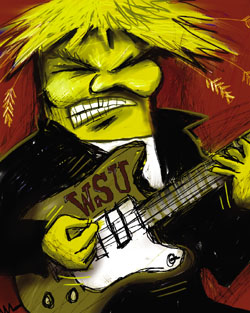 One Dogged Shocker
After some initial struggles in the rough-and-tumble world of the Los Angeles music scene, Rick Musallam '94 has recently been making his way to the top of the pile.
The Lebanese-born guitarist toured the country last summer with Ben Taylor (son of James Taylor and Carly Simon), lent a song to the gripping, Oscar-nominated documentary Capturing The Friedmans and has recently found himself adding his unique guitar stylings to the hyper-hip hip-hop act The Roots. He also contributed to the long-awaited debut solo album by No Doubt vocalist Gwen Stefani.
Along the way, Musallam found time to work his regular job as guitarist in the Mike Keneally Band, which has just released the faithful and friendly long-player, Dog.
---
Queen of the Hearse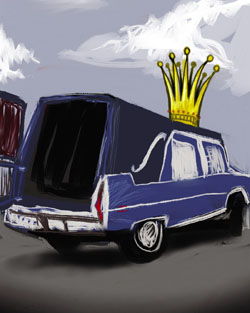 Glenda Campbell, a staffer at NIAR, is accustomed to people staring.
The "Hearse Queen," as she's known, makes her daily commute to work at WSU in a blue 1988 Buick LeSabre Superior hearse. Though some may be spooked by her choice of transportation, Campbell laughs off superstition, saying, "No one ever died in a hearse."
She and husband Steve, who together own four of the custom-built funeral cars, love the plush ride and silky handling — not to mention the utility — of the behemoth vehicles. Of the couple's black 1983 Mercury Thacker hearse, Glenda says, "It's my husband's work car. He uses it to haul tools, wood, lawn equipment, whatever. It's just like a truck."

---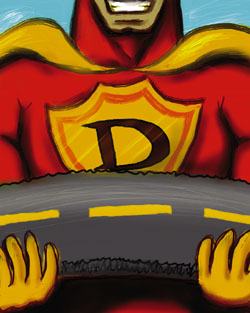 Recycled Roadways
Ted Dankert '58 is the founder and president of Dustrol, an unassuming business based in Towanda, Kan., that is a leading provider of asphalt recycling and related highway maintenance services.
Dustrol's revolutionary technique, through which worn and damaged asphalt roads are rejuvenated rather than broken up and replaced, significantly reduces the public cost, material use and traffic tie-ups associated with traditional repaving processes. Dustrol has five offices in four states outside Kansas.