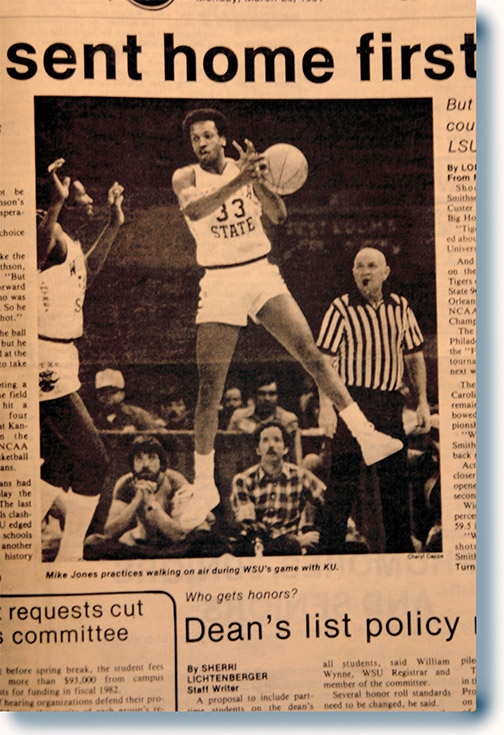 Even though you realize years have passed since Mike Jones '83 made the biggest shot in the history of WSU basketball, it still comes as a mild shock to learn he's 45 years old.
A middle-aged man with a successful career, twice married, proud father of two — and 45. Was it really that long ago that Jones, the unlikeliest of heroes, swished a last-second, long-range jumper to beat tradition-rich Kansas 66-65 in the Sweet Sixteen of the NCAA tournament?
The year was 1981. No one would have dared predict that, on a team filled with star players, Jones would step up as the leading man in a much-anticipated game billed as the Sunflower Showdown.
WSU, 23-6, was led by Antoine Carr fs '83 and Cliff Levingston fs '82, an intimidating pair of forwards known as The Bookends. Perimeter duties were handled by Tony Martin '83, a smooth point guard, and the gritty, reliable Randy Smithson '82/89.
Though gifted, the 6-foot-5 Jones was known for streaky shooting. On an off night, he might clang a few off the rim, but when he was on, he provided instant offense.
Any true Shocker fan knows that Jones delivered the game-winning shot that night in the New Orleans Superdome, packed with more than 34,000 fans. What's often overlooked is that, cold off the bench, he dropped in his first big jumper of the game with 46 seconds left to pull WSU within striking distance at 65-64. After KU guard Darnell Valentine inexplicably missed a layup, the stage was set — but certainly not for Jones.
The plan was to work the ball inside to Carr or Levingston, but the Jayhawk zone had them smothered. Smithson was in the left corner, but didn't have an open look. That left Jones, a player disappointed in his playing time during his career at WSU.
Nonetheless, he was ready. "I wanted to be the first option, honestly," he recalls. "I knew the right thing to do was get it inside to Cliff and Antoine, but the zone was sagging. Randy could shoot the lights out, but he needed time to get his shot off, and I saw a defender running at him. I knew the best option was for me to shoot it. Do or die."
With five seconds left, he let fly that now-famous jumper — a shot commonly estimated at 25 feet. "I knew it was in when I shot it," Jones says. "I mean, I knew it." The shot swished, launching Battle of New Orleans T-shirts and "66-65" billboards throughout Wichita. Although WSU lost in the next round to LSU in the Elite Eight, Jones' bucket provided lasting memories. "I knew it was the biggest shot I ever made," he says.
Jones lives in Winston Salem, N.C., where he works as a production manager for LifeSpan Ventures, a large packaging and manufacturing company. He says he enjoys his daily responsibilities, adding that the work is made more rewarding because LifeSpan, through education and employment, supports more than 1,800 adults and children with developmental disabilities. Married to his wife, Sheila, for six years, he has two children, a 15-year-old son and a 27-year-old daughter, from his first marriage.
Jones says he thinks about the shot every so often, mainly when his curious son, Michael Brandon, plugs a videotape of the game into the VCR. Occasionally, he relives portions of that magical night during pickup games with his son at the local Y — and admits he can't resist spotting up from the left side, 25 feet or so away from the basket.
"My son is always surprised I still have that kind of range," Jones laughs. "He's living for the day he can whup me. But I've always taken care of myself, stayed in shape. A beer belly? No way."
Via friends and SportsCenter, Jones keeps tabs on Shocker basketball. He's told the upcoming season holds much promise, that fans are dreaming of an NCAA tournament berth.
"Wow, that would be beautiful," he says. "It would be nice to get that program up to where we had it. You know, I really don't think a lot of people realized what we were doing back then, the great players we had. It was something, it really was."