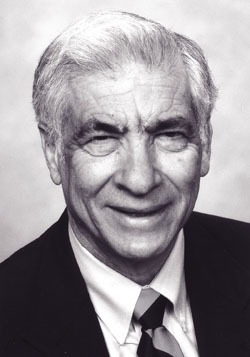 As a 9-year-old, I was smitten with FDR's radio phrases such as, 'We must keep ablaze the flames of human liberty.' This inspired me to become a lifetime 'political junkie' — and it underscores my enthusiasm for teaching political science.
In the early 1970s, the Vietnam War and the fight for equal justice spurred student protests. After the war ended and significant progress toward social justice occurred, the campus became placid for several decades. In recent years, however, concern about the war in Iraq, threats to the environment and the battle of gays and lesbians for equal rights have led to a revival of campus activism.
Serving on the 2004 Democratic Platform Committee gave me first-hand insight into what had been an abstract understanding based on general reading. The primary purpose of the platform was to counteract the general perceptions that the Democrats were weak on national security while still keeping the traditional Democratic constituencies on board.
During my platform experience, I offered an amendment to criticize the Bush administration for failure to develop adequate coalition support. It included the phrase, 'The Bush administration has caused the United States to suffer over 90 percent of the deaths, over 90 percent of the major casualties, and the U.S. provides over 90 percent of the funding.' While my amendment — the last of 207 to be introduced — was not debated, I had the satisfaction of watching John Kerry use similar phrases in his later speeches.
My most memorable experience as a 2000 delegate to the Democratic National Convention was witnessing the change among the originally defeatist delegates. With Bush consistently leading strongly in the pre-convention polls, Gore gave an inspiring speech topped off by a lingering kiss of his wife. This 'new Al Gore double event' transformed the delegates into firm believers that we could actually go home and work for a winning candidate.
I avidly encourage my students of all parties to become involved in the political process.
As an instructor for the intern program at the 1996 Republican National Convention, I felt this validated my career efforts to maintain a reputation as a professor who did not permit his partisan activities to interfere with treating students of all political persuasions fairly. I was particularly proud that former students Karen Belluomo fs '97, executive director of the Kansas Republican Party, and Paul Rosell '83 were present as members of the Kansas GOP delegation.
During my first Democratic Convention in 1968, I witnessed a riot between protesters and police that resulted when the protesters from across the nation were not permitted to sleep in the Chicago parks. This nationally televised riot was largely responsible for nominee Hubert Humphrey leaving the convention with a 30-point deficit to Richard Nixon. In contrast, this year's convention emphasized a united party front.
My most humorous convention memory is of nominee Richard Nixon entering the convention hall and the cameras focusing on a woman who was obviously eight- or nine-months pregnant. She was waving a large sign that said, 'Nixon's the One!'
Presidential debates have often made a difference. The Lincoln-Douglas debates lifted Lincoln out of obscurity. The Nixon-Kennedy debate demonstrated that Kennedy was a man of substance, not just a playboy senator. Reagan's question, 'Are you better off than you were four years ago?' enabled him to break ahead of Carter. Ford's gaffe denying Poland not being under Soviet domination caused him a huge negative. And Kerry's first debate performance against Bush significantly tightened this year's race.
Politics has changed for the better in that the system is much more open, and minorities, women and young people are now included to a far greater degree.
Politics has changed for the worse in that we now frequently have nominations by very small numbers of participants who are frequently ideological extremists. Thus, unrepresentative leftists dominate Democratic primaries, and unrepresentative persons of the right dominate Republican primaries.
Whatever success I've had as a lifelong teacher is attributable in large part to my lifelong love of politics and government.
Former student Tom Sawyer '77 became a state party chairman and legislative leader. Ron Michelson is Illinois commissioner of elections. James Brady was President Reagan's press secretary, and my own son is a top Republican Party fundraiser.