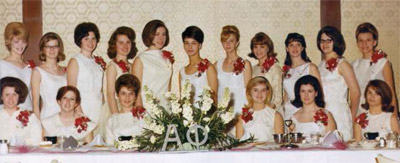 Four national sororities plus four 50th anniversaries multiplied by an exuberant alumnae support system equals one exciting year for sorority life at WSU.
In 1957-58, these local sororities became national ones: Sorosis became Delta Delta Delta in June 1957; the Alpha Tau Sigma chapter became Delta Gamma on Jan. 1, 1958; Epsilon Kappa Rho became Alpha Phi on Feb. 1, 1958; and Pi Kappa Psi became Gamma Phi Beta on Feb. 1, 1958.
Many alumnae have returned — or are planning on returning — to campus this golden anniversary year. It's the perfect time for sharing memories. "We used to go to the football games in heels and dresses while the fraternity men wore sport coats and ties," recalls Alpha Phi alumna Marcia (McKee) Weddle '65.
Kim (Volz) Sandlin '96, a past Gamma Phi Beta president, says, "Sorority life definitely contributed to my college experience and helped me get more involved in campus life. I gained confidence in my leadership skills and enjoyed all the functions, fundraisers and dances!"
Tri Delta alumnae president Lisa Waupsh '02 cherishes "meeting so many wonderful women and lifelong friends" during her years on campus. She was a key force in planning Tri Delta's observance of 50 years in Wichita. "It is such a milestone. There is something touching about meeting a woman from the first pledge class of Tri Delta at WSU, and knowing you share a common bond of sisterhood. It's special to both alumnae and collegians."
In April 2007, Tri Delta hosted a weekend gathering to acknowledge its 50 years. Sorority sisters attended a Friday evening baseball game, had individual decade reunions Saturday morning, held a dinner and dance Saturday evening and visited the Tri Delta chapter house on Sunday. Some 100 alumnae attended the reunion celebration.

Gamma Phi Beta celebrated its 50th anniversary Feb. 15-16. Highlights included an open house and brunch to show off the Gamma Phi Beta chapter house and a dinner and program at the Marcus Welcome Center.
While Delta Delta Delta and Gamma Phi Beta have celebrated their half century on campus, the Delta Gammas and Alpha Phis are planning their own festivities for this summer. Weddle, president of the Wichita alumnae chapter of Alpha Phi, says, "This is a time for alumnae to meet up with their pledge classes and remember the fun and the trials of fitting homework and studying in with the other responsibilities of being an Alpha Phi."
Alpha Phi will mark its five decades on campus on June 20 with a family open house and picnic at the Alpha Phi house. Then on June 21, sorority members and guests will attend a brunch in the morning and a banquet at the Courtyard Marriott in Old Town that evening. "To the collegians, our 50th anniversary demonstrates that Alpha Phi really is a lifelong friendship," says Weddle.
Across Omega Court, Delta Gamma alumnae and collegians are preparing for their own function.
"It's an amazing thing for us to be part of this university for fifty years. Delta Gamma can't wait to be here another fifty years!" says Mandy (Grisham) Pfister '00. "The collegians look to the alumnae for loyalty to our chapter. DG means Do Good!" says Ann (Alldritt) McCarty '59.
On July 11, Delta Gamma kicks off its anniversary party with a splash at Rock River Rapids waterpark in Derby. A "Sisters Only" brunch is set for Saturday morning at the Marcus Welcome Center, with dessert at the Delta Gamma house afterwards. That evening, a MAE Ball will be held at the downtown Hyatt. (MAE stands for DG's three founders: Mary, Anna and Eva.) A farewell lunch is slated for Sunday at the Wichita Country Club.
For these four sororities, this golden year is a celebration of tradition, sisterhood and campus life.