Spring Semester Brings Modest Rise in Enrollment
Spring enrollment is 14,092 students, an increase of 47 students, or .3 percent, compared to spring 2007, according to the official enrollment report given to the Kansas Board of Regents following the 20th day of classes. Wichita State students are taking 142,182 credit hours in spring 2008 compared to 139,266 in spring 2007, an increase of 2,916 credit hours, or 2.1 percent. "We are pleased to see modest increases in our head count and, more important, credit hours," says Ron Kopita, vice president for campus life and university relations.
The number of new international undergraduate students is up 16.4 percent this spring compared to a year ago. Credit hour production for international undergraduate students is up 18.5 percent from the same time last year. The 1,275 international students taking classes at WSU this spring represent 90 countries, with the largest number of students coming from India (315).
Wichita State Ranks No. 3 in Aerospace Engineering R&D
Wichita State ranks third among all U.S. universities in money spent on aerospace engineering research and development, according to a National Science Foundation study. Only Johns Hopkins University and the Georgia Institute of Technology were ranked higher than WSU, which spent $19 million on aerospace engineering R&D in 2006, the most recent total available.
The top 10 universities are Johns Hopkins University, Georgia Institute of Technology, Wichita State University, Massachusetts Institute of Technology, Texas A&M University, University of Maryland, University of Colorado, University of Texas, University of Tennessee and the University of Florida.
Wichita State's No. 3 rank is due in large measure to the research and testing programs at the National Institute for Aviation Research. John Tomblin, NIAR executive director, says the ranking has been achieved with the support of many: "This ranking is a demonstration of the commitment from our federal congressional delegation, Kansas Legislature and the surrounding aviation industry to support additional research to help ensure the United States and Kansas will remain strong in aviation pioneering."
Hugo Wall School at Half Century Mark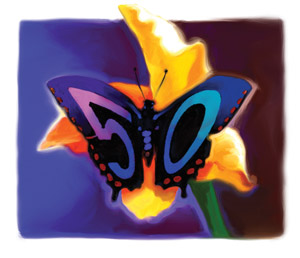 For 50 years, the Hugo Wall School of Urban and Public Affairs at Wichita State has produced leaders who have made their mark in numerous public and civic endeavors. It's a milestone that deserves a celebration, say the school's faculty, staff and alumni. In that regard, a slate of activities is scheduled for the weekend of April 18-19.
The school, which is in Lindquist Hall and is part of the Fairmount College of Liberal Arts and Sciences, encompasses the Center for Urban Studies, the Kansas Public Finance Center and a master's of public administration program.
The school is named for Hugo Wall, a champion in the cause of professionalism in public administration. Wall, a Kansas native, thought that higher education should educate young people to become better citizens and public servants. The result would be a direct and positive impact on the quality of life, he strongly believed.
In a career spanning more than 40 years at WSU, he served as professor and head of political science, director of the summer school, dean of the graduate school and vice president for academic affairs before retiring in 1971.
Alumni and friends of the school will begin anniversary activities with a dedication and reception at 4:30 p.m., Fri., April 18 at the Hugo Wall Iris Garden.
The next day, there will be a class brunch reunion with the faculty at 10:30 a.m. in the Rhatigan Student Center, followed by a 2 p.m. visit to a Shocker baseball game. The main event for the celebratory weekend is a 6 p.m. reception and dinner at the Hotel at Old Town.
Delta Gamma and Alpha Phi Plan 50-Year Anniversary Bashes
WSUs four national sororities turn 50 years old this school year, 2007-08, with Delta Delta Delta throwing a reunion bash in April 2007 and Gamma Phi Beta celebrating its 50 years on campus with a series of events Feb. 15-16.
That leaves Delta Gamma and Alpha Phi with their anniversary events upcoming. First up will be Alpha Phi's celebration set for June 20-21.
Performance Arts Stages Success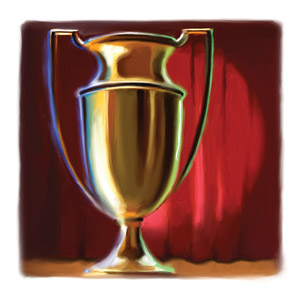 School of Performing Arts students and faculty won several Meritorious Awards at the Jan. 20-26 Kennedy Center American College Theatre Festival in Omaha, Neb.
Honorees are David Neville, Lighting Design for "Children of Eden"; Betty Monroe, Costume Design for "Intimate Apparel" and "Children of Eden"; Megan Richardson, Lighting Design for "Intimate Apparel"; Kaye Brownlee, Costume Design for "A Giant Arc in the Skyspace of Directions"; Eric Walker, Lighting Design for "A Giant Arc in the Skyspace of Directions"; Nick Smith, Sound Design for "A Giant Arc in the Skyspace of Directions"; and Phillip Taylor, Musical Director for "Children of Eden" and "Wild Party."
Also, WSU's production of "Wild Party," a musical chosen to compete regionally in Omaha, is advancing to the national competition in April at the Kennedy Center in Washington, D.C.
Spotlight on Jazz Arts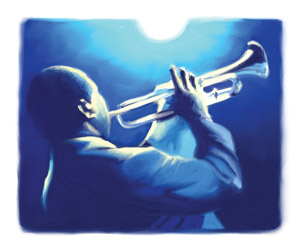 Tuning up their already frenetic performance schedules are Jazz Arts I, Jazz Arts II and the Mid Kansas Jazz Ensemble, all directed by Tom Fowler, associate professor and associate dean of the WSU School of Music.
Jazz Arts I and II are both 19-piece jazz ensembles comprised of WSU student musicians who are selected each year by audition. The university's jazz ensembles are consistently selected to perform at state, regional and national conferences and festivals.
The Mid Kansas Jazz Ensemble is a select high school group. All of the Fowler-directed groups are slated to perform at the upcoming Wichita Jazz Festival. Fowler himself performs with Hillside Blues, WSU's faculty jazz quartet; the Wichita Jazz Orchestra; Air Capital Jazz Band; and Music Theatre of Wichita Orchestra. In addition, he has been educational director and vice president of the Wichita Jazz Festival Inc. since 1980.
Doctor of Nursing Practice
The Kansas Board of Regents has approved a doctor of nursing practice program at WSU. The degree program, reports Juanita Tate, chair of WSU's School of Nursing, is new in the state of Kansas and relatively new in the nation. Post-master's degree nurses can begin their doctoral studies in spring 2008, while post-baccalaureate students can begin in fall 2008.
The doctor of nursing practice degree was also approved for the University of Kansas. Wichita State and KU worked together this past year for approval of the degree, Tate says. A projected shortage of general care medical doctors paired with an increase in the number of elderly is creating a greater demand for advanced practice nurses and other health professionals.
A graduate of the program may be prepared as a nurse practitioner, a clinical nurse specialist, a nurse educator or a nurse administrator and executive nurse leader.
WSU Opens South Campus
Classes are being offered for the first time this semester at Wichita State's new South Campus, a renovated commercial building in the Towne Center Shopping Center in Derby, Kan. An open house and dedication was held March 14.
The campus features six classrooms, each with a capacity ranging from 35-55 students, one computer lab with 30 workstations and a range of offices and student-service space.
The 10,000-square-foot, one-level facility is located just off K-15 highway and serves the educational needs in the southern part of Sedgwick County. The facility was renovated by Rainbow Construction.
Model UN Students Nab Top Honors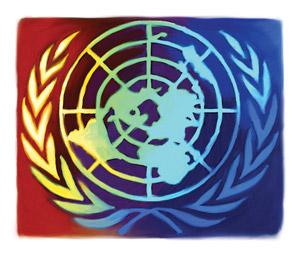 The Model United Nations program is continuing an impressive tradition of bringing home awards.
This year's team, newly returned from a successful Midwest Model UN Conference in St. Louis, Mo., boasts four student delegates named outstanding delegates: Matt Agnew, who represented Switzerland in First Committee; Lizzie Bernhart, who represented Switzerland in the Human Rights Council; Drew Steadman, South Africa in First Committee; and Spencer Ward, who represented the Philippines in the Commission on Population and Development.