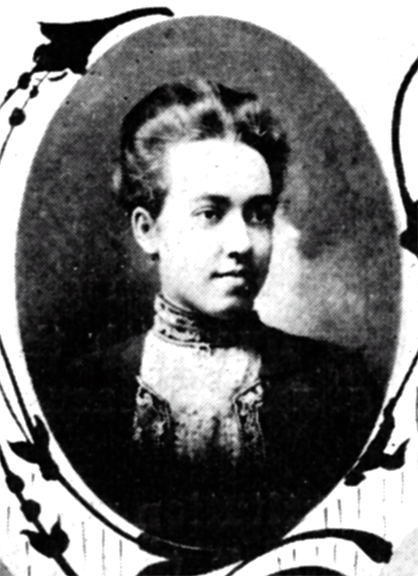 Born in Illinois in 1884, Ruth Eleanor Graves was a member of one of the founding families of Fairmount College.
Her father, Walter Graves, was a member of the college's board of trustees when it opened in 1895, leading a fight to keep funding that came from the Kansas Congregational Association.
And when, during the summer of 1894, the fledgling college's entire library was stolen, her mother, Mary, founded the Fairmount Library Club, whose first mission was to collect books to restore the collection — its women went door to door with baskets soliciting donations.
The club, now the oldest continuing women's organization in Wichita, still donates books to WSU Libraries yearly.

While a liberal arts major at Fairmount, Ruth studied under Elizabeth Sprague, who said of her, "Before she had had anything except the mere rudiments of drawing, she showed intense earnestness in everything pertaining to art. She was eager to learn and one of the most interested pupils I ever had."

Ruth was art editor of The Sunflower during her senior year and art editor of the first-ever Parnassus, produced by her junior class in 1902. Her gold-leaf interpretation of Mount Parnassus graces the cover, and her line drawings fill its pages.

After graduating in 1903, Ruth studied at the Art Institute of Chicago for three years, where a professor commented: "If she could imitate, she would get along faster at first. But she is a strong individualist." After eight years in Chicago, she moved on to New York.

In the early 1920s, she took the ambitious step of moving to Paris, where she took a studio in the Latin Quarter. Post-World War I Paris was famous for its artistic life, attracting emigrés from all over the world, from F. Scott Fitzgerald, Ernest Hemingway, and other members of literature's "Lost Generation," to painters such as Pablo Picasso and Salvador Dali. One can only speculate with whom Ruth rubbed elbows in her two decades in France — but what little is known for certain shows that this girl from Wichita found artistic success in the City of Lights, hanging her work in one of its most famous venues.

The Societé Nationale des Beaux-Arts was founded in the late 1800s as a reaction to the stranglehold on "official art" held by the Academy. Its first vice president (traditionally a sculptor) was Auguste Rodin.

Its annual exhibition grew more hotly contested as it rose in prestige, and 1926 saw the inclusion of not one, but three paintings by Ruth Graves: a landscape, a still life, and a portrait of American Joel M. Nichols Jr.

An unattributed article (most likely from the Wichita Beacon) from the time describes the genesis of the latter work as follows:

Early one morning, Mr. Nichols, searching for the abode of a friend, wandered into the labyrinths of the Latin quarter, where the artists congregate. Miss Graves had locked herself out of her studio, and while she was trying to boost a too-stout janitor through the window so he could unlock her door, Mr. Nichols spied her. Mr. Nichols gallantly relieved the situation by opening the door himself, and remained to pose for Miss Graves on the promise of a cup of "real American coffee."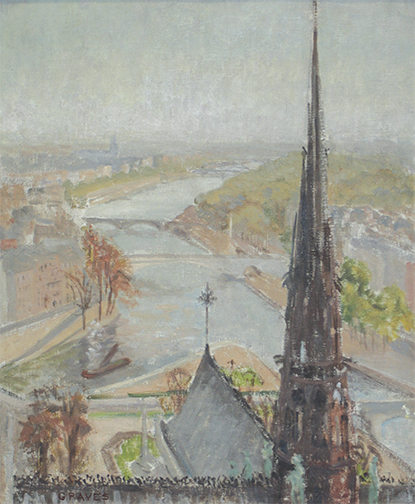 A June 1926 article in the Wichita Eagle's Sunday magazine (from which the title of this piece is taken) surmises the reasons for Ruth's success: "She never painted landscapes alone, or portraits alone, nor did she specialize on the marine landscapes or prairie or mountain landscapes. She tried to get a knowledge of them all."

It also shares that she spent only $30 a month to live in Paris, renting a studio "that would be considered quite pretentious in New York."

Ruth Graves returned to the United States at the outbreak of World War II and resided in New York until shortly before her death in 1964, at a New York state mental hospital (she may have been suffering from Alzheimer's, a disease not understood at the time).

Thirty of her paintings were hung in Morrison Library in 1932, and in 1953 she presented the WU Alumni Association with a painting of Paris as viewed from the top of one of the towers of Notre Dame.

This canvas still resides with the WSU Alumni Association and hangs in Shocker editor Connie White's office: a gauzy, dreamy reminder of the city where Ruth Graves lived, worked — and flourished.