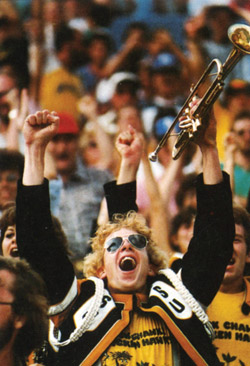 Members of WSU's marching band weren't the only Shockers erupting in cheers back in 1982 when Wichita State's football team and the University
of Kansas met for a long-awaited gridiron battle.
As Parnassus coverage reminds us, the initial battle was simply getting the game scheduled. For years, the two schools and K-State couldn't agree on playing one another on the football field.
Even a bill in the 1981 Kansas Legislature to require the three schools to play was defeated. Finally, a three-year deal was hammered out.
By kickoff, the fall air was charged with tension. With two minutes remaining in the game, KU had a 10-6 lead.
"Everyone on the south end of the stadium saw Don Dreher, standing alone at the KU 20, waving his arms furiously. But for a moment, there was a question of whether Prince McJunkins, trying to evade a rush 30 yards upfield, saw him. Then McJunkins lofted the pass. Dreher cradled it in his arms and outran the KU defense to the goal line."
The scoreboard read Jayhawks 10, Shockers 12, then –– following the extra point –– Jayhawks 10, Shockers 13.
When the clock ran out, players, coaches, fans, alumni and band members alike celebrated in the end zone. And one KU co-ed was reported saying: "Every time I think about it, I just want to vomit."