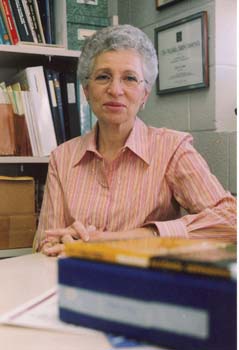 On Nov. 17, 2005, after two months of keeping it under wraps, Elsie "Ellie" Shore, who teaches psychology at WSU, was officially named Kansas Professor of the Year by the Carnegie Foundation for the Advancement of Teaching and the Council for the Advancement and Support of Education.
The award recognizes the most outstanding undergraduate instructors in the country; Shore's commitment to education and her compassionate drive set her among the best.
Perhaps Shore's greatest academic gift to Wichita State has been her role in developing and implementing course work for state-certified substance abuse counselors.
When the state of Kansas first set certification requirements in 1993, Shore created WSU's training program; as standards changed over the years, she has been there to spur the program's evolution, forging a curriculum to meet real, urgent needs as well as fulfill legal requirements.
She has been there, as well, for legions of students — and for the people they serve. Her initial involvement grew deeper as she saw what the work entailed: "Increased contact with treatment agencies and counselors, which is necessary for proper course development, has led to a desire to help the field become professionalized and more effective in treating addictive persons," she explains.
Shore's commitment to comprehensive education is colored by compassion for its ultimate end: relieving the suffering of abusers and their families.
This personal investment shows through in her warm teaching style, full of sympathy and storytelling. Since many of the counselors in her classes are returning adults or even recovering addicts themselves, her accepting attitude is important.
Shore is also well known for her work with the Kansas Humane Society. Starting as a volunteer dog-walker, she has since served on the organization's board of directors and was, for a short time, interim executive director. She has lent her professional expertise as well, researching animal overpopulation and asking such questions as why owners bring their pets to the shelter.
"It's very unique to have this kind of access to this kind of resource and for someone who has that kind of background and willingness to devote their attention to this cause," Humane Society executive director Kim Janzen says of Shore's involvement.
Here, too, Shore has a compassionate goal in mind, though the ends are very different. "People in the substance abuse field would not be pleased to be compared to homeless animals," she points out, adding that "the dogs and cats wouldn't mind, but then dogs hardly ever get offended, and cats pay no attention to the behavior of mere humans!"
Yet the connection is there. Too often, members of society view people with substance abuse problems as little more than stray animals — an annoyance, a burden, something better kept out of sight.
Shore uses her talents to effect change in both the human and the animal population by educating with compassion. She makes sure counselors have the right tools to help these overlooked, suffering people. And in her work with the Humane Society, she stresses that abandoned animals are a human problem that can be solved with education and kindness.
That mission of educating with compassion — what Fairmount College of Liberal Arts and Sciences Dean Bill Bischoff, who nominated Shore for the Carnegie Award, calls "the engagement of scholarship" — earned Shore her designation as Kansas Professor of the Year.