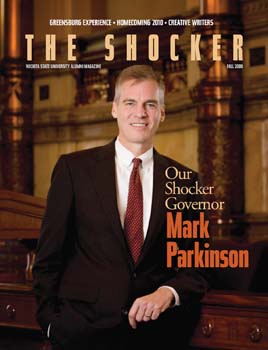 Dear Editor,
Thank you so much for the magazine that features my brother, Mark (Kansas Gov. Mark Parkinson '80, who is the first Wichita State grad to serve as the governor of Kansas). It is a lovely article.
Sincerely,
Valerie Parkinson Rupp

Dear Editor:
Just received my latest issue of The Shocker (fall 2009), and I enjoyed it, as always.
Since The Shocker is only published semi-annually, it would be nice to have in each issue some old/new photos of various areas of the campus, so those of us not nearby can see how things have changed in certain areas, or stayed the same.
Thank you.

Steve Feiertag '72
Palm Beach, Fla.
Editor's Note: We think Feiertag's idea is great, and we'll be following up on his suggestion in future issues.
---
Dear Readers:
So many "Shocker Spirit" messages and photos, even the occasional slide show and film clip, come our way that we can't hope to publish them all. We strive, though, to share as many as we can. These next two mini-articles highlight two Shocker projects that we've just got to let you know about!

Shocker Fan Gives WuShock a Hand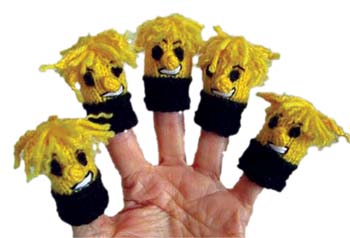 Give Kay Sommerfeld a skein of yarn and in short order she'll knit a 1½-inch WuShock finger puppet. Sommerfeld, a retired federal government employee, was inspired by a similar University of Kansas Jayhawk puppet and figured WSU needed its own version. She makes one or two WuShock puppets a week and gives them away to friends and those with Shocker connections, including WSU President Don Beggs. A 30-year knitter, Sommerfeld is a KU grad, but the Wichita native loves the black-and-yellow, too. To date, she has made 100 WuShock puppets, 67 of which have found fingers to occupy. "I just want to spread the fun," Sommerfeld says.
A Shocker of a Garage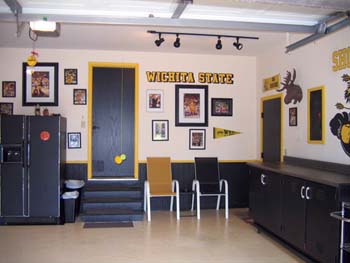 Doug '89 and Teresa "Terry" '89 Richards don't simply have one of the cleanest and best organized garages we've ever seen, it's the Shockeriest. "It was one of those projects that started out small and just snowballed," Terry says.
Their Shocker collection began with some sports photos purchased at Rockin' the Roundhouse. "Doug thought that there's a lot of wall space in the garage, and it just went from displaying pictures to a complete yellow-and-black theme. Doug's an artist, as well, so he painted WuShock on one side and the WSU logo on the other. We even have a yellow car and a black car! Crazy, we know, but some hobbies are just meant to be fun!"