JACK OF ALL TRADES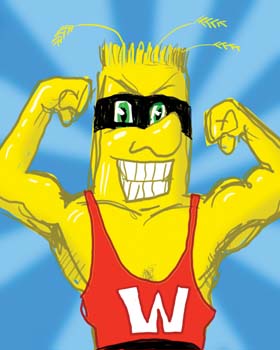 Thomas J. Angelo '02, an elementary education grad who teaches at a Catholic elementary and middle school in Bel Aire, Kan., is a jack-of-all-trades — a polymath — a Renaissance man. At Wichita State, he was president of his fraternity, Sigma Phi Epsilon, and heavily involved in Greek activities. After graduation, he took up professional wrestling, something he had wanted to do since childhood, and put in a stint in the ring as a bad guy. Now he has penned a children's novel based on his experiences as an investigator with the Midwest Paranormal Response Team. Eliza Peel: One Foot in the Grave, which tells the tale of a girl and her family's move into a haunted house, is available at major booksellers, including Amazon.com. Angelo's wife, Emily, observes, "He's a good inspiration for anybody who wants to follow their dreams." As multifarious as those dreams may be!
---

"COME ON DOWN!"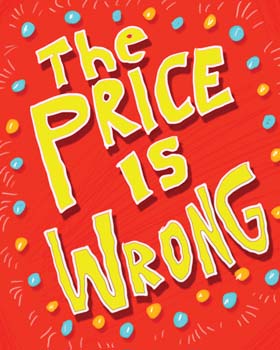 Wichita State sophomore Hayley Fry nearly nabbed a new set of wheels last fall when she went to a taping of the game show "The Price is Right." Alas, Fry left without the keys to a 2010 Ford Mustang. She did, however, win a pair of underwater digital cameras, which she calls "pretty cool." Fry was in the Los Angeles area attending California State Northridge as part of the National Student Exchange program.
---

JOHN-DEERE GREEN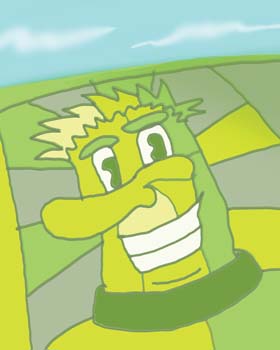 International earthworks artist Stan Herd fs '69 is working in a new shade of green these days — John-Deere green. Herd, who lives in Lawrence, Kan., and is (as of this writing) off to Brazil for a few days to check out the art scene there, is featured in a new advertising campaign for John Deere called "What Will You Create?" The spot chronicles Herd's creation of Abstract, a half-acre piece created from a patchwork of mulch, soil amendments and plantings on land just north of Lawrence. Herd pioneered the art form of creating images by digging, discing, plowing and otherwise manipulating the earth — or, in other words, green space.
---

GRIDIRON SHOCKERS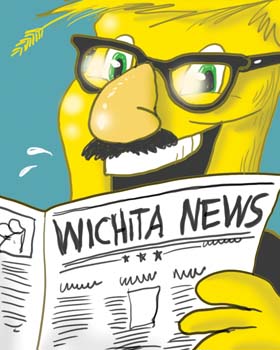 Everyone knows there are shockers at Gridiron. Those shockingly hilarious takes on the news and newsmakers are the acclaim of the Kansas Chapter of the Society of Professional Journalists' annual production. Begun in 1968 and now held at Wichita's Orpheum Theatre, the satire-filled, song-and-dance fundraiser funds some $10,000 worth of scholarships for journalism students each year. The show is also chock-full of Wichita State Shockers. Among them are Bonnie Bing '70, Denice Bruce '90/93, Teresa Lee '04, Teresa Veazey fs '06 and Bucky Walters fs '85. Directing the show, as she has for years, is veteran Wichita theater professional Kathy Hauptman-Page '88.
---

OUT IN THE FIELD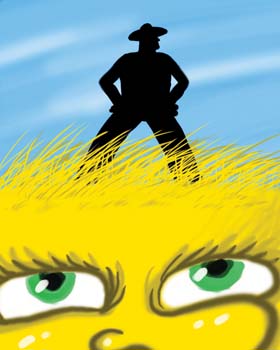 This spring, Wichita State students and faculty interested in research and preservation of the Kansas prairie have new stomping grounds: 157 acres of land near Kingman, Kan., which WSU has acquired and named the Gerber Reserve. The new reserve is an expansion of the WSU Field Station, the university's existing 320-acre Ninnescah Reserve, which runs along the Ninnescah River. "Our primary research interest," says Greg Houseman, assistant professor of biological sciences at WSU, "is to better understand how to restore and manage native plant and animal biodiversity in Kansas prairie ecosystems."
---

21 PIANO SALUTE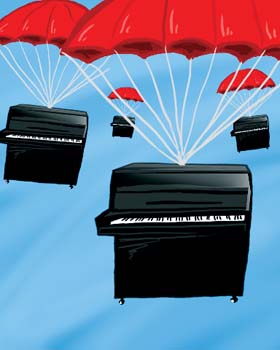 A fleet of pianos arrived at Wichita State's music department this past January: 10 new Yamaha P22s, the second shipment in the partial replacement of 26 now decrepit pianos practiced on by a long line of WSU music majors going back to the 1950s. The piano-replacement movement started some three years ago, when Denny Senseney '69, a music grad who's now retired from his business, Senseney Music, helped spur on a group of WSU music alums and other university supporters to buy or pledge to buy 21 Yamaha pianos. Since then, 15 pianos have been delivered to campus. Among the donors are Kelly Callen, a co-owner of Edmiston Oil Co., and WSU President Don Beggs and his wife, Shirley, a voice major in her college days. Here's a 21-piano salute to their generosity!
---

ALMOST MAGIC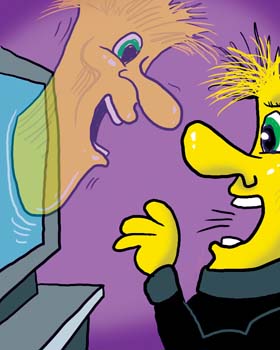 The 3D visualization and simulation capabilities of the Virtual Reality Center at WSU's National Institute for Aviation Research may not rival the offerings of Weta Digital and Industrial Light & Magic, two of the visual effects companies behind James Cameron's epic science fiction flick Avatar — but they've been enhanced. The center now boasts a high-definition, stereo-vision TV system. "This inexpensive set can be transported to and used in several environments, from engineering design reviews to medical surgery briefings, from architecture visualization to marketing showrooms." explains Fernando Toledo, who manages the VRC.
---

MASS TRANSIT MAN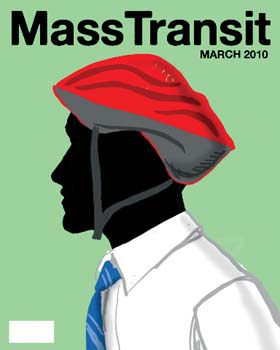 Despite his high-level job as executive director of the Fort Worth Transportation Authority, Dick Ruddell '77 doesn't quite seem to wield the cachet to grace the cover of a national magazine. Yet there he is — in suit and tie with bicycle helmet — on the cover of the March 2010 issue of MassTransit, a publication dedicated to "profiles of transit agencies, transit operations and transit systems managers and management."