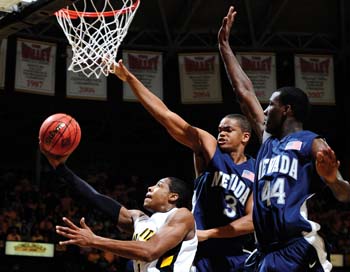 The Shockers took on the Wolf Pack of Nevada in the first round of the 2010 National Invitational Tournament in front of a home crowd of 9,112.
Nevada held Wichita State to one-of-eight shooting in the opening minutes of play, but the Shocks battled back. The two teams exited the first half tied, 31-31.
College basketball's March Madness is famed for long odds and serious business. So Wichita State, fresh off a second-place finish to Northern Iowa in the Missouri Valley Conference tournament in St. Louis, focused serious attention on its first-round foe in the National Invitational Tournament, the Nevada Wolf Pack.
The two teams had met only once previously, when Wichita State won on Dec. 16, 1970 in the Roundhouse. This time around, despite out-rebounding Nevada and putting in some fierce play, the third-seeded Shockers came up just short, 74-70. The March 17 game in Charles Koch Arena was the Shockers' 19th post-season appearance — and their first home loss of the season. The Wolf Pack (21-12) advanced to play Rhode Island in the second round of the NIT. Wichita State ended its 2009-2010 season with a 25-10 record overall, including a 17-1 home record.