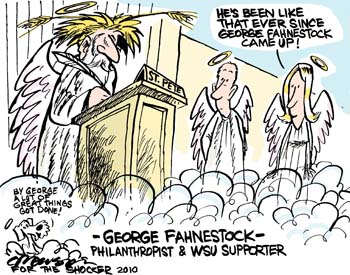 ---
Shockers everywhere, at events long ago or happenings just the other day, always have something interesting to say. Take this sampling as a Shock Talk example:
"George was a man who constantly challenged us to do better, a man who thoroughly loved this institution and this city."
— WSU President Don Beggs about businessman, civic leader and Wichita State alumnus and supporter E. George Fahnestock '69, as quoted in a Jan. 15 Wichita Eagle article on Fahnestock's "huge impact" on the community. Fahnestock died Jan. 14 in Wichita.
"I thought the ceiling was going to collapse on me or the floor was going to fall out from under me."
— Naomi Streck, WSU elementary education student on the Jan. 12 earthquake that struck Haiti, where she was volunteering at an orphanage.
"It did get some notice from my friends, and a couple of Shockers, too. That was fun."
— Bryan Piper '95/98, on the appearance of WuShock in the background of an interview during ABC's March 17 "Nightline" program about Medicare fraud. Piper, a Miami-based FBI agent who works such cases, has a photo of WuShock taped to a wall of his office. Piper's appearance on the 10-minute segment resulted in about two minutes of airtime for him — and 15 seconds of "Nightline" fame for WuShock.
"Our potent signal carried to the edge of the campus. Beyond that, you were out of luck."
— Ron Cook '59 of Redding, Calif., about KMUW, the University of Wichita's student-operated radio station, when sharing memories for inclusion in the Class of 1959's Memory Book, compiled by WSU Alumni Association staff.
---
Throughout the pages of our last issue of The Shocker, we deviously hid images of Missouri State Bears. Why would we do such an unShockerly deed? We did it to mark the return to campus of a traditional homecoming celebration, complete with a big game Feb. 14 against the Bears in Koch Arena. The first bear-hunter to locate the bears and contact us would win a special prize. And the winner is …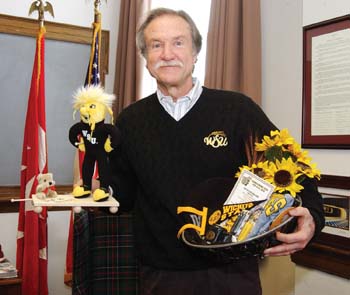 Ted Ayres, vice president and general counsel at Wichita State. Ayres arose early for the hunt; his e-mail bear missive arrived at magazine offices at 6:12 a.m., Thu., Oct. 1.
The week before Homecoming 2010, he was presented a Shocker basket filled with all kinds of WSU-imprinted merchandise and other Shockery items from the WSU Bookstore — everything from shirts and a pennant, to yellow-and-black face paint, to a miniature parade float complete with WuShock towering mightily over…yes, a bear.
The WuShock figure, Ayres says, will join other WSU memorabilia items that have found a home in his Morrison Hall office. Ayres knows a thing or two about the Bears, having spent time in the Show Me State as a student earning a bachelor's degree from Central Missouri State College and then a law degree from the University of Missouri. He also worked in Missouri and Colorado before moving to Kansas in 1986 to accept a position with the Kansas Board of Regents. He joined WSU's administration team in 1996, and, although his résumé doesn't list "bear hunter" among his professional skills, he's proven himself up to the task.
Other early responding bear-hunters, who all sent in their findings Oct. 1, the day after the magazine hit mailboxes in the Wichita metro area, were David Fahrbach '74, a Wichita orthodontist who lives in Andover, Kan., whose message reached our inbox at 9:58 a.m.; Gretchen Hoobler '84, a Wichita resident who works in human resources at the Pepsi-Cola Bottling Co., 10:24 a.m.; Jana Price '92 of Wichita, who is a human resources assistant at Koch Industries, 11:13 a.m.; and Cliff Simmons, also of Wichita and an active volunteer at alumni association events, notably past Shocker Auctions and today's Rockin' the Roundhouse fundraiser, 1:12 p.m.
Thanks for joining the hunt!