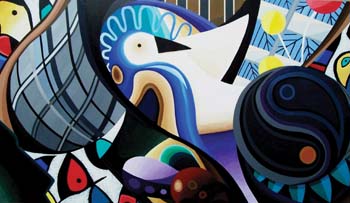 As a printmaker, Doug Billings '82 is steeped in details of complex, step-by-step processes. But that doesn't mean he doesn't like to play.
"I can't do the same things over and over," he says. "I've gotta break it up, take on new subjects, play with new processes."
Among his newest works are oils, hand-pulled original prints and handmade books based on his experiences in and impressions of Wichita, where he has lived since enrolling in WSU's graduate program in printmaking in 1979.
With a bachelor's degree in printmaking from Mankato State in hand, Billings was accepted into Wichita State's noted program by the late, great printmaker and educator David Bernard. "I was looking for grad programs," Billings recalls. "And I knew about Dave Bernard. When I visited Wichita State, the presses and the facilities were wonderful. I liked what I saw."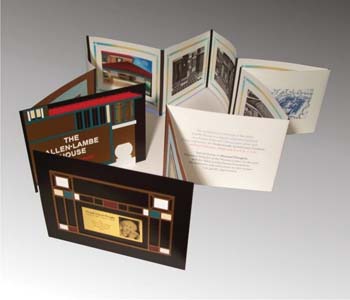 Today, he teaches printmaking at the Wichita Center for the Arts, is a member of Wichita's Gallery XII, the Boston Printmakers, the American Color Print Society, the American Print Alliance and the Society of American Graphic Artists — and continues to enroll each fall in at least one printmaking class at WSU.
His artistic repertoire includes drawing, oil painting, pastels, lithography, serigraphy, intaglio, relief and digital printmaking, papermaking, book art, ceramics and photography. For him, two basic aspects of all those different creative expressions are process and fun — in other words, some serious play.
This handmade book celebrating Frank Lloyd Wright's Allen-Lambe house in Wichita and the oil painting above are two of the artist's most recent works. The Wichita-based Billings is best known as a printmaker, but enjoys explorations in all kinds of different ways of making art.
As a printmaker, he is technical-minded and process-oriented; he likes to control the outcome. But he loves unpredictability and unexpected results more. "You can't control the process completely," he says. "There's randomness to it." And that's, he adds, where the fun comes in.
---
Break-up of my Landscape
It started with a sudden drive away from
Wichita to Boulder so you could see
the Rockies, when you pointed out that
I am Midwestern; a Kansas landscape
puzzle without the pieces in the middle
that form the interesting part of the
picture: the center of the bison's eye,
the wildflowers whose names I do not
know, the rocky tips of the Flint Hills.
I worried about the longest drought
in twenty years, the out-of-control
grass fires that crept across the state line
from Oklahoma, spreading across
the fields into Harper, Barber …

How the plains of my life would look
charred black —
How one grain of wheat feels in my hand
and the strength it takes to hike up
Mt. Sunflower at dawn — to look out and
see the crest of the Rockies and
know that was as far west as we'd go.
Understanding this landscape was home.

– Chandra Dickson '05/09