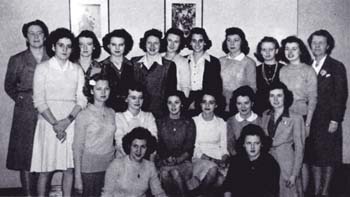 WU's WWII Campus
Dear Alumni:
After reading the Look Back article "Lost Majors" in the spring issue of The Shocker, I have a few memories to share.
I graduated in 1944 as a home economics major. We were not a large department, but a good one. We had two outstanding teachers, Helen Lohr and Gladys Sissel.
During my junior and senior years, Gladys was in charge of the university cafeteria and also the mess hall for the air force detachment that was stationed on campus.
Our department had a tensile-strength testing machine, which the aircraft companies used. We had one male in our textiles class because his father owned a drycleaning business and wanted his son to be knowledgeable about fabrics.
While the air force detachment was on campus, the soldiers needed to be in school so the professors needed to be there, too. Thus, we had only one day off at Thanksgiving and two days off at Christmas — which made my junior year a very long year!
I remember Grace Wilkie, the dean of women, made it a point to contact the sororities and be sure the girls knew the proper conduct around the soldiers.
Very few male students were on campus during the war years. One I remember was a gentleman in his nineties. He would come to class early and sit in the clothing lab to wait for his class that met across the hall. He had been left a trust that paid him a stipend as long as he was enrolled in six hours. He had many degrees in many areas.
The year after I graduated, the home ec department put on a seminar of the new invention, the microwave. It was most amazing at the time and so commonplace now.
Those were interesting years.
Elinor (Wells) Keesling '44
Newton, Kan.
---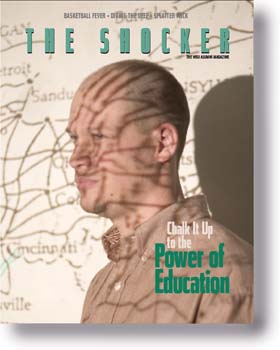 What's That?
Dear Editor,
Congrats on another fine issue of The Shocker. I have one question: What is "fs," as in "Larry Hatteberg fs '68"?
Dean Roush
WSU School of Music
professor of theory and
director of musicology and composition

Editor's Note: The abbreviation fs stands for "former student," while hn is used for "honorary" alumni. Explanations are found in the introduction to Class Notes.